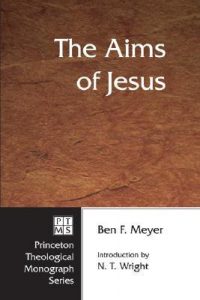 A few months ago I posted about Michael Zolondek's claims that historical Jesus scholarship uses the same historical methods as those used by other historians. Michael himself responded and I assured him and others that I would return to his book and compare his claims about his methods with the actual processes found in the book. I am finally getting around to returning to that promise. But first I need to refresh my memory on a few things and catch up with certain details. So those further posts I promised are still a few weeks away.
Till then, however, I can say that I have caught up with one important volume Michael cites (p. xiv) as one of a few "useful discussions by historical Jesus scholars on 'doing history':
Meyer, Ben F. 2002. The Aims of Jesus: Reprint edition. San Jose, Calif.: Wipf & Stock.
The book was originally published in 1977 and an introduction in the reprint edition by N.T. Wright indicates that it has been very influential among the "less liberal" historical Jesus scholars.
The first of the two parts of Meyer's book is about hermeneutics and historical methods. What I was looking for in particular was Meyer's explanation for how biblical or historical Jesus scholars decide what is historical bedrock in the gospels. There is discussion about various criteria and inference and such. That word "inference", distinct from "proof" or "fact", reminded me of an objection PZ Myers' raised in his discussion with Eddie Marcus. It was encouraging to see Meyers acknowledge the place of inference and its meaning in his discussion.
But then I came to a passage that echoed everything I have been come to see in how historical Jesus scholars work, but here it was stated in black and white.
Control of the data requires insight into how the gospel literature refers to the past of Jesus and this must be brought to bear on a mass of detail, repeatedly answering the question, 'Is this a potential datum on Jesus?'

(Meyer, p. 81, my bolded emphasis)
Did you see it? The historical Jesus historian is required to have insight into how the gospels refer to the past of Jesus. The gospels are assumed to speak about the past of Jesus without question. Why? Presumably because they are a past tense narrative (notwithstanding Mark's gospel regularly using the present tense). Presumably because they look like historical accounts (notwithstanding their significant departures from other historical accounts of the era). But let's leave aside the "presumablies" and see what Meyer himself says. At the end of the chapter he spells it out:
Finally, the motives, values, uses, and ulterior purposes of history, be it ever so critical, are themselves metacritical presuppositions. They are not controlled by method but arise from the historian's intellectual and moral being, and in the end they account more fundamentally and adequately than anything else for the kind of history he produces. For a history of Jesus what counts is especially the stance toward religion and faith.

(Meyer, p. 94, my bolding)
To me, that sounds like Ben Meyer is saying that a Christian historian will necessarily approach the gospels as if they are "obviously" reports of the "past of Jesus" and the task of the historian is to work out how much those gospel accounts have added to or coloured the actual historical past of Jesus.
The possibility that the gospel accounts are not history or not even based on historical events at all never so much as approaches Ben Meyer's mental horizon. The model that James McGrath used to describe a historical reading of the gospels is affirmed. The gospels are not read as literature but are read as gateways to imagining what happened independently of the narrative.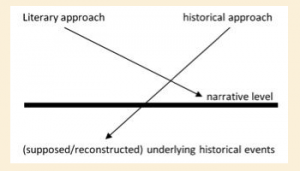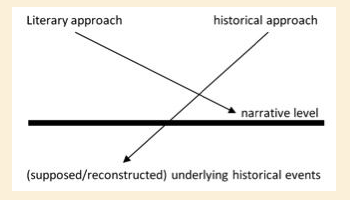 The assumption that the gospels are some sort of biographies or historical works is a presupposed "fact". All the historical method discussion, all the discussion about how to determine a historical probable Jesus, is premised on the gospels being reports that are written in such a way that the researcher can validly "see through" their narrative and language and identify some image of historical persons and events. The narrative is assumed to be based on reports or memories of historical persons and events.
When I read the works of classicists and ancient historians I see the same approach to historical narratives only when that approach has been justified by identifications of authorship and provenance, and by independent contemporary verification and/or by identification of relatively reliable historical sources for that narrative. We see none of those things in the case of the gospels.