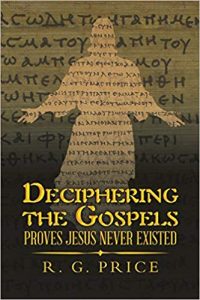 I have posted a review of R. G. Price's book , Deciphering the Gospels — proves Jesus never existed, arguing for the Jesus of the gospels being an entirely literary invention on Amazon. At the time of this post it has not yet appeared but I expect it will be processed and published soon. I have posted a copy of what I wrote below.
Meanwhile, I have been persuaded I should also do my own review of Richard Carrier's book On the Historicity of Jesus. It's a big book and the review will be lots of work so it won't be completed by tomorrow but it is in the "to do" basket.
Here is what I wrote for amazon on Price's book:
Although the author is not a professional scholar the content of this book by R.G. Price has been deeply and competently researched and in substance holds its own with any scholarly publication. It is presented in an easy to read colloquial style.

The "deciphering" in the title does not refer to any secret code but to a comprehensive, easy to follow presentation of how much each of the gospel narratives (focusing principally on the first written gospel, Mark) owes directly to Jewish or Old Testament scriptures. It is a common view among believers that traces of Old Testament passages in the gospels are there to "prove" that Jesus fulfilled the prophecies. Price, however, demonstrates that these OT allusions are far more common than many of us realize and that the gospel stories of Jesus have been guided and driven by those OT passages. So deeply and thoroughly shaped by the Old Testament stories, prophecies and psalms is the first gospel, Mark, that Price is able to very reasonably argue there is no left-over room to think that those stories owe anything to oral traditions or independent stories of a historical figure.

Not only does Price demonstrate the way the Jesus narratives have been molded by OT passages and themes but he gives readers a very plausible motive for the first gospel having composed the story it did. Written in the wake of the Jewish War of 70 CE the first gospel ("Mark") follows those stories and prophecies in the OT that speak of the failure and destruction of the Kingdom of Israel (despite the work and miracles of the prophets). The gospel appears, as a result, to have been written as a lesson to Jews who have been defeated by the Romans and lost their temple: the Jesus figure has been created as a literary device to tell an allegorical story of how the Jews brought destruction upon themselves.

Drawing upon the work of several scholars Price further shows that the Jesus in the first gospel has been modeled on the apostle Paul. For example, we know from Paul's letter to the Galatians that he had a complex relationship with leaders of the Jerusalem church, Peter, James and John, so much so that he found himself at times in conflict with them for their failure to grasp the full spiritual meaning of his gospel. Compare Jesus' close but also strained relationship with three leaders by the same names. Price identifies many passages that the Gospel of Mark appears to have derived from Paul's letters.

Price adds some interesting new insights into the development of the later gospels (Matthew, Luke and John) and I was particularly intrigued by his explanation for certain distinctive differences between John and Mark and how in the anti-semitic Gospel of John the leaders of the Jerusalem church (up until the last chapter that many scholars believe was a subsequent addition) suffer far more severely than they do in Mark.

There are some areas where I have reservations about Price's interpretations. Price alludes at one point to the arguments of Earl Doherty and Richard Carrier that Paul believed Jesus was crucified in the heavens and though I agree that this is a possible reading of the evidence, not only Pauline but also of related early texts such as , I do suspect that the evidence also allows for the heavenly spirit Jesus to have descended in fleshly form to earth for a very short time to be confused with another person on his way to crucifixion and be crucified in his stead, on earth. But this is a disagreement that is not central to Price's argument. I also had some difficulty with Price's suggestion that the Gospels of Matthew and Luke drew independently from a different version of Mark than we have today and think a better explanation is that Luke (really did) use and rewrite Matthew's stories for different theological agendas.

On the other hand, I found Price's argument for that thorny passage in Galatians where Paul claims to meet the "brother of the Lord" to be one of the more refreshingly persuasive explanations I have encountered. I now set it alongside my own view that the key passage was unknown until the late second century as one of the best accounts for it.

Concerning the title with its word "proves", I know some people object that one cannot "prove" a figure did not exist. But that is clearly not so. Scholars have indeed proved that the William Tell of Swiss legend did not exist, for example. That's because all the details of the myth are so completely explained as borrowings of other myths and the historical setting of the William Tell story does not change that fact of origin. Price has shown, I believe, that all the elements of the first gospel stories of Jesus are cogently explained as literary adaptations of passages from the Jewish Scriptures, along with allusions to Paul's own life and teachings. And that's where the whole story began.

As the creator and primary author of the Vridar blog I have posted in depth critical engagements with scores of scholarly works on Christian origins and several on the Christ Myth theory, and can commend Price's book for its knowledge of the relevant content and range of views on these topics, and also for its very easy to read presentation of the arguments.
The following two tabs change content below.
Neil Godfrey
Neil is the author of this post. To read more about Neil, see our
About page.
Latest posts by Neil Godfrey (see all)
---
If you enjoyed this post, please consider donating to Vridar. Thanks!
---