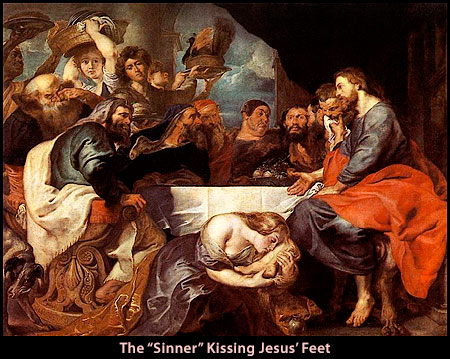 The first two gospels portray Jesus being anointed by an unnamed woman in Bethany in order to "prepare him for burial." In the third gospel that scene has been removed and replaced with another, set earlier, of an unnamed woman anointing Jesus' feet.
How do we know the Gospel of Luke was rewriting the Bethany anointing scene and not adding a totally different episode? The answer lies in the clues the third evangelist left us. Both scenes share the following:
Jesus in the house of Simon
Jesus is reclining at table
An unnamed woman
An alabaster jar of ointment
Others are indignant at what Jesus allows the woman to do
Jesus and the woman are the only ones who understand the meaning of the event until Jesus explains
And then there are the syzygies, the paired opposites:
leper and pharisee
anointing head and anointing feet
one anointing is of the kind done by a priest to anoint a king; the other by a lowliest servant to welcome a guest
the monetary value of the ointment is the focus of the offence in one story; the analogous monetary value of "forgiving and loving much" is the lesson presented in the other
one woman is offered worldly "fame" (though unnamed!); the other woman is given salvation
We have enough DNA to identify Luke's story as derivative of the one found in Mark and Matthew. (Thomas Brodie further identified 2 Kings 4:1-37 as an additional source.) Clearly the author of the third gospel did not believe he was reading a "historical memory" in the earlier gospel(s) or that he was composing a version of history. The author recognized the earlier narrative as composition with a certain message that could be erased and rewritten in the interests of preaching another message deemed more appropriate.
So what was the alternative message? Why was the theme of the first account "repealed and replaced"?
The answer to that question, I think, is found in the opening chapters of Luke. I wrote about it ten years ago almost to the day (my god time flies!)
The poor and Q — literary vs historical paradigms
The Gospel of Luke stresses from the opening narratives preceding even the birth of Jesus that Jesus is destined to reverse the present order. The lowly will be exalted; the high will be brought low. Mary sings when she is told she will give birth to Jesus:
My soul glorifies the Lord
and my spirit rejoices in God my Savior,
for he has been mindful
of the humble state of his servant.
From now on all generations will call me blessed
. . . .
He has performed mighty deeds with his arm;
he has scattered those who are proud in their inmost thoughts.
He has brought down rulers from their thrones
but has lifted up the humble.
He has filled the hungry with good things
but has sent the rich away empty. . . .
Luke has a special interest in those kinds of reversals. I have listed several of them in my 2007 post.
Mark's and Matthew's Bethany anointing scene surely clashes with that interest. In those earlier gospels Jesus effectively says to his outraged audience: "Forget the poor for a moment; just think of me and my greatness for a few minutes."
So the anointing scene is removed to a place and occasion where Jesus shows once again how he exalts the sinner and the lowly.
The woman is anointing Jesus' feet, not his head. She is acting as the lowest servant, not someone with a fortune in her hand who has the honorable task of proleptically anointing the future king. The riches are found in the depth of her love and the corresponding greatness of forgiveness.
Mark 14
Matthew 26
Luke 7
3 While he was in Bethany, reclining at the table in the home of Simon the Leper, a woman came with an alabaster jar of very expensive perfume, made of pure nard. She broke the jar and poured the perfume on his head.

4 Some of those present were saying indignantly to one another, "Why this waste of perfume? 5 It could have been sold for more than a year's wages and the money given to the poor." And they rebuked her harshly.

6 "Leave her alone," said Jesus. "Why are you bothering her? She has done a beautiful thing to me. 7 The poor you will always have with you, and you can help them any time you want. But you will not always have me. 8 She did what she could. She poured perfume on my body beforehand to prepare for my burial. 9 Truly I tell you, wherever the gospel is preached throughout the world, what she has done will also be told, in memory of her."

6 While Jesus was in Bethany in the home of Simon the Leper, 7 a woman came to him with an alabaster jar of very expensive perfume, which she poured on his head as he was reclining at the table.

8 When the disciples saw this, they were indignant. "Why this waste?" they asked. 9 "This perfume could have been sold at a high price and the money given to the poor."

10 Aware of this, Jesus said to them, "Why are you bothering this woman? She has done a beautiful thing to me. 11 The poor you will always have with you, but you will not always have me. 12 When she poured this perfume on my body, she did it to prepare me for burial. 13 Truly I tell you, wherever this gospel is preached throughout the world, what she has done will also be told, in memory of her."

36 One of the Pharisees asked him to eat with him, and he went into the Pharisee's house and reclined at table. 37 And behold, a woman of the city, who was a sinner, when she learned that he was reclining at table in the Pharisee's house, brought an alabaster flask of ointment, 38 and standing behind him at his feet, weeping, she began to wet his feet with her tears and wiped them with the hair of her head and kissed his feet and anointed them with the ointment. 39 Now when the Pharisee who had invited him saw this, he said to himself, "If this man were a prophet, he would have known who and what sort of woman this is who is touching him, for she is a sinner." 40 And Jesus answering said to him, "Simon, I have something to say to you." And he answered, "Say it, Teacher."

41 "A certain moneylender had two debtors. One owed five hundred denarii, and the other fifty. 42 When they could not pay, he cancelled the debt of both. Now which of them will love him more?" 43 Simon answered, "The one, I suppose, for whom he cancelled the larger debt." And he said to him, "You have judged rightly." 44 Then turning toward the woman he said to Simon, "Do you see this woman? I entered your house; you gave me no water for my feet, but she has wet my feet with her tears and wiped them with her hair. 45 You gave me no kiss, but from the time I came in she has not ceased to kiss my feet. 46 You did not anoint my head with oil, but she has anointed my feet with ointment. 47 Therefore I tell you, her sins, which are many, are forgiven—for she loved much. But he who is forgiven little, loves little." 48 And he said to her, "Your sins are forgiven." 49 Then those who were at table with him began to say among themselves, "Who is this, who even forgives sins?" 50 And he said to the woman, "Your faith has saved you; go in peace."
The following two tabs change content below.
Neil Godfrey
Neil is the author of this post. To read more about Neil, see our
About page.
Latest posts by Neil Godfrey (see all)
---
If you enjoyed this post, please consider donating to Vridar. Thanks!
---