This post concludes an outline of Thomas Witulski's analysis of Revelation 6:1-8. All posts are archived under Witulski: Die Vier Apokalyptischen Reiter Apk 6
And I looked, and behold a pale green/blue horse: and his name that sat on him was Death, and Hades followed with him. And power was given unto them over the fourth part of the earth, to kill with sword, and with hunger, and with death, and with the beasts of the earth.
— Revelation 6:8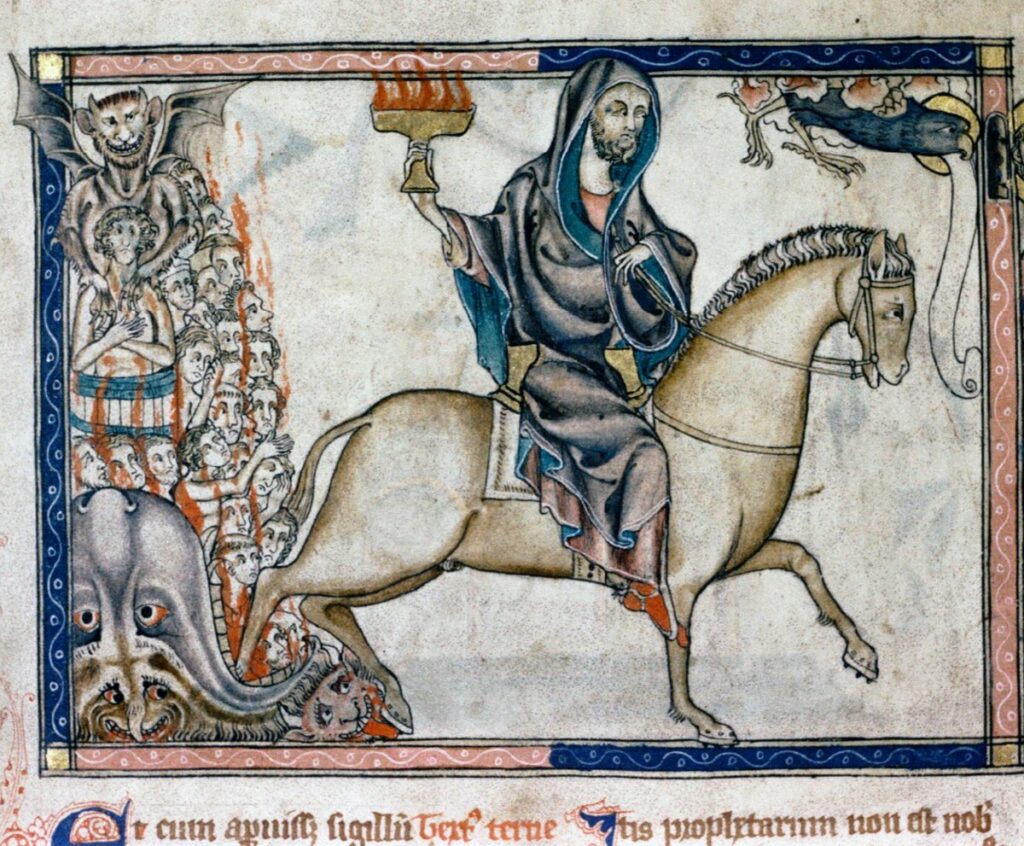 Here we have two figures, one named Death and another, following, named Hades. The two of them, together, have power over the fourth part of the earth. I bypass here the bulk of Thomas Witulski's discussion about the authenticity of the received text and other passages in which "Death and Hades" appear and jump to his conclusion:
. . . [T]he view has prevailed in ancient historical research that the uprising of the Jews in Egypt and North Africa was ultimately put down by the collaboration of two Roman commanders; on the one hand, the governor of the province of Aegyptus, Μ. Rutilius Lupus, and on the other hand, the praefectus classis Q. Marcius Turbo. (W. 192)
If we accept the view that the four horsemen represent historical persons, that the first horseman was the emperor Trajan, that the second horseman signified the Jewish messianic uprisings, and that the third represented an Asian governor attempting to regulate the consequences of that uprising, then we may think it necessarily follows that the fourth horseman named Death along with another named Hades represent the two Roman commanders appointed to suppress that Jewish rebellion.
The colour of the horse is χλωρός (chloros). The Liddell-Scott-Jones Lexicon gives its meaning as greenish-yellow, pale, green. Various commentaries denote its meaning as the colour of death, of a pale blue corpse. The word appears in Homer's epics when persons are faced with the "pale horror" of imminent death. Another Greek author wrote of facing imminent death so that he turned "paler than grass in autumn".
The two riders are given power over a quarter of the earth. That does not mean that they killed a quarter of the earth but that they were given that portion of the earth in which to exercise their power.
On the phrase "to kill with the sword", David E. Aune in Revelation 6–16 notes
"To kill with the sword" sounds like a parody of the Roman ius gladii, "law of the sword," i.e., the power to punish individual criminals (Digest 2.1.3; A. Berger, Roman Law, 529). (403)
Continue reading "The Pale Horse of the Apocalypse, Its Rider and Companion"