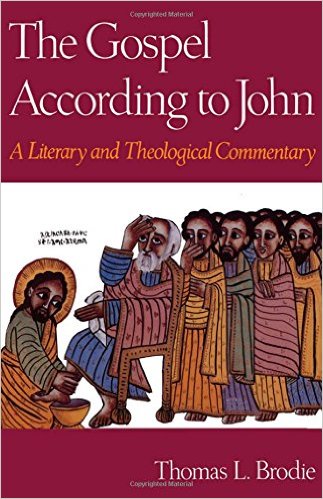 Here's a little comment I just left at another discussion forum. Thought it might be of interest to a few readers here.
The question being addressed is, Did Jesus Baptise people?
The passage under discussion is John 3.22-4.3
[22]After this Jesus and his disciples went into the land of Judea; there he remained with them and baptized.
[23] John also was baptizing at Ae'non near Salim, because there was much water there; and people came and were baptized.
[24] For John had not yet been put in prison.
[25]Now a discussion arose between John's disciples and a Jew over purifying.
[26] And they came to John, and said to him, "Rabbi, he who was with you beyond the Jordan, to whom you bore witness, here he is, baptizing, and all are going to him."
[27] John answered, "No one can receive anything except what is given him from heaven.
[28] You yourselves bear me witness, that I said, I am not the Christ, but I have been sent before him.
[29] He who has the bride is the bridegroom; the friend of the bridegroom, who stands and hears him, rejoices greatly at the bridegroom's voice; therefore this joy of mine is now full.
[30] He must increase, but I must decrease."
[31] He who comes from above is above all; he who is of the earth belongs to the earth, and of the earth he speaks; he who comes from heaven is above all.
[32] He bears witness to what he has seen and heard, yet no one receives his testimony;
[33] he who receives his testimony sets his seal to this, that God is true.
[34] For he whom God has sent utters the words of God, for it is not by measure that he gives the Spirit;
[35] the Father loves the Son, and has given all things into his hand.
[36] He who believes in the Son has eternal life; he who does not obey the Son shall not see life, but the wrath of God rests upon him.
[John 4:1]
Now when the Lord knew that the Pharisees had heard that Jesus was making and baptizing more disciples than John
[2] (although Jesus himself did not baptize, but only his disciples),
[3] he left Judea and departed again to Galilee.
John 4:2 stands as a gauche contradiction to 3:22 — hence the question: Did Jesus himself baptize?
My response was to toss in an interpretation from the left field. It's from Thomas L. Brodie's commentary on John. His proposed interpretation references other passages, in particular the following:
John 1:33
And I knew him not: but he that sent me to baptize with water, he said unto me, Upon whomsoever thou shalt see the Spirit descending, and abiding upon him, the same is he that baptizeth with the Holy Spirit.
John 4:3-7
he left Judea and departed again to Galilee. He had to pass through Samaria. So he came to a city of Samaria, called Sychar, near the field that Jacob gave to his son Joseph. Jacob's well was there, and so Jesus, wearied as he was with his journey, sat down beside the well. It was about the sixth hour.

There came a woman of Samaria to draw water. Jesus said to her, "Give me a drink."
It is commonplace for scholarly interpreters to say that John 4:2 (explaining that Jesus did not baptize after all) is a later editorial insertion. A maverick view comes from Thomas Brodie who has a quite different perspective. 
Brodie suggests that Jesus was indeed baptizing as per 3:22 but not with water. The following verses describing John's baptizing activity place a special emphasis on his need for water to perform the task (3:23 — "because there was much water there"). Moreover, advises Brodie, keep in mind John 1:33 where John explains that while he was baptizing with water Jesus would be baptizing with the Spirit.
But then in 4:2 Jesus is no longer baptizing. Editorial additions attempting to make corrections to a text tend to make a better fist of harmonizing their contradictory statements. If the editor wanted to say Jesus himself was never baptizing then why not do so at 3:22 with a smoother explanation and not an apparently blunt and gauche contradiction some verses later? (Brodie cites other scholars for this particular observation.)
Rather, Brodie proposes, Jesus is wearing out and having to hand over the job to his disciples — and this segues into the ensuing passages of an exhausted Jesus asking for water at a well.
The explanation works reasonably well if we treat John's anecdotes as largely symbolic and all foreshadowing his death etc. Compare the Cana miracle of wine etc prefiguring his death and the new order that was to take over once he was gone from the scene. Similarly we have with Jesus' exhaustion another intimation of Jesus' death and departure and his work being taken over by his disciples.
Two other details: Brodie points out the way Jesus is portrayed as having a relationship with his disciples whereas with John there is no comparable picture — those who come to him for baptism are an nondescript "they came to him to be baptized". Jesus is always depicted "with" his disciples.
And when Jesus came to the well, wearied, to ask for water, it was the sixth hour — another proleptic reference to his death:
John 19:14-16
Now it was the day of Preparation of the Passover; it was about the sixth hour. He said to the Jews, "Behold your King!" They cried out, "Away with him, away with him, crucify him!" Pilate said to them, "Shall I crucify your King?" The chief priests answered, "We have no king but Caesar." Then he handed him over to them to be crucified.
The following two tabs change content below.
Neil Godfrey
Neil is the author of this post. To read more about Neil, see our
About page.
Latest posts by Neil Godfrey (see all)
---
If you enjoyed this post, please consider donating to Vridar. Thanks!
---