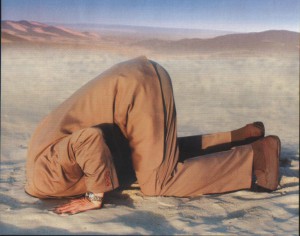 After opting to respond to Raphael Lataster in a less than fully civil or professional manner for daring to publicly raise legitimate questions about the evidence for the historical existence of Jesus, Christian gentleman and scholar Michael Bird has followed up with a two minute video-clip of Bart Ehrman addressing a mythicist's question. Needless to say Bart Ehrman is once again vague and lost in his reply, doing nothing more than appealing to authority, incredulity, disinformation and false analogies to "make his case".
If you have been wondering how Bart Ehrman has been able to avoid engagement with mythicist questions since his book Did Jesus Exist? so emphatically demonstrated that he had not even read with any seriousness the mythicist books he claimed to be addressing you can find his explanation for this disengagement in his most recent post, Defending Myself.
Ehrman simply keeps himself shielded from any serious critique that does not come through channels he modulates himself. His blog is set up to ensure mostly sympathetic readers only will engage with it and he chooses to avoid public engagement with critics as a rule. Curiously he can say that though he by and large avoids any serious communication with mythicists (he apparently will read the odd email from one, it seems) he can nonetheless affirm that:
And I know that the attacks by these conservative Christians pale in comparison with the attacks by the mythicists
The only mythicist critic that we know Ehrman has read is, of course, Richard Carrier. We know Carrier pulled no punches in exposing Ehrman's lack of professional standards and for this crime Ehrman has wisely chosen to avoid any further engagement with him. It is evident to many observers that such an exchange would leave Ehrman's poor showing in Did Jesus Exist? starkly exposed, and nor could he hide is ignorance of mythicist arguments or get away with amateurish ad hoc responses.
It would be futile to attempt to direct Ehrman's attention to Earl Doherty's responses or to a video belying Ehrman's excuse that Carrier is too crude to debate with.
So Bird has joined some of his peers in the trench of ignorance, preferring to avoidance and denial to debate, and firing salvos of mud from time to time.
Meanwhile, increasingly well informed and educated readers are free to see what is happening, how the two sides are reacting, and make up their own minds.
I have been catching up with a couple of books by Michael Bird, one with him engaging with James Crossley on the origins of Christianity and another in which he contributes to a response to Erhman's How Did Jesus Become God? I look forward to discussing his methodology (essentially a new form of biblical inerrantism) in a future post. I hope readers will find my treatment more professional than Bird himself has indicated he is willing to be thus far.
The following two tabs change content below.
Neil Godfrey
Neil is the author of this post. To read more about Neil, see our
About page.
Latest posts by Neil Godfrey (see all)
---
If you enjoyed this post, please consider donating to Vridar. Thanks!
---