I'm no longer desirous of defending myself, Sam Harris, Richard Dawkins, or other public atheists against the charge of "Islamophobia." It's been widespread on the Internet these past two weeks, but I've ignored it. In the end, I've concluded that those charges come from borderline racists themselves: people who think that bad ideas, threats of violence, or religious oppression should be ignored, but only when they come from people with brown or yellow skin. — Jerry Coyne fantasizing over what he wishes the source of the 'Islamophobia' charge to be. A little effort and he could have learned the facts but, like anything associated with Muslims, he appears much more comfortable rolling around in one-sided media bytes and ignorance.
This post explains the real origins — and meaning — of the word. Scholarly authority on Islam, John Esposito, almost gets it right with the following passage in The Future of Islam (the same source that was the basis of my previous post; formatting and bolding emphasis are mine):
"Islamophobia" is a new term for a now widespread phenomenon. We are all very familiar with "anti-Semitism" or "racism," but there was no comparable term to describe the hostility, prejudice, and discrimination directed toward Islam and the 1.5 billion Muslims in the world.

In 1997, an independent think tank on ethnicity and cultural diversity, the Runnymede Trust, coined the term "Islamophobia" to describe what they saw as a prejudice rooted in the "different" physical appearance of Muslims as well as an intolerance of their religious and cultural beliefs.
Origin of the word
Before I comment on the above (as I said, John Esposito only "almost gets it right"), let's continue with another prominent user of the term and ask how well Jerry Coyne's fantasy coincides with reality:
Like other forms of group prejudice, it thrives on ignorance and fear of the unknown, which is spreading throughout much of the non-Muslim world. At a 2004 UN conference, "Confronting Islamophobia: Education for Tolerance and Understanding," Kofi Annan addressed the international scope of the problem:

When the world is compelled to coin a new term to take account of increasingly widespread bigotry — that is a sad and troubling development. Such is the case with "Islamophobia." . . . There is a need to unlearn stereotypes that have become so entrenched in so many minds and so much of the media. Islam is often seen as a monolith . . . [and] Muslims as opposed to the West. . . . The pressures of living together with people of different cultures and different beliefs from one's own are real. . . . But that cannot justify demonization, or the deliberate use of fear for political purposes. That only deepens the spiral of suspicion and alienation.
The literature of the Runnymede Trust itself is not so willing to claim originality for the term, however. In the 1997 report to which Esposito refers, there is a Foreword by Chair of the Commission, Professor Gordon Conway. There Conway explains:
We did not coin the term Islamophobia. It was already in use among sections of the Muslim community as a term describing the prejudice and discrimination which they experience in their everyday lives. For some of us on the Commission it was a new term, a rather ugly term, and we were not sure how it would be received by the readers of our document [a preliminary consultation paper]. However, it is evident from the responses which we received that Islamophobia describes a real and growing phenomenon — an ugly word for an ugly reality. Hardly a day now goes by without references to Islamophobia in the media. (Islamophobia: A Challenge For Us All, by Runnymede Trust. Commission on British Muslims and Islamophobia; my bolded highlighting. This report is also found through Amazon and Google Books if you'd rather pay for it in order to have the cartoons included.)
So though the Runnymede Trust did not actually coin the word, they certainly did introduce it into the wider discourse on Islam with their 1997 report.
Meaning of the word, and why it was chosen
Chapter 2 of this report of the Runnymede Commission on British Muslims and Islamophobia begins with a definition of Islamophobia (again my bolding emphasis):
The term Islamophobia refers to unfounded hostility towards Islam. It refers also to the practical consequences of such hostility in unfair discrimination against Muslim individuals and communities, and to the exclusion of Muslims from mainstream political and social affairs. The term is not, admittedly, ideal. Critics of it consider that its use panders to what they call political correctness, that it stifles legitimate criticism of Islam, and that it demonises and stigmatises anyone who wishes to engage in such criticism. When our consultation paper was first published, the Independent on Sunday (2 March 1997) ran a large headline in which we were accused of wishing to be 'Islamically correct'.

The word 'Islamophobia' has been coined because there is a new reality which needs naming: anti-Muslim prejudice has grown so considerably and so rapidly in recent years that a new item in the vocabulary is needed so that it can be identified and acted against. In a similar way there was a time in European history when a new word, antisemitism, was needed and coined to highlight the growing dangers of anti-Jewish hostility. The coining of a new word, and with it the identification of a growing danger, did not in that instance avert eventual tragedy. By the same token, the mere use of the new word 'Islamophobia' will not in itself prevent tragic conflict and waste. But, we believe, it can play a valuable part in the long endeavour of correcting perceptions and improving relationships. That is why we use it continually throughout this report.
The difference between legitimate criticism of Islam and Islamophobia
Again from the same chapter in the report:
It is not intrinsically phobic or prejudiced, of course, to disagree with or to disapprove of Muslim beliefs, laws or practices. Adherents of other world faiths disagree with Muslims on points of theology and religious practice. By the same token agnostics and secular humanists disagree with Muslims, as with all religious believers, on basic issues. In a liberal democracy it is inevitable and healthy that people will criticise and oppose, sometimes robustly, opinions and practices with which they disagree. It can be legitimate to criticise policies and practices of Muslim states and regimes, for example, especially when their governments do not subscribe to internationally recognised human rights, freedoms and democratic procedures, or to criticise and condemn terrorist movements which claim to be motivated by Islamic values. Similarly, it can be legitimate to criticise the treatment of women in some Muslim countries, or the views and attitudes which some Muslims have towards 'the West', or towards other world faiths. Debates, arguments and disagreements on all these issues take place just as much amongst Muslims, it is important to recognise, as between Muslims and non-Muslims.

How, then, can one tell the difference between legitimate criticism and disagreement on the one hand and Islamophobia, or unfounded prejudice and hostility, on the other?
Closed and open views of Islam
In a companion publication to the full 1997 Report, Runnymede Trust also produced a brief flyer outlining the main points of the report, similarly titled Islamophobia: A Challenge for Us All. Summary [Link is to PDF of the summary]. The different approaches to Islam are tabled in a diagram in that summary: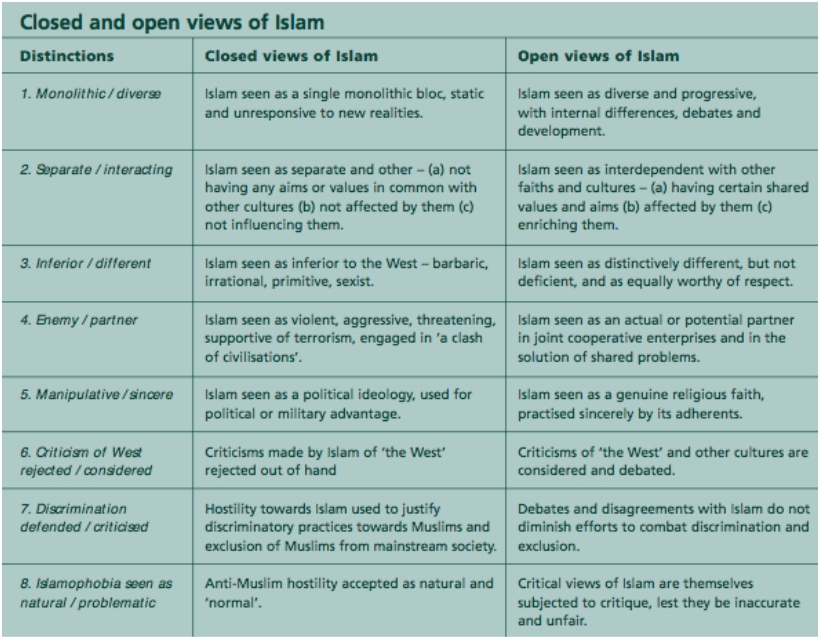 From the report, these main points are.
1 Whether Islam is seen as monolithic and static, or as diverse and dynamic.

2 Whether Islam is seen as other and separate, or as similar and interdependent.

3 Whether Islam is seen as inferior, or as different but equal.

4 Whether Islam is seen as an aggressive enemy or as a cooperative partner.

5 Whether Muslims are seen as manipulative or as sincere.

6 Whether Muslim criticisms of 'the West' are rejected or debated.

7 Whether discriminatory behaviour against Muslims is defended or opposed.

8 Whether anti-Muslim discourse is seen as natural or as problematic.
Each is discussed at length in the report itself. I will be making use of some of this material in future posts.
.
The same pamphlet includes a visual summary of what is meant by Islamophobia: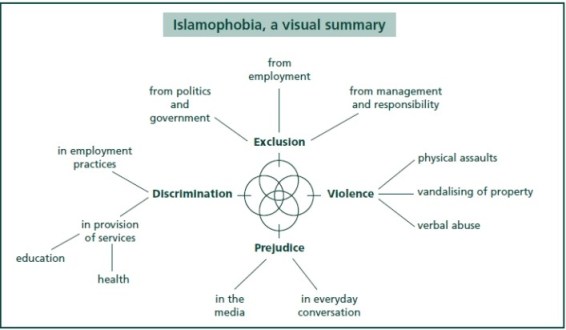 .
Is it a form of racism or xenophobia?
This question is a matter of scholarly debate. Some sociologists say it is a form of anti-Arab and anti-Asian racism, but others dispute this. I myself have expressed the view, following Murtaza Hussain, that Islamophobia does involve an imputing of racial stereotypes into adherents of a religious group. I leave anyone interested in this question to read the Wikipedia article on Islamophobia and to follow up the many scholarly citations there that address the question from all points of view.
One of those citations is a research paper that developed and tested (for predictability) a scale that differentiated between Islamoprejudice and Secular Critique of Islam. Maybe another day when I have idle time I'll delve into some of this myself. But till then I'm happy simply to accept that it is an ugly term for an ugly phenomenon that has been creeping up upon the world since the 1990s. Another of the citations there sums it up in its title: Anti-Semitism and Islamophobia — new enemies, old patterns.
.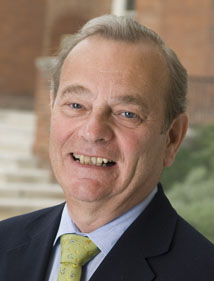 The following two tabs change content below.
Neil Godfrey
Neil is the author of this post. To read more about Neil, see our
About page.
Latest posts by Neil Godfrey (see all)
---
If you enjoyed this post, please consider donating to Vridar. Thanks!
---