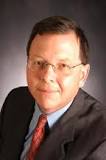 What were terrorists doing before they discovered the USA, UK, Europe, Bali?
These tables are for a particular type of terrorist attack, the suicide bombing, from 1980 to 2001, from Robert Pape's article, "The Strategic Logic of Suicide Terrorism", American Political Science Review, Vol. 97, No. 3, 2003 (pp. 343-361). The same tables no doubt appear in his book Dying to Win but I don't have my copy of that with me.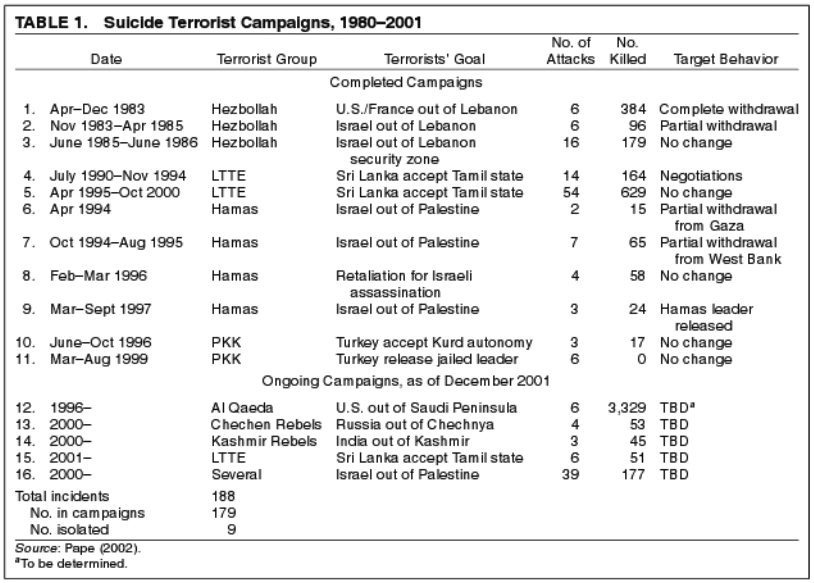 Since 2001 . . .
Given this data up to 2001, the following quotations from terrorists themselves since then may be of relevance. They are taken from Glenn Greenwald's latest article:
Those caveats to the side, the reports about what motivated the Boston suspects are entirely unsurprising and, by now, quite familiar:
"The two suspects in the Boston bombing that killed three and injured more than 260 were motivated by the US wars in Iraq and Afghanistan, officials told the Washington Post."Dzhokhar Tsarnaev, 'the 19-year-old suspect in the Boston Marathon bombings, has told interrogators that the American wars in Iraq and Afghanistan motivated him and his brother to carry out the attack,' the Post writes, citing 'US officials familiar with the interviews.'"
In the last several years, there have been four other serious attempted or successful attacks on US soil by Muslims, and in every case, they emphatically all say the same thing: that they were motivated by the continuous, horrific violence brought by the US and its allies to the Muslim world – violence which routinely kills and oppresses innocent men, women and children:
Attempted "underwear bomber" Umar Farouk Abdulmutallab upon pleading guilty:
"I had an agreement with at least one person to attack the United States in retaliation for US support of Israel and in retaliation of the killing of innocent and civilian Muslim populations in Palestine, especially in the blockade of Gaza, and in retaliation for the killing of innocent and civilian Muslim populations in Yemen, Iraq, Somalia, Afghanistan and beyond, most of them women, children, and noncombatants."
Attempted Times Square bomber Faisal Shahzad, the first Pakistani-American involved in such a plot, upon pleading guilty:
"If the United States does not get out of Iraq, Afghanistan and other countries controlled by Muslims, he said, 'we will be attacking US', adding that Americans 'only care about their people, but they don't care about the people elsewhere in the world when they die' . . . ."As soon as he was taken into custody May 3 at John F. Kennedy International Airport, onboard a flight to Dubai, the Pakistani-born Shahzad told agents that he was motivated by opposition to US policy in the Muslim world, officials said."
When he was asked by the federal judge presiding over his case how he could possibly have been willing to detonate bombs that would kill innocent children, he replied:
"Well, the drone hits in Afghanistan and Iraq, they don't see children, they don't see anybody. They kill women, children, they kill everybody. It's a war, and in war, they kill people. They're killing all Muslims. . . ."I am part of the answer to the US terrorizing the Muslim nations and the Muslim people. And, on behalf of that, I'm avenging the attack. Living in the United States, Americans only care about their own people, but they don't care about the people elsewhere in the world when they die."
Emails and other communications obtained by the US document how Shahzad transformed from law-abiding, middle-class naturalized American into someone who felt compelled to engage in violence as a result of the wars in Afghanistan and Iraq, drone attacks, Israeli violence against Palestinians and Muslims generally, Guantanamo and torture, at one point asking a friend: "Can you tell me a way to save the oppressed? And a way to fight back when rockets are fired at us and Muslim blood flows?"
Attempted NYC subway bomber Najibullah Zazi, the first Afghan-American involved in such a plot, upon pleading guilty:
"Your Honor, during the spring and summer of 2008, I conspired with others to travel to Afghanistan to join the Taliban and fight against the U.S. military and its allies. . . . During the training, Al Qaeda leaders asked us to return to the United States and conduct martyrdom operation. We agreed to this plan. I did so because of my feelings about what the United States was doing in Afghanistan."
Fort Hood shooter Nidal Hasan:
"Part of his disenchantment was his deep and public opposition to the wars in Iraq and Afghanistan, a stance shared by some medical colleagues but shaped for him by a growing religious fervor. The strands of religion and antiwar sentiment seemed to weave together in a PowerPoint presentation he made at Walter Reed in June 2007. . . . For a master's program in public health, Major Hasan gave another presentation to his environmental health class titled 'Why The War on Terror is a War on Islam.'"
Meanwhile, the American-Yemeni preacher accused (with no due process) of inspiring both Abdulmutallab and Hasan – Anwar al-Awalaki – was once considered such a moderate American Muslim imam that the Pentagon included him in post-9/11 events and the Washington Post invited him to write a column on Islam. But, by all accounts, he became increasingly radicalized in anti-American sentiment by the attack on Iraq and continuous killing of innocent Muslims by the US, including in Yemen.
And, of course, Osama bin Laden, when justifying violence against Americans, cited US military bases in Saudi Arabia, US support for Israeli aggression against its neighbors, and the 1990s US sanctions regime that killed hundreds of thousands of Iraqi children, while Iranians who took over the US embassy in 1979 cited decades of brutal tyranny from the US-implanted-and-enabled Shah.
And no, for the sake of those who equate motive for a crime with justification or excuse for a crime, none of this is justification or excuse. But we have to be stupid if we try to fight crime without taking into account its root causes.
The following two tabs change content below.
Neil Godfrey
Neil is the author of this post. To read more about Neil, see our
About page.
Latest posts by Neil Godfrey (see all)
---
If you enjoyed this post, please consider donating to Vridar. Thanks!
---