Part 3: K. L. Schmidt: Placing the Gospels
When it comes to the form critics, NT scholars don't know Schmidt. But to be fair, for a long time — all of the twentieth century in fact — they had a reasonable excuse. None of Karl Ludwig Schmidt's works had been translated into English, and unless you could grapple with his dense, rambling, arcane German prose, you had to rely on reviews and summaries from bilingual scholars.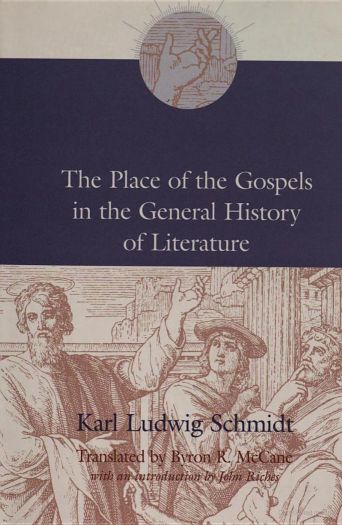 An act of parricide
In 2002, however, one of Schmidt's major works became available to the English-speaking public. Anyone with an interest in the gospel genre debate now has easy access to The Place of the Gospels in the General History of Literature at popular prices. I'm assuming it didn't sell well, because right now it's going for $2.45 (US) at Amazon, and when my copy arrived back in February, it had a black mark across the top. It has landed in the book equivalent of the cut-out bin.
If you have any interest at all in form criticism or NT German scholarship, John Riches' introduction alone is worth the price of the book. Riches notes that it took an unconscionable amount of time for The Place of the Gospels to be translated into English.
The appearance in English, nearly eighty years after its first publication, of one of the major works of early-twentieth-century German gospel criticism, represents yet another triumph of the persistence of the few over the indifference and hostility of the many. In this way, Schmidt's article in the Eucharisterion Festschrift joins William Wrede's Messianic Secret (1901: 1971) and Rudolf Bultmann's History of the Synoptic Tradition (1921: 1961) as works that have waited too long before they were made available to those without easy access to German. This leaves Der Rahmen der Geschichte Jesu [The Framework of the History of Jesus] as the last of the major works of the form critics still to be translated. Is this too little too late, or is there still an opportunity for a serious appraisal of the form critics? (p. vii, bold emphasis added)
We'll save Riches' strong criticism of current scholarship for a later post.  For now, let me pique your curiosity with some choice words about how the work of the form critics has been twisted to serve antithetical purposes. Continue reading "The Genre of the Gospels: How the Consensus Changed (Part 3)"