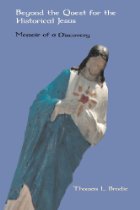 Now seems an appropriate time to say something significant about Brodie's arguments. I quote here sections from his now infamous book that The Irish Times reported as "caused quite a stir and some considerable upset", Beyond the Quest for the Historical Jesus. (I don't know. From what I hear from the likes of lots of mythicist critics, Brodie should have attempted to publish his views in a scholarly peer-reviewed journal if he thought he could mount a serious argument. He would have been guaranteed a fair hearing then, wouldn't he?)
I was expelled by my church for going public with critical questioning and giving others materials to help them do the same, so I think I understand a little of what Brodie is experiencing. It is a nice coincidence that we appear to have come to a conjunction of views on Gospel origins despite our divergent scholarly statuses.
In chapter 17 Brodie addresses the four-volume work by another Catholic priest, John P. Meier, A Marginal Jew. I select here two core criticisms by Brodie that resonate with me because
(1) they address what is fundamentally wrong with most books on the historical Jesus;
and (2) they have also been basic to many of my own discussions of the Gospels as historical sources.
Brodie writes, beginning page 156 (my formatting and bolding):
Marginal Jew has two key problems. First, like many other studies, it uses an unreal compass — oral tradition.

By relying unduly on form critics . . . it assumes that the Gospels are something that they are not, namely, that they reflect oral traditions that go back to Jesus, back to about the year 30 C.E. (Marginal Jew, I. 41).

At no stage, despite several references to oral tradition, does Marginal Jew stand back and examine closely how we know such tradition existed.

Rather, backed by Josephus, it starts with an early claim that Jesus existed (I. 68), and with the essential answer to the whole inquiry thus in place, it needs something to fill the gap of about forty years between Jesus and the Gospels. And since oral communication is basic to humans — even more so in antiquity — it seems wonderfully plausible to fill the gap with oral communication, which is then turned into the idea of oral tradition. As we saw already, it is an idea that badly needs a funeral.
Refer to my earlier posts on Brodie's argument undermining the assumption of oral tradition being behind the Gospels:
The second fundamental problem in Marginal Jew is that it largely bypasses Rule One of historical investigation, the priority of the literary aspect, and as a result misreads the origin and nature of its main sources — the Gospels.

It does not do justice either to where the Gospel text came from (especially its traceable literary sources), nor to what it is and where it is going (to how the sources — the raw materials — have been shaped into sophisticated literary writings).

And the reality is that the shaping of those sources is guided by considerations of literary and theological artistry that do not need the figure of Jesus to be historical, in themselves they are independent of the life of Jesus.
There are usually some teasing hints about these things in these HJ studies, but they always fizzle.
At first sight Marginal Jew does seem alert to the literary aspect of the task. It quickly acknowledges the principle of incorporating contemporary literary criticism (I, 12), and it sometimes traces links between texts. But the engagement is brief. At no stage does it stand back and consider systematically the possible lessons that might be learned from the way in which the great writers of the ancient world composed — how they rewrote existing texts, and how they chiselled their own works into powerful art.

There are over three hundred pages on Jesus' competitors (III, 289-613), but not one complete paragraph on Homer or Virgil, the two mountains who dominated the world's literary landscape, including the Gospels. Without a clear handle on the Gospels, it is impossible to get a handle on Jesus.
Brodie then discusses the use of criteria in NT studies, and their flaws. Two of these are 'contradiction' and 'discontinuity'. These refer to the assumption that if something in the Gospels is out of line with what has been said elsewhere, then there must have been a compelling reason to include it. And that reason must have been that it 'really happened'. Brodie points out, however, that such contradictions and discontinuities are standard motifs throughout biblical literature, beginning with Genesis.
There is more, of course, but we may touch on some of these in future posts.
The following two tabs change content below.
Neil Godfrey
Neil is the author of this post. To read more about Neil, see our
About page.
Latest posts by Neil Godfrey (see all)
---
If you enjoyed this post, please consider donating to Vridar. Thanks!
---