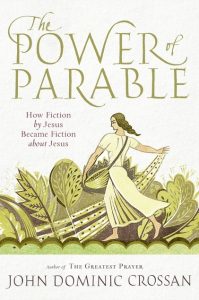 This post was to conclude my series on Crossan's new book, The Power of Parable, but since it is taking longer to complete than I anticipated I'll post here only on Crossan's treatment of the Gospels of Mark and Matthew. Luke-Acts and John can wait.
The Parable Gospel According to Mark
According to Crossan the author of this Gospel was not writing a history or biography of Jesus but a parable about church leadership and the meaning of true Christianity.
The author, says, was probably writing in Caesarea Philippi to refugees from the recent war against Rome. These people, Crossan says, "had lost everything — their lands and possessions, their homes and their loves, their hope and maybe even their faith." (p. 173) (I shake my head a little every time I hear a theologian or any believer write about loss of faith as if it were something worse than losing loved ones and homes.)
So what was Mark's parabolic message to these people?
In his gospel, Mark claims that false prophecy led Jerusalem's Christian Jews astray by promising them that the (second) coming of the Messiah would save them from . . . Roman destruction. And, says Mark — with parabolic hindsight and fictional creativity — Jesus had warned against that very delusion . . . .

Furthermore, Mark lays full responsibility for that mistaken conflation of the coming of Christ with the coming of Rome on the shoulders of the Twelve, that is, on their misunderstanding of Jesus . . . . (p. 171)
Mark is writing a story to castigate the Twelve for getting Jesus wrong in every way.
He criticizes the Twelve
for failing to follow the mode and style of (servant) leadership of Jesus;
for failing to lead a united Jewish and Gentile Christian community instead of an exclusively Jewish one from Jerusalem;
for failing to understand that performed miracles for both the Jews on the western side of the lake and the gentiles on the eastern side.
Mark is taking what he sees as the sins of the Twelve throughout the forty years after Jesus (from the late 30s to the early 70s) and re-writing them so they appear in a story setting of their time with Jesus.
But there's a problem. Crossan also knows that almost all of those Twelve were dead by the time Mark was writing. He intimates that Mark is writing a parable about problems in his own day and that have relevance for all Christians since. Continue reading "Gospels as Parables ABOUT Jesus: Crossan, part 3 of 4"