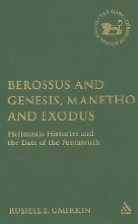 What happens to the Documentary Hypothesis (DH) if, as outlined in recent posts, the Pentateuch was first written in the third century BCE? That's the first question that comes to most of us when first hearing a thesis like this. This post outlines Russell Gmirkin's chapter on the DH, and is thus a continuation of my summary of the early sections of his book, Berossus and Genesis, Manetho and Exodus: Hellenistic Histories and the Date of the Pentateuch.
(Other posts where I have discussed the DH, including other criticisms of it, are archived in the Documentary Hypothesis archive.
See Who Wrote the Bible? The Rise of the Documentary Hypothesis for the history of the DH's origins.
For Julius Wellhausen's Prolegomena to the History of Ancient Israel, the sacred-texts site contains one of the easiest-to-read online versions.
Another modern book worth reading in defence of the DH is Friedman's The Bible With Sources Revealed.)
The different sources identified in the DH are not in dispute in Gmirkin's thesis:
This book does not take issue with the Higher Criticism's identification of different sources in the Pentateuch, each with its own consistent vocabulary, interests and theological outlook. (p. 22)
Gmirkin describes the DH as presented by Wellhausen. Its primary fault, he argues, is that it dates the hypothetical sources by means of what is in reality an unsupported construct of Israel's history.
The entangling of dating issues with subjective historical constructs was a major flaw in Wellhausen's approach. The Documentary Hypothesis as developed by Wellhausen illustrates the grave danger of circular reasoning inherent in dating texts by means of a historical construct to facilitate the dating of these same texts. (p. 5)
Gmirkin's method of dating is, as explained in previous posts in this series, a separate and independent process.
In chapter 2 Gmirkin discusses the DH in some detail. He examines its function and development as a literary and as a historical theory, then considers the historical assumptions underpinning the thesis and finally looks at the external evidence impinging upon the validity of the DH.
The Documentary Hypothesis was both a literary theory (regarding identification and dating of Pentateuchal sources) and a historical theory (regarding the evolution of Jewish religion). The authors of the DH based its history of the Jewish religion directly on the biblical account, accepting that the cultic practices successively described in Genesis, Exodus, Joshua, Judges, Samuel and Kings reflected sequential historical periods in Jewish history. (p. 24)