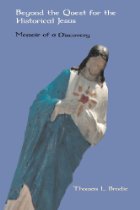 Now seems an appropriate time to say something significant about Brodie's arguments. I quote here sections from his now infamous book that The Irish Times reported as "caused quite a stir and some considerable upset", Beyond the Quest for the Historical Jesus. (I don't know. From what I hear from the likes of lots of mythicist critics, Brodie should have attempted to publish his views in a scholarly peer-reviewed journal if he thought he could mount a serious argument. He would have been guaranteed a fair hearing then, wouldn't he?)
I was expelled by my church for going public with critical questioning and giving others materials to help them do the same, so I think I understand a little of what Brodie is experiencing. It is a nice coincidence that we appear to have come to a conjunction of views on Gospel origins despite our divergent scholarly statuses.
In chapter 17 Brodie addresses the four-volume work by another Catholic priest, John P. Meier, A Marginal Jew. I select here two core criticisms by Brodie that resonate with me because
(1) they address what is fundamentally wrong with most books on the historical Jesus;
and (2) they have also been basic to many of my own discussions of the Gospels as historical sources.
Brodie writes, beginning page 156 (my formatting and bolding):
Marginal Jew has two key problems. First, like many other studies, it uses an unreal compass — oral tradition.

By relying unduly on form critics . . . it assumes that the Gospels are something that they are not, namely, that they reflect oral traditions that go back to Jesus, back to about the year 30 C.E. (Marginal Jew, I. 41). Continue reading "Thomas L. Brodie: Two Core Problems with Historical Jesus Arguments"