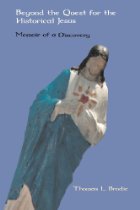 I have posted a few times with reference to Dominican priest Thomas L. Brodie's latest book, Beyond the Quest for the Historical Jesus, which is something of an intellectual biography of how he arrived at his conclusion that Jesus did not exist. These posts are archived here — scroll to the bottom of the page to see the first one addressing his book most generally.
Now The Irish Sun has published the fallout:
A TOP priest has been forced to quit a Bible-teaching job after writing a book claiming Jesus did not exist.

Fr Tom Brodie makes the claim in Beyond the Quest for the Historical Jesus.

The publication sparked fury in his order and he was removed from his post at the Dominican Biblical Institute in Limerick, which he helped set up.

According to documents seen by the Irish Sun, the veteran scholar was also banned from any lecturing, teaching or writing while a probe is under way.

It is understood Fr Brodie has questioned the existence of Jesus since the Seventies but had until now been unable to make his views public.
For the full article go to http://www.thesun.ie/irishsol/homepage/news/4754775/Pulpit-Fiction.html [The Irish Sun link no longer accesses the article but IrishCentral still has a contemporary report: https://www.irishcentral.com/news/irish-priest-disciplined-after-claims-jesus-never-existed-in-controversial-book-187717531-237560221 Neil, 23rd July, 2019]
Is anyone surprised? But how many biblical scholars will be outraged over the ideological suppression of free critical inquiry? It is clearly Brodie's conclusions that have upset people. I doubt there will be too much discussion of the details of his methods.
The following two tabs change content below.
Neil Godfrey
Neil is the author of this post. To read more about Neil, see our
About page.
Latest posts by Neil Godfrey (see all)
---
If you enjoyed this post, please consider donating to Vridar. Thanks!
---