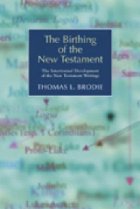 Thomas Brodie has shown that the theory that the Gospel narratives began as oral traditions is not founded on valid logical argument. Nonetheless, he recognizes that an idea that rests on little more than mere presumption "may still be useful as a working hypothesis." So he proceeds to explore whether the theory of oral tradition works in New Testament studies. What follows is from Brodie's chapter 6 of The Birthing the New Testament — all posts archived here.
.
First, here's a chart of the arguments attempting to explain how oral tradition worked — as covered by Brodie. He covers many scholars in quick succession and it can be a bit numbing for someone wanting a quick blog read and who is unfamiliar with the topic to take it all in very easily. I use the many colourful images that have arise in the various attempts to explain how oral tradition is supposed to work: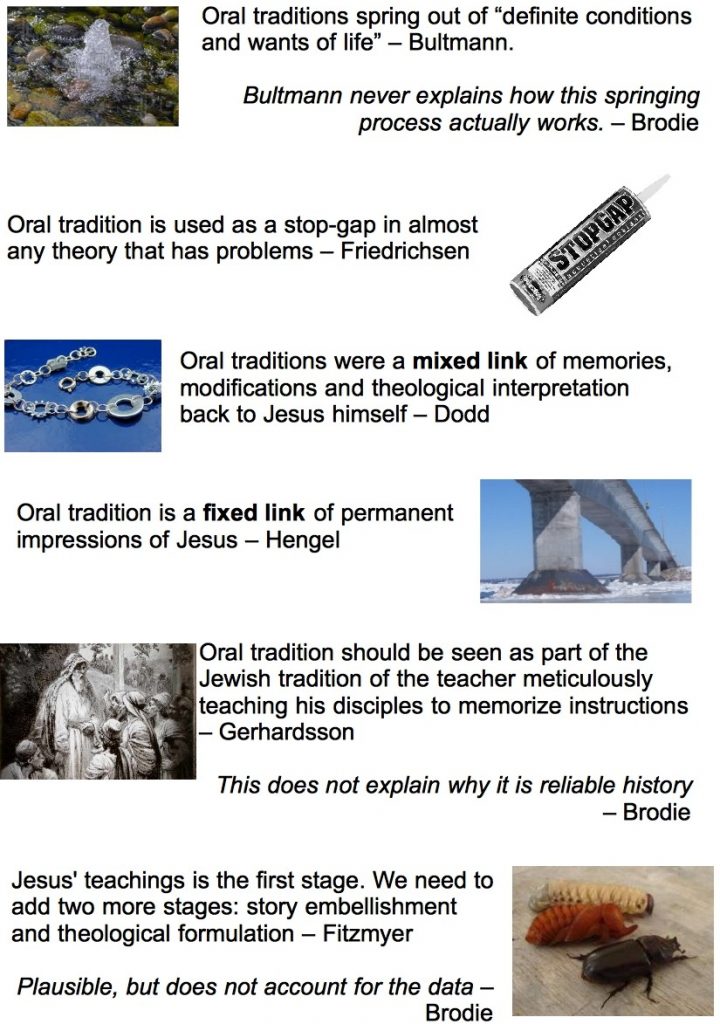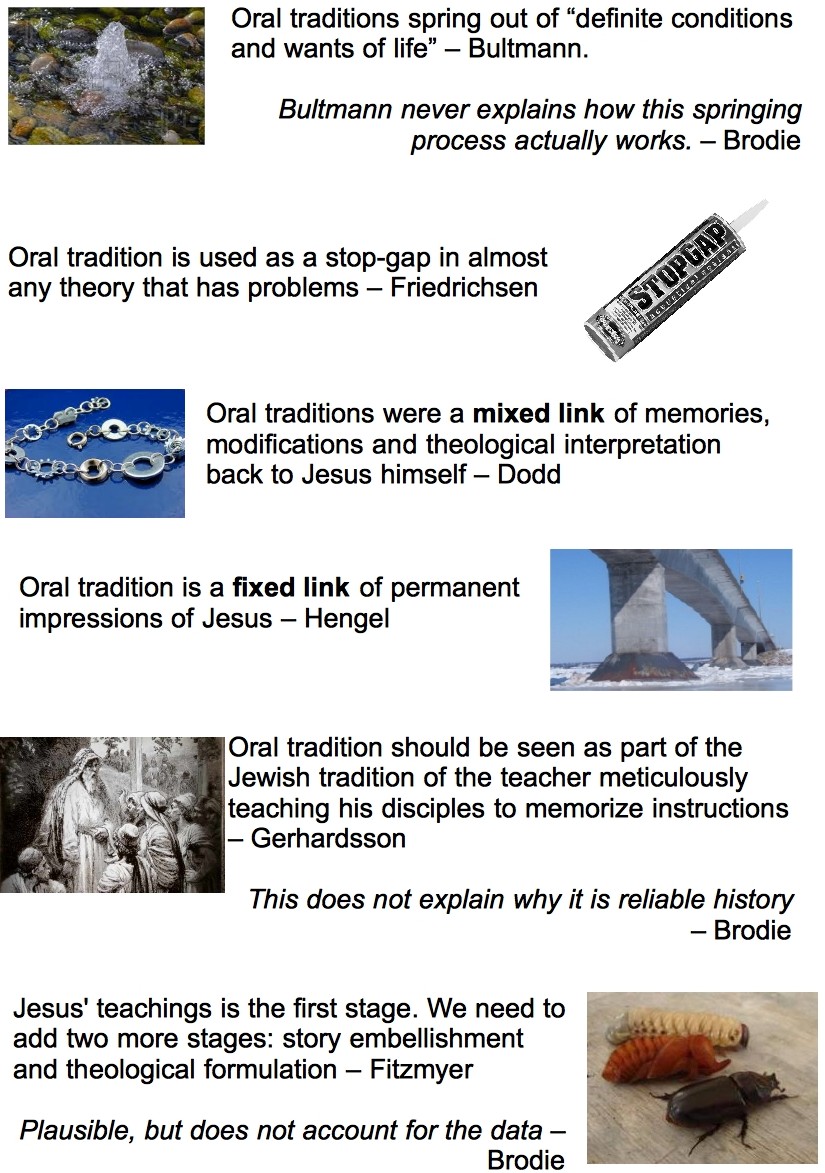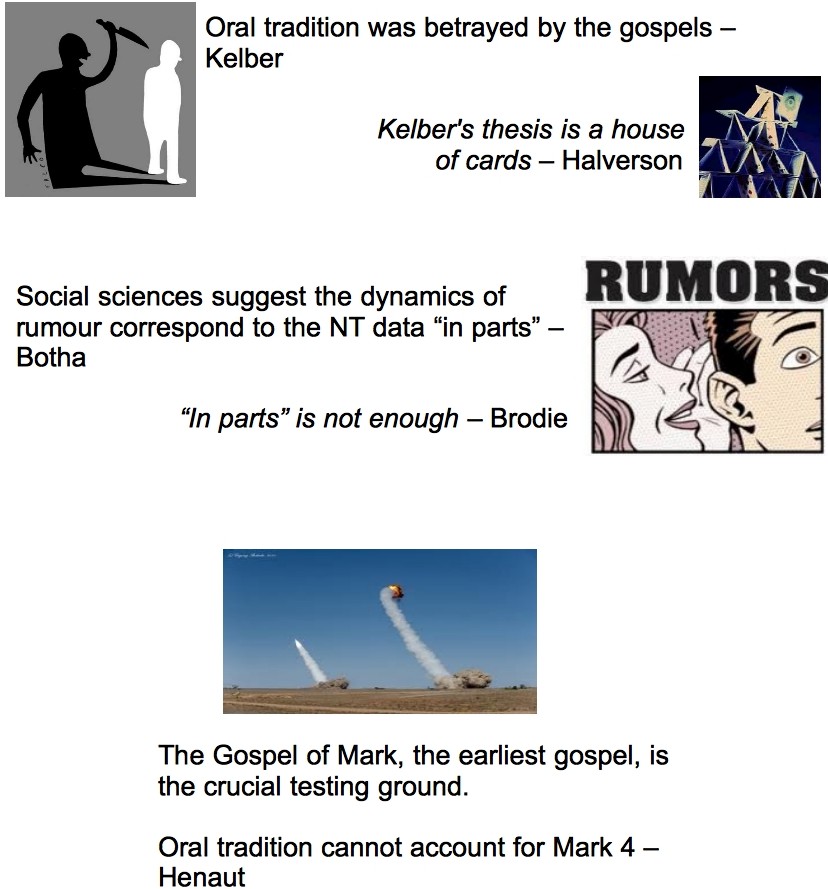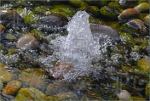 Bultmann wrote that oral traditions (the raw materials of the Gospels) spring out ("entspringt") of "definite conditions and wants of life". But, Brodie points out for those of us who stop and wonder about such colorfully cloudy statements, Bultmann never explained how this springing process actually works.
It is very easy to use a phrase like "a period of oral transmission" without stopping to envisage what exactly it means. (G. B. Caird, in ExpTim 87)
.

  T. A. Friedrichsen, in an unpublished 1992 dissertation, observes that oral tradition, "usually undefined", is used as a stop-gap in almost any theory that has problems.
.
C. H. Dodd (1963: 6) pinpointed one of the major problem with the theory of oral tradition in New Testament studies: there is simply not enough time. Oral transmissions centuries old cannot be expected to have the same canons or 'laws' that would be applicable to narratives less than a generation or "human lifetime" old.
Dodd's therefore chose to modify the theory of oral tradition. Instead of suggesting that communities created the stories in the first place, Dodd suggested that communities modified pre-existing memories and stories. These reminiscences and modifications could involve theological interpretation, too. So by this means Dodd maintained that the oral traditions were a "mixed" link to Jesus himself.
.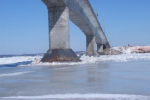 Hengel (1980: 24), on the other hand, proposed a "fixed" link to Jesus. He imagined that Jesus' brief activity in Galilee left a legacy of "firmly fixed and permanent impressions".
Brodie acknowledges that both the mixed and fixed models of oral interpretation, opposite concepts, sound plausible. But they both lack evidence. Indeed, Hengel's proposal is "a bland assertion" with little argument to support it.
He prejudges a fundamental issue about the nature of the ultimate sources behind the text. (p. 58)

.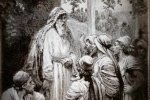 B. Gerhardsson (1961: 214, 315), took a positive step forward by attempting to clarify what was exactly meant by oral tradition and setting out a model to explain how it could work.
Gerhardsson's model borrowed from the larger Jewish tradition of an authoritative teacher instructing his disciples, as is known from the later rabbinic literature and understood from earlier writings. According to this model Jesus was like the typical Jewish teacher instructing his disciples, and would, like them, use "meticulous rabbinical methods of teaching and transmitting, methods with exact processes of memorization and writing." It is "these processes of memory and manuscript [that] underlie the gospel."
Brodie rightly comments:
This is an important feature of the gospel presentation, but despite the vividness and centrality of this teacher-disciple picture in Gerhardsson's presentation of the gospel data, there is still no clear reason for converting it into reliable history. (p. 59)

.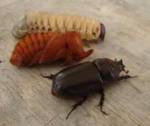 J. A. Fitzmyer (Theological Studies, 23:442-57) pointed out that for all of Gerhardsson's good work, that "to a significant degree it does not fit all the data because its rigidity does not allow for the central phenomenon of the differences between the Synoptic Gospels."
But Fitzmyer proposed a solution to this. He added two more stages:
Jesus' teaching — the original memorized instruction Jesus passed on to his disciples (Gerhardsson's model)
A subsequent oral embellishment and modification as generally happens to stories as they are re-told (Fitzmyer's first add-on)
A still later "theological formulation" by the evangelists who composed the gospels (Fitzmyer's second add-on).
This three-fold model looks impressive, persuasive, familiar, self-evident even.
The three stages, being distinct like this, would appear to be able to account for almost anything and any variation we read about Jesus in the Gospels. If Step 2 does not account for it, then let Step 3 enter, and so forth.
Brodie finds only a few details wrong this this model:
The problem again, as with Gerhardsson's theory, is that the model does not account for the data. There are more things in the gospels than are allowed for in this three-stage theory.

In the case of Luke, for example, the gospel's literary quality so pervades the text that it does not fit easily into any of the three stages.

Another is Luke's detailed reworking of Old Testament stories. For instance, the first conclusion of B. Koet about Luke's reworking of the scriptures is that it is systematic (Koet 1989: especially 141-143).

There is also a problem with John: despite claims that John depends on several stages, there is evidence that the whole gospel is a thorough literary unity, complex and coherent (see Stibbe 1992, Brodie 1993a).

A solution to the problem is to expand the role of the third stage so that it no longer consists just of adding formulation but comes closer to the idea of thoroughgoing authorship. But the more one does that, the more the earlier stages begin to crumble. (p. 59, my formatting and emphasis)

.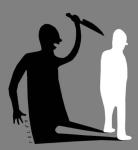 Then in 1983 Werner Kelber published an entirely different explanation for oral tradition. Clearly the existing models had not been to everyone's satisfaction. Kelber proposed that the world of oral transmission was totally unlike anything we read in the gospels. "In fact, the gospels betrayed the oral tradition." (My own recollection of Kelber's argument was that the Gospel of Mark, for example, was in part an attempt to put an end to the wildness of oral traditions.)
But not even Kelber's thesis has stood the tests of time. J. Halverson (1994: 194) appeared to deliver the coup de grâce with his assessment that Kelber's "ingenious thesis is 'a house of cards'."
.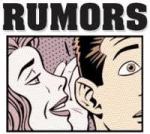 P. J. J. Botha (Neotestamentica 27: 209) drew upon social sciences to suggest that "the dynamics of rumor . . . seem to correspond to the New Testament data 'in parts'.
Brodie:
Botha seems to be right, but 'in parts' is not enough.

The dynamics among the gospels are so many and complex that parts of those data will correspond to almost any model.

That is why so many diverse models — Bultmann, Dodd, Gerhardsson, Fitzmyer, Botha — can appear credible. The theories really do correspond to data. But not to all the data. (pp. 59-60, my formatting and emphasis)
.
The problem of Mark 4
B. W. Henaut (1993: 305) has studied the Gospel of Mark's parable chapter and concluded that
It is far more difficult to prove . . . that oral tradition lies behind this particular text than has been commonly acknowledged.
Take a look at the chapter headings of Henaut's book and we can see a layout of a similar discussion on the problem of orality given the sophisticated textuality of the gospels as Brodie has covered here. Henaut focuses on Mark 4 as a case-study.
This works looks like it addresses the sort of detail I often like to cover in a blog post to demonstrate an argument. I have found a cheap copy online (a saving of over $130!) so maybe I will be able to post on sections of it here in the future.
Brodie concludes this section discussing the unworkable nature of oral tradition:
The difficulty surrounding Mark 4 reflects a larger problem. Mark, generally regarded as the first gospel, is the crucial testing ground for tracing tradition (including oral tradition), but the tracing process does not work. Major efforts to distinguish tradition from redaction have been at such odds with one another as to suggest that, on the tradition question at least, Markan research sometimes seemed to be in a cul-de-sac (U. Luz . . .).

The conclusion seems unavoidable: in practice, thus far at least, the hypothesis of oral tradition has proved unworkable. (p. 60, my bolding)
Next in this series will look at Brodie's case for why oral tradition is unnecessary.
The following two tabs change content below.
Neil Godfrey
Neil is the author of this post. To read more about Neil, see our
About page.
Latest posts by Neil Godfrey (see all)
---
If you enjoyed this post, please consider donating to Vridar. Thanks!
---