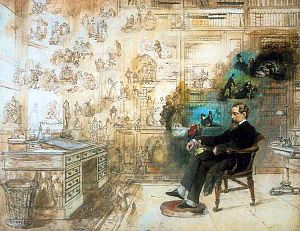 Sara Mandell and David Noel Freedman give us some valuable tips on how to read
the pagan Greek work of "History" by Herodotus
much of the biblical history of Israel (Genesis to 2 Kings)
and the Gospels
in their 1993 volume The Relationship Between Herodotus' History and Primary History (Genesis to 2 Kings).
Among several threads tying all these three pieces of literature together:
all three are about human affairs being directed by divinities
all three contain strong theological themes and messages

and this message is reinforced with somewhat nebulous endings that contain a mix of optimism and uncertainty as to the future (i.e. Herodotus, 2 Kings, Mark)

all three ostensibly present themselves as "histories"
all three contain a mix of mythical (including nonhuman) characters and historical persons
all three relate miraculous and supernatural events as significant functions in their narratives
all three contain a similar narrative structure in that there is a significant change in tone and types of events and course of action once the setting moves to a traditional homeland or theologically charged centre (e.g. the Greek mainland, the Promised Land, Jerusalem)
all three are predominantly prose narratives, yet at the same time all three contain a mix of genre elements such as epic, tragedy, novella and poetry.
In my previous post (or the one before that) I cited two key points that are fundamental to understanding any literary work. I repeat them here and add one more:
Literary works must be treated as iconic (that is, as works of artistic or literary creation in their own right, meaning they stand apart from the world around them as works of artifice — meaning will become clearer below)
The implied narrator is not to be identified with the real author; the implied narrator is as much an authorial creation as any other feature of the narrative
The implied narrator is addressing an implied audience. (The implied audience is not the same as the real audience.)
The ideological bias at the heart of most readings of the Gospels
In the case of the Gospels in particular, most scholars ignore these rules of modern literary analyses, particularly the last one, because of an ideological assumption that the Gospels must be treated as primary sources of information about Jesus. Mandell and Freedman are speaking in this instance of the two earlier works, but the same applies, I believe, to readings of the Gospels.
The distinction between implied and real auditors/readers is generally ignored in the analysis of both works [Herodotus and Primary History] because of the ideological stance that demands the respective narratives be treated as primary historical information about real people who lived in real, secular, historical time. (pp. 5 f.)
Even those scholars who sincerely attempt to put their own beliefs to one side when examining the texts still fall into the trap of assuming that the implied narrator in Herodotus' History and Primary History (and also of the Gospels, I would add) is the same as the real author, and the implied audience is to be understood as the real, original audience. By falling into this error they misunderstand the nature of the text. And the root of this error is their commitment to the 'ideology' that the Biblical History (and Gospels) should be considered a primary source of historical information about real people and events.
So what does this mean for a reading of these texts?
Clearly then, a reading of Primary History informs us of the world the respective authors/redactors, and particularly the final redactor, depicted as a literary construct. This invention, however, may have nothing to do with the real world in which any one of them lived. The same is true in the case of Herodotus' History. [I would add that the same is true in the case of the Gospels.] (p. 6, my emphasis)
A reading of an Ian Fleming James Bond novel informs us of the world of fiction. It may have nothing to do with the real world. In some novels there are some coincidences with the real world, but they are coincidences and are not themselves genuine 'historical' material. (Perhaps an astute reader might one day be able to glean a little genuine history from some of the novels, but not much.)
Note that Mandell and Freedman do not say that a literary construct has nothing to do with the real world. There is no way of knowing if it does or not simply from the narrative itself — from reading the narrative as iconic.
Interestingly in the light of several quotations I have pulled out several times now Mandell and Freedman have their own line that I can add to my little cluster. When speaking of what some people think they can glean as historical information from both Herodotus and Primary History, M and F write:
Without external data to support it, however, such material cannot be trusted. (p. 3)
(No-one I know has addressed any of the points of the other quotations I have cited yet, but James McGrath does complain that my use of them is "tired" or such. Well hopefully by adding another to this mix I can liven them up a little. I think the real reason they are "tired" is because they are tired of waiting for someone to address them.
I said no-one has yet addressed these quotes yet, and mean by that that no-one to my knowledge has addressed the actual points they make about the centrality of the need for independent attestation in order to avoid circularity of argument. McGrath has seized on related statements by Hobsbawm to show he understands the obvious truism that the face-value narratives need to be critically examined, but has avoided the central point I have shown he is addressing in my quotation; and others have expressed outrage that I dared use Schweitzer. McGrath was an exception to this response to Schweitzer, and said that he Schweitzer was "not critical enough".)
Why reject the historical or biographical approach to analysing the Gospels?
Here is what Mandell and Freedman say about their approach to reading both Herodotus and Primary History. I suggest the same is valid for the Gospels, too. Indeed, Mandell and Freedman say this directly themselves at one point.
We hold as valid and basic to our analysis the fundamental tenet of Analytic Criticism that a literary text does and, indeed, must stand alone as a self-contained artifactual or iconic entity: that is, once created, a work is an "objectified" organic whole, which is independent of its real author or his intentions. [In a footnote M&F say they cannot agree with Mark Allan Powell "that this position is pretty much thought of as extreme today."] Correlatively, we believe that when a reader draws exegetical conclusions about the text, he is extracting what was inherent in the artifact itself. Consequently, we deem those Reader Response postulates we view as sound to be in accord with the "iconic text" premise of Analytic Criticism. [M&F acknowledge the many theories subsequent to, but not superseding Analytic Criticism.] (p. 10)
This means that texts like the Gospels cannot be read as if they are primary sources of history or biography, in confidence that they are written by authors who intended to write history or biography for readers who understood them as genuine history or biography.
We reject the Biographical (or Historical) approach to the analysis of literature* precisely because it permits allegedly credible knowledge about an author to be extracted from his own writings and then employed to interpret the very works from which it had been extracted. (pp. 10-11)

* = "this is not to be confused with the Historical-Critical analysis used in biblical studies".
In other words, we cannot read the mind of the real authors who wrote the Gospels any more than we can read the minds of those who wrote the books of the Old Testament, or the mind of real Herodotus. Further, if we think the Gospels do inform us of the motivations of their real authors, then we will think we can understand their intentions from the narratives they wrote. And once we think we have understood the mind of the author, we will use that understanding to interpret the narrative he wrote! That is, of course, a circular (invalid) process.
Of course there is information in the narrative that can tell us things about the world known to the real author. So M&F clarify their point:
This does not mean, however, that we deny the "given" precept that a text discloses facts about itself. Rather, we refuse to treat it as divulging information about its genesis and/or its author's reasons for writing it. *

[* "Hence, Analytic Criticism does not militate against analysis via Form,-Tradition,- or Redaction Criticism. Rather, the various methods are complimentary of one another . . . "]

In any case, we hold to the basic axiom of Analytic Criticism, whereby a narrative cannot be used as a source or exact knowledge about its real author or his society, but only about the characters and the society he created. . . .

It is imperative that these strictures, particularly against extracting biographic material from a text to interpret that same text, be heeded in the analysis of all works. And Primary History, a work in which there are multiple authors/redactors, who are for the most part mutually distinguishable on the basis of the literary, theological, ideological, and historical viewpoints their implied narrator(s) seem to hold is no exception. (p. 11-12)
The Gospels, too
In fact, an analogous treatment must be applied when doing a literary analysis of the Gospels. Although as M. A. Powell points out, the authors/redactors of the Gospels "did not intend them to be viewed as fiction"; and although because of their personal religious beliefs, many scholars do not place them in a category that Analytic Criticism deems literary, from a literary perspective they are more closely related to the Roman à Clef than to biography. (p. 12, my emphasis)
This was published in 1993. About the same time (1992) Burridge's influential book arguing the Gospels were indeed an ancient form of biography was published. I have suggested in recent posts the reason this argument has been so influential is that it does strike a happy chord with the ideological biases of most biblical scholars — the very ideological bias Mandell and Freedman themselves address. (See above.) I have addressed reasons for dismissing Burridge's arguments. They focus on the superficialities of literary devices in attempting to decide what constitutes a genre. Michael Vines offers a much more substantially theoretically grounded argument about what constitutes a genre and places the Gospel of Mark more realistically within the genre of Jewish novel. This is more plausible within the wider context of known ancient genres than M&F's comparing the Gospels to the Roman à Clef (novel based on real characters).
Thomas L. Thompson addresses something not quite the same but very similar when he says bluntly that historical Jesus scholars have simply assumed that there is a historical Jesus that is the real topic of the Gospels.
I have no idea what Freedman thought about the historicity of Jesus or what Mandell thinks, but it would not surprise me if they also presumed he existed. Whatever their personal stance on this, the method of reading the gospels as literary creations at least theoretically pushes the door wide open on the question of the historicity of Jesus. The method cannot be used to tell us that there was no historical Jesus; it cannot be used to cast light on the question either way. The method can, however, lead us to a solid theoretical foundation on which to study the Gospels quite apart from any assumptions of historicity. It gives a solid theoretical foundation for rejecting the ideological bias that insists on reading the Gospels as primary sources about a real historical person and events.
It is many things, but history is not one of them
This is now Mandell and Freedman conclude their introductory section about History by Herodotus. Think Gospels as one reads:
Although the History appears to be an historical work, it is not. Rather, it is comprised of a combination of genres, none of which can be classified as historical. The real author composed his work in such a way that he produced a new literary genre. He superimposed the paradigm characteristic of 5th century Attic drama on that of the genres we now call the "Documentary Novel" (or "Historical Fiction") and "Roman à Clef" respectively, and he bonded them into a prose epic. (p. 16)
By Documentary Novel M&F are thinking of those stories that are populated by fictional characters such as Adam and Eve. By Roman à Clef they are thinking of stories told about real characters that have been handed down from oral or written tradition. As stated above, and in recent posts, I believe there is a more substantial argument that stands in concord with known genres of the time that the Gospel of Mark at least is a Jewish novel. Others, such as Bilezikian, have argued that Mark is based on Greek Tragedy. Interestingly this is one of the genres that M&F see Herodotus as utilizing in a significant manner.
Creators of works of another genre in early Greece also "adopted, adapted, and created evidence" that they then presented as "historical data" in the context of a story narrative — and those were the writers of epic. Homeric epic did much the same sorts of creative history as Herodotus did. For this reason, Mandell and Freedman write:
we believe that the frequently noted analogies between Homeric epic and Herodotus' History are more than coincidental. (p. 17)
I suspect Dennis MacDonald, who has found reasons to argue that the Gospel of Mark is itself based on Homeric epic (perhaps even as an anti-epic), would agree.
By using a format that his [Herodotus'] contemporaries would recognize as cognate with epic, the real author Herodotus may have been suggesting to his readers that he was writing some new form of epic that they were not to treat as genuinely historical. Similarly, but subtending his narrative with elements from the tragic genre, he may have been suggesting that he was writing some new form of tragedy, but one that was not to be acted out in the theater of Dionysus.

Herodotus' real readers/audience(s) may have realized what he was doing as well as why he was doing it if, as the evidence suggests, most 5th century Greeks treated Homeric epic and tragic drama as representative of history while comprehending that it was not truly historical.(p. 18, my emphasis)
One might opine that it is no coincidence that epic (MacDonald) and tragedy (Bilezikian) have both been seen as constituents of the Gospel of Mark. Nor, I suggest, is it coincidental that the most substantial theoretical argument about the genre of Mark (Vines) places the gospel in a particular prose novel genre, also like Herodotus. I am not saying that the authors of the Gospels were imitating Herodotus. Of course they weren't. They were evidently writing in the tradition of the Jewish scriptures. But if, as Mandell, Freedman and others since have argued, the Primary History portion of those scriptures was likewise constructed (or more likely) redacted in the same way as Herodotus had created his History . . . .
The following two tabs change content below.
Neil Godfrey
Neil is the author of this post. To read more about Neil, see our
About page.
Latest posts by Neil Godfrey (see all)
---
If you enjoyed this post, please consider donating to Vridar. Thanks!
---