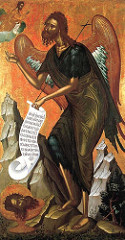 Let's keep it simple and consider the Gospel of Mark only. No heavy analysis this post; only a moment to look out the window and think over how the arguments of recent posts would affect our reading of Mark.
Firstly, we open with the prophetic announcement. What we are about to read is a fulfilment of prophecy as framed and announced in the opening of the book. The anonymous implied narrator is addressing an implied audience that reminds the real reader of the apparent audience of the prophets of Isaiah and Malachi. (Woops, that does not sound the least bit light. I will avoid repeating the "implied readers/narrators" and "real readers/authors" for the rest of this post, though I am certainly framing everything within those four points of view, and considering how it is all working out between them all.)
That is the way stories in novels and tragedies and epics are guided. Prophecies from the divinity announce what is to happen, and the audience then is held in suspense till they see how it all happens just as predicted.
These same genres use the same device to offer course corrections or details along the way in the middle of the plot. And that's exactly what happens in Mark, too. Continue reading "Lighter Literary Intellections on the Gospels"