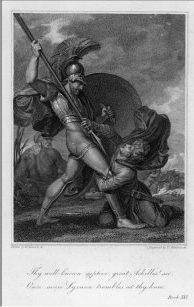 The previous post covered some of the indications that the heroine of Greek novel Chaereas and Callirhoe was modelled on Ariadne of Theseus and the Minotaur fame. This post looks at the way the author Chariton has constructed his hero, Chaereas, from cuts of other mythical and legendary figures, in particular from Achilles.
Once again, of equal significance is that these fictional characters whose creation was inspired by mythical figures interact with real historical characters in the novel. This is similar to what we find in the Gospels: fictional characters and events modelled on Jewish and Greek stories interacting with historical persons such as Pilate, Caiaphas and Herod.
In the first post of this series we saw that the hero Chaereas was based on Achilles, Nireus, Hippolytus and Alcibiades. From Reardon's translation we read in the opening paragraph of the novel:
There was a young man named Chaereas, surpassingly handsome, like Achilles and Nireus and Hippolytus and Alcibiades as sculptors portray them.
Cuevas comments:
These four men serve to illustrate the multifaceted persona of Chaereas. (p. 24 of Cueva's Myths of Fiction)
Homer's Iliad relates how both Achilles and Nireus fought with the Greeks in the Trojan War. Achilles was said to be the most handsome of the Greeks, while Nireus was the second-most handsome.
And Nireus brought three ships from Syme – Nireus, who was the handsomest man that came up under Ilius of all the Danaans after the son of Peleus [Achilles] – but he was a man of no substance, and had but a small following. (Iliad, 2)
So Nireus, while handsome, is flawed. He can only attract a small following. Continue reading "Novels Like Gospels (3) : How a Hero Is Created from Myths and Meets Historical Persons"