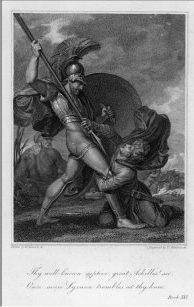 The previous post covered some of the indications that the heroine of Greek novel Chaereas and Callirhoe was modelled on Ariadne of Theseus and the Minotaur fame. This post looks at the way the author Chariton has constructed his hero, Chaereas, from cuts of other mythical and legendary figures, in particular from Achilles.
Once again, of equal significance is that these fictional characters whose creation was inspired by mythical figures interact with real historical characters in the novel. This is similar to what we find in the Gospels: fictional characters and events modelled on Jewish and Greek stories interacting with historical persons such as Pilate, Caiaphas and Herod.
In the first post of this series we saw that the hero Chaereas was based on Achilles, Nireus, Hippolytus and Alcibiades. From Reardon's translation we read in the opening paragraph of the novel:
There was a young man named Chaereas, surpassingly handsome, like Achilles and Nireus and Hippolytus and Alcibiades as sculptors portray them.
Cuevas comments:
These four men serve to illustrate the multifaceted persona of Chaereas. (p. 24 of Cueva's Myths of Fiction)
Homer's Iliad relates how both Achilles and Nireus fought with the Greeks in the Trojan War. Achilles was said to be the most handsome of the Greeks, while Nireus was the second-most handsome.
And Nireus brought three ships from Syme – Nireus, who was the handsomest man that came up under Ilius of all the Danaans after the son of Peleus [Achilles] – but he was a man of no substance, and had but a small following. (Iliad, 2)
So Nireus, while handsome, is flawed. He can only attract a small following.
Chariton perhaps is pointing to a dichotomy in Chaereas's character: on the outside Chaereas may be physically strong and handsome like Achilles, but inside he is less than perfect. This dichotomy is observable in the many scenes that the handsome Chaereas either cries or opts for suicide rather than facing his problems. (p. 24)
Similarly the comparison with Hippolytus is a silver cloud with a dark lining. Hippolytus was the son of Theseus, also astonishingly handsome, who rejected the worship of Aphrodite. Aphrodite had therefore to punish him.
Likewise, Chaereas commits an outrage against Aphrodite and, accordingly, must suffer the consequences. (p. 25)
Then there is the unexpected comparison with Alcibiades. All the other comparative figures are mythological. Alcibiades is historical. He was reputed to have been handsome, but he was also infamous for his self-centred and rakish life-style.
It may be that although Achilles, Nireus, and Hippolytus are much better models than Alcibiades, Chariton, in keeping with the historical veneer of his work, includes Alcibiades, a historical figure, because the background of his novel is historical rather than mythical.

The comparison to Achilles is positive, but the other three comparisons have negative qualities . . . . Chariton delineates his character's qualities by likening him to legendary or mythological heroes who adumbrate a likeable but faulty character. (p. 25)
Chariton draws heavily on Homer's epics by adapting lines and motifs from the Iliad in his own novel.
One line that Chariton repeats throughout the novel is one that is taken from the cruel moment when Achilles slays Lycaon (Iliad, 21:114)
λύτο γούνατα καὶ φίλον ἦτορ = knees were loosened and his heart was melted
Again from Reardon's translation of Chariton's novel, at the moment when Callirhoe is told she is to be married, thinking she is to be married to someone she did not know,
And then he limbs gave way, her heart felt faint.
Chariton's line was well known from Homer.
This line refers to the murder of Lycaon by Achilles, which ranks second in vileness only to the shameful treatment of Hector's body. This easily recognized line foreshadowed Chaereas's atrocious treatment of Callirhoe: she will be kicked to death (really a Scheintod). A closer examination of this line, in view of its new literary surroundings, may also hint at the adventures of Callirhoe: she will be captured, sold as a slave, and sail to islands and coastal cities. Even if Chariton does not intend the background of this line to prefigure the adventures of Callirhoe, the line itself, with its undertones of death, relentless vengeance, and cruelty, should alert the reader to its special qualities, in that it was associated with a time that should have been filled with immense joy for Callirhoe. (p. 26)
Again, just as Achilles fainted upon hearing the news of the death of his friend Patroclos, Chaereas, on hearing that Callirhoe had been unfaithful (and like Nireus unable to gather the support of his fellow suitors) also faints with Homeric allusions. Both Achilles and Chaereas lament in the dust for a considerable time.
Cueva analyzes Chariton's use of Homeric phrases showing how their Homeric associations heightened the dramatic moments in the novel.
Cueva shows the way many details of the narrative action and character traits are taken from Homer's epics in the earlier part of the novel, but over time the Homeric allusions become merely decorative.
Callirhoe's dream in which she sees Chaereas coming to talk to her is based on Achilles' dream in which he sees his close friend Patroclos speak to him. But there are many scenes of trials and tribulations in which Homeric textual and character allusions abound.
I wonder if some biblical scholars who have very harshly judged Dennis MacDonald's study of Homeric allusions throughout the Gospel of Mark would be so severe in their rejections of links between a Greek "historical novel" and Homer.
Analysis of Chaereas and Callirhoe shows that Chariton wrote a work with a predominantly historical background. The mythical element, however, is sizable, and cannot be disregarded. It takes many forms, such as allusion, quotation, and simile. One might even say that the social and historical conditions have a mythical quality about them. For example, women are included in assemblies, a woman conquers a barbarian king, and altogether too much importance is awarded to the demos.

The use of myth in Chaereas and Callirhoe is primarily limited to the depiction of character through mythological comparison.
Thus Callirhoe is compared to Aphrodite, Helen, the nymphs, Medea and Ariadne.
The last of the mythological analogues [Ariadne] is very important, because Chariton uses the adventures of Ariadne to direct parts of the action of the plot. (p. 33)
Chaereas is modelled on Achilles, Nireus, Hippolytus and Alcibiades. In the first half of the novel Chaereas's character is revealed as one not up to the standard of the best qualities of a hero. But in the second half his character is explored more deeply.
In the second half of the novel the author depicts Chaereas's character more through his acts than through mythological reference. In fact, historical characters displace the mythological as models for Chaereas.
In the second part of the novel Chaereas's and Callirhoe's adventures bring them face to face with the "historical" king Artaxerxes and his wife. I use quotation marks for historical because though Artaxerxes was a figure of history, his portrayal in the novel is, of course, really literary. In the same way one can say that the historical Pilate and Herod have been transformed into literary characters in the gospels. Pilate does not really act true to what is known of his historical character when he caves in to a mob calling for Jesus' death. And Herod was very bad but we have no reason to believe he killed all the babies in Bethlehem. These are historical characters who are being bent to the requirements of a Jewish novelist(?)
Chariton's novel is not a "gospel". The differences are obvious and scarcely need elaborating. But there are also significant similarities that deserve attention. The gospels do have an aura of verisimilitude about them. They have historical settings and involve real historical figures. At the same time there are a number of other characters in the gospels who various scholars have argued are literary fictions (e.g. Judas, the twelve disciples, the daughter of Jairus and the son of the widow of Nain, the parents of John the Baptist, etc), some of them even based on Homeric characters (e.g. Joseph of Arimathea). Even Jesus has been compared with Moses, Elijah and Odysseus. . . . .
The following two tabs change content below.
Neil Godfrey
Neil is the author of this post. To read more about Neil, see our
About page.
Latest posts by Neil Godfrey (see all)
---
If you enjoyed this post, please consider donating to Vridar. Thanks!
---