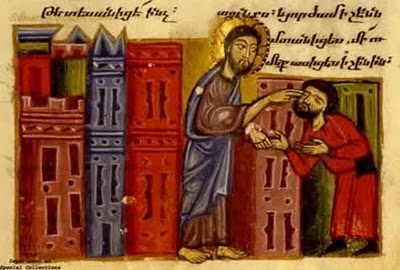 Following on here from my earlier post.
As noted in my previous post, Matthew and Luke inform us directly that the miracles of Jesus were for the purpose of identifying Jesus as the Messiah in accordance with the prophecies in Isaiah.
We may, if we wish, speculate that there really were a set of healings performed by charismatic, shaman-like person and that gospel authors completely re-imagined the way these occurred and subsumed those imaginative reconstructions beneath their primary interest of writing a narrative to demonstrate prophetic fulfilments of Isaiah, but that can never be anything more than idle speculation. We have no evidence for such historical antecedents so let's work with the evidence we do have.
As the discussion following my previous post on this topic shows I have discussed this several times before with detailed analyses of certain miracles (particularly in Mark's gospel) showing they were intended to be read not as literal events but as symbolic of theological messages. This post draws heavily on Bishop Spong's perspective of the same argument as found in his Jesus For the Non-Religious. Of the passages in Luke and Matthew in which Jesus is quoted as telling the messengers of John the Baptist that the miracles are signs that he is the Messiah, Spong writes: Continue reading "Jesus was not a healer (2)"