Through a Haaretz article by Amir Tibon I learned of a new Pew Research Center Poll: U.S. Public Has Favorable View of Israel's People, but Is Less Positive Toward Its Government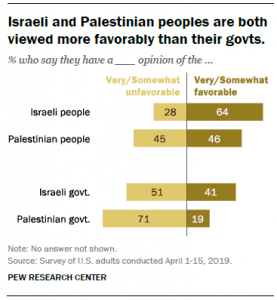 One might hope that the title alone of the results of that survey will go some way towards demolishing the slur that criticism of Israel's governments' respective policies is a subtle form of anti-semitism.
Disappointingly predictable was the finding that Christians (notably the evangalical side of Christianity) are more likely than Jews and the "religiously unaffiliated" to approve of Trump's hardline stance in support of Israel's policies (presumably towards Palestinians).
Overall, it showed that 48 percent of Christians – including 61 percent of Evangelicals – have a favorable view of the Israeli government. However, a plurality of Catholics – 49 percent – have a negative view of the Israeli government, and so does a big majority – 61 percent – of Christians who belong to the historically black church. (Tibon)

Evangelical Protestants are more likely than non-evangelicals to express a favorable opinion of Israel's government (73% of evangelical Republicans vs. 55% of non-evangelicals) (The Report)
As I've experienced in other areas, more Catholics than fundamentalists are on the side of liberalism, social justice and support for oppressed populations, and the support for Trump's position towards Israel is less among Catholics than among fundamentalists and evangelicals. Bring on Armageddon, I can hear the latter half-silently hoping. "God will bless those who bless the descendants of Abraham!"
Among Evangelical Christians, 72 percent think Trump's policy strikes the "right balance," and only 15 percent think he is too favorable to Israel.
Among Catholics, 34 percent think he is too favorable to Israel, and 51 percent think he has the "right balance."
In addition, 33 percent of the respondents who belong to the "historically black" church said that Trump's policies are too favorable to Israel, and 40 percent of them said it has the right balance.
Interesting that American blacks even today appear to continue to identify in some sense with the Palestinians. (That notion of identification on the part of American blacks has been a controversial question in the past.)
Jews are not quite as totally gung-ho:
Among Jewish respondents, 42 percent said that Trump's policies were too favorable to Israel. Only 6 percent said that his policies were too favorable to the Palestinians, while a plurality of 47 percent said the policy struck the right balance. Among Christian respondents, meanwhile, only 26 percent said Trump's policies were too favorable to Israel, while 59 percent said the 45th president has the 'right balance.'
The sample size was about 10,500 and error margin estimated at 1.5%.
The following two tabs change content below.
Neil Godfrey
Neil is the author of this post. To read more about Neil, see our
About page.
Latest posts by Neil Godfrey (see all)
---
If you enjoyed this post, please consider donating to Vridar. Thanks!
---