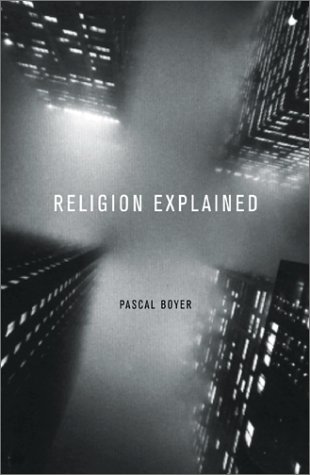 Not all atheists. But many. Especially those who, as I myself have done in the past, loathe any form of religion, even in its mild liberal form, as a gateway to extremism, life-destroying fundamentalism, even violence. How many have declared that among Muslims, for example, the truly devout, those who take their religion seriously, are the terrorists. If every religious believer woke up to what their religion really believed and acted on it they would all resort to oppression and cruelty. As one researcher put it:
The very fact that people in a group share this religious ideology and perform important rituals together sharpens their perception that they are indeed a group with clearly marked boundaries. Worshiping the same gods creates a community and by implication gives that extra edge to the feeling that people with different gods or spirits really are potential enemies. Indeed, people who become deeply involved in religion, for whom it is a matter of vital importance that their doctrine is the only source of truth, will not hesitate to massacre the ones who seem not to acknowledge this obvious fact or whose commitment is too lukewarm. The most heinous crimes will be a celebration of the True Faith. This is how gods and spirits lead to group cohesion, which leads to xenophobia, which leads to fanatical hatred.
Does that sound about right?
The same researcher added
Practically everything in this scenario is misguided.
The researcher I quoted is Pascal Boyer, an anthropologist and author of Religion Explained: The Evolutionary Origins of Religious Thought. The beauty of Boyer's book is that he gets behind our narrow conceptions of the nature of religion that are limited to our own particular history, technologies and culture finds out what is really going on under the hood, what is it about religion as a generic human experience across all cultures that makes it tick.
Boyer informs us about the ways researchers into religion (other anthropologists and sociologists in particular) have come to explain religion in terms of universals of human nature. What separates the organized religions we are most familiar with (Christianity, Islam, Judaism, Buddhism, Hinduism) from more primitive types of religion (animism, ancestor worship, shamanism) is technology, especially the technology of literacy that first emerged in highly complex societies.
The earliest preoccupations of the scribal class were recording financial and trade transactions, but as the technology became more sophisticated so that it no longer simply represented objects and numbers but even the sounds of speech itself, that scribal class expanded to become "the literati", authors and keepers of literature, and even religious beliefs.
In all these places [Sumer, Egypt, China, extending to most Eurasiatic states] literacy appeared in complex states, in polities where people's decisions were made in the context of large networks and institutions. So literacy and a complex social organization spawned another important development — that of stable associations of religious specialists. This happened in the Middle East, in Egypt, in India and China and finally in all Eurasiatic societies. There were written religious texts, ritual prescriptions, lists and tables of moral prescriptions and prohibitions because religious specialists were transformed into an organized social group, akin to a corporation or guild. This social transformation had profound effects on the nature and organization of the concepts that such specialists produced and diffused.

A religious guild is a group that derives its livelihood, influence and power from the fact that it provides particular services, in particular the performance of rituals. Its members can be compared to other specialized groups, such as craftsmen.
Guilds of any kind, whether involved in the production of jewellery, shoes or religious products like rituals that promise access to gods and protection from evil spirits, generally try to control the market. Craftsmen attempt to establish common prices and common standards to prevent non-guild members from interfering with their livelihoods.
So most people pay a small price for being members of a group that guarantees a minimal share of the market to each of its members.
The problem with the religious guilds, providers of rituals, is that any upstart can rise up to take away sizeable chunks of their market. No special skills are required to claim to offer a ritual that will have some spiritual or health benefit. Too often someone can simply decide they have the ability to impress their neighbours that they can contact the spirits of ancestors or ward off invisible menacing forces. As a result, religious guilds who have formed on the basis of specialist literary skills need political influence to maintain their authority.
Such guilds also need to turn their product into a brand.
[T]hat is, a service that is

(1) distinct from what others could provide,

(2) similar regardless of which member of the guild provides it,

(3) easily recognizable by its particular features and

(4) exclusively provided by one particular organization.
Literate religious guilds provide defining descriptions of the service they provide. They produce texts that become the source of their truths. Outsiders, like those who claim to gain personal contact with spirit forces and allow those powers to speak through them directly, are frowned upon, even sometimes cast out because they potentially undermine the control of the literate guild. The literate religious guild may well write and tell stories of their origins in a time when gods appeared directly to individuals, but those days will always be relegated to the past. They are not general prescriptions for ongoing practices.
But most lay members of the religious ideas dominated by these guilds are not particularly interested in the finer semantic debates and abstract ideas that arise as a result of the production of religious texts. They still live by the same fundamental intuitions as humans universally live by. They will always by "theologically incorrect" to some extent according to the standards of the guild elite. The "ordinary people" will always be fascinated by deep personal experiences, sensory stimulation, vivid imagery, dramatic and meaningful episodes in their lives, more than dry doctrines set out in texts.
In fact, the more wayward or incorrect members of a religion become, the more the religious guilds try to reassert their control by imposing more of the dry textual consistency that the rebels are bucking against.
This point brings us to the question of group cohesion and community identity. What is going on when some members of a religion break out from the mainstream ideas that the dominant part of the literate guild wants to impose? What is it that leads to breakouts of fanaticism? Of going off the rails by channeling the spirits, having hallucinatory visions, and even engaging in violence?
Stay tuned….
---
Boyer, Pascal. 2002. Religion Explained: The Evolutionary Origins of Religious Thought. Reprint edition. New York: Basic Books. Quotations above from pages 265, 275 and 277.
---
The following two tabs change content below.
Neil Godfrey
Neil is the author of this post. To read more about Neil, see our
About page.
Latest posts by Neil Godfrey (see all)
---
If you enjoyed this post, please consider donating to Vridar. Thanks!
---