Not a good idea. Some culturally blind persons reportedly attempted to market a t-shirt with the rainbowed word 'love' embedding a swastika. The video below is from the designer's Facebook page — you may have to unmute the sound button:
Much of the mainstream media covered the story:
So you had to be comatose not to notice — unless it was shoved into your face by an rss feed from some obscure online discussion board (which was how I learned about it).
Now I happen to be living in Thailand at the moment, and struggling with attempting to learn the language, and my first thought was, 'Yeh, well, that's bloody stupid in the West, but sheesh, here in south and east Asia swastikas are everywhere. No problem. Every Buddhist temple and bit of paraphernalia in various shops selling religious odds and bobs will have swastikas on display. When I was living and working in Singapore a few years ago I was still naive and hence shocked to see a whole school proudly displaying large swastikas on its main gates and naming signs. Google "red swastika school" to get the idea. Some of the pics I took while still in culture-shock….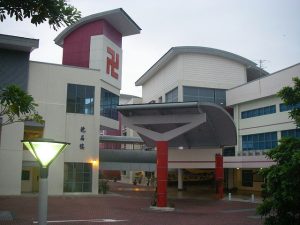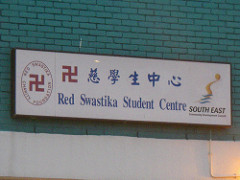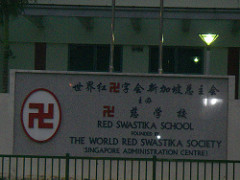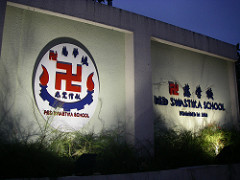 That school and just about every Buddhist temple I saw forced me into a realization of just how "Western" Hitler and Nazism is. The West really is not the "whole world" after all. Sure Asia was involved in the "World War", but the Asian experience was with Japan, not Germany. Try to understand, Neil, that your history is not everybody's history.
But as I said, I still happen to be residing in Thailand at the moment and am struggling to learn enough Thai language to get by with some basics. One of the first phrases I learned and one I probably say more than any other is Sawasdee krap. It simply means "good-day" with the krap added by a male speaker as an indicator of politeness. (The second s is scarcely pronounced, so think aurally of "sahwahdee".)
But one also needs to learn to read some basic signage around the place, and that means learning the Thai alphabet. Now it happens that the Thai letters are a kind of derivative (so I understand) of Indian sanskrit. Once I was reminded of that little detail, the swastika thing hit me right between the eyes. I have not double-checked the Wikipedia article on Swastika but intuitively it sounds right:
The name swastika comes from Sanskrit (Devanagari: स्वस्तिक), and denotes a "conducive to well being or auspicious".
Every time I say "Good-day" or "Hello" here in Bangkok to someone, "Sawadee krap", I am saying "Swastika, hey!"
The following two tabs change content below.
Neil Godfrey
Neil is the author of this post. To read more about Neil, see our
About page.
Latest posts by Neil Godfrey (see all)
---
If you enjoyed this post, please consider donating to Vridar. Thanks!
---