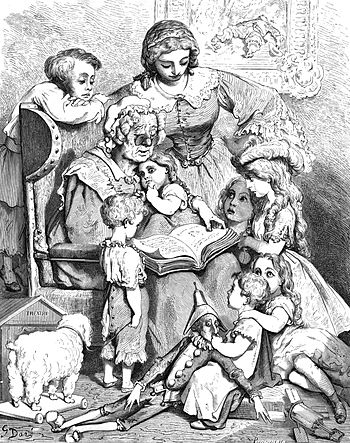 In true stories, as well as most conventional fiction, when characters move about, do things, say things, and interact with one another or with their environments, they operate logically. That is, we understand their motivations. The chicken crosses the road not simply to get to the other side, but because she wanted something over there.
Motiveless motion
On the other hand, characters in fairy tales operate differently. They don't act like real people. In their book, Social Memory: New Perspectives on the Past, James Fentress and Chris Wickham explain that within folk tales (of which fairy tales are a subset), everything follows convention — the setting, the plot, the characters — all of it must follow the formula. And so people do things that in real life would raise serious questions. However, in their fairy-tale setting, we suspend disbelief.
In 'The Juniper Tree', the mother does not ask how and why she has become pregnant, nor how or why she is to die in giving birth. Similarly, there is no particular reason why Ann-Marie gathers her brother's bones and buries them under the juniper tree; she just does so. The father is given no personality at all; he merely serves to accomplish the thematic business of eating the 'beast'.

This motivelessness is typical. The behaviour of fairy-tale characters is governed by a set of themes which specifies the way in which a particular series of actions must be performed, and it is this thematic logic, rather than a character's psychology, that is frequently behind the character's action. Even though there is nothing in the story that gives Ann-Marie reason to know this, she must bury her brother's bones at the foot of the tree that marks his mother's grave because this is the way the particular narrative motif works. Unless the bones of the slaughtered beast are gathered in its 'skin' and placed beside its mother, it cannot be resuscitated. (Fentriss and Wickham, 1992, p. 65, emphasis mine)
Essentially, in these stories people serve functional purposes. As the authors put it, they are "embodied functions." In fact we would be committing a categorical mistake if we focused on their psychological motivations. It's much the same in the stories we read in the gospels. Consider the tale of the disciples walking through the wheat fields, deciding on the spur of the moment to eat some of the grain.
Of course, we would never try to apply real-life logic to a folk tale, and yet we see biblical scholars do it quite often. Longtime Vridar readers will recall Maurice Casey's contention that the Jesus was financially better off than his followers, and that's why they were so hungry that they began gnawing on raw grain. Their master, according to this whimsical speculation, had packed a sack lunch, which on any other day could have fed 5,000 people, but, at least on this particular Sabbath, not 12.
Similarly, pious and diligent scholars insist we can estimate the length of Jesus' ministry by determining the duration between harvest time and Passover. Here we see the folly of taking a symbolic story literally in the service of "scientific" proof.
How hungry do you have to be?
For some time now, I've pondered the likelihood that anyone would actually eat raw wheat. When I was a boy, living in a tiny town in rural Ohio, we used to walk around in the woods, meadows, and fields. I can recall eating wild blackberries along the road. Rarely, you might find an apple worth eating, but usually they were too sour. I've been told you can actually eat raw sweet corn, but I never saw anyone do it.
But I've never thought about eating raw wheat, nor do I know anyone who has. It seems to me the energy you'd expend trying to masticate it would probably be more than the tiny bit of starch your gut could get from it. Rodents can actually eat loads of wheat, since their stomachs secrete enzymes to help break down the cellulose and release the starch locked inside. We humans don't have those enzymes.
While researching the subject of humans consuming raw wheat, I came across a story from a doctor in the 1800s describing a patient who'd been indulging in the practice.
Ouch.
Conclusion
The story of the disciples making a path through a field and eating grain on the Sabbath makes sense only on the level of a folk tale that needs to tell a punch line. Why did Jesus not eat the grain? Why would the disciples be so hungry that they started gnawing on raw wheat? Why were Pharisees following Jesus and his peregrinating posse? These are all foolish questions.
Asking questions about motivation here is as pointless as asking why the prodigal son suddenly asked for his inheritance while his father was still alive. It's as wrong-headed as asking why a shepherd would leave his entire flock alone and in danger while he searched for one lost sheep.
Some of the Memory Mavens like to repeat the notion that social memory theory can contribute nothing with respect to the study of the "authentic" historical Jesus. I think they may have spoken in haste. The more we study ancient culture, oral history, folk tales, and social memory, the more we can gain a clear understanding of the gospels and the intentions of the evangelists. We're deceiving ourselves if we pretend that the gospels are anything more than symbolic stories intended to convey theological truths.
The following two tabs change content below.
Tim Widowfield
Tim is a retired vagabond who lives with his wife and multiple cats in a 20-year-old motor home. To read more about Tim, see our
About page.
Latest posts by Tim Widowfield (see all)
---
If you enjoyed this post, please consider donating to Vridar. Thanks!
---