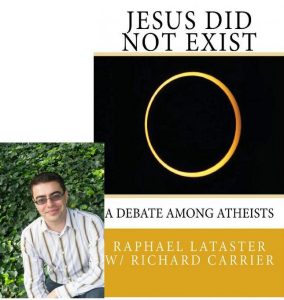 I am finding Raphael Latater's book, Jesus Did Not Exist: A Debate Among Atheists, a most invigorating and fresh approach to the topic. Caveat: I am taking it slowly and so far have not even completed the first chapter. I have read Richard Carrier's introductory remarks and Raphael Lataster's own background introduction and am only about half way through the first chapter. Along the way I'm stopping to study and follow up most of the footnotes, too. But if what lies ahead is as insightful and thorough as what I have read so far then I can see this book being the last word on the flawed attempts of Casey, Ehrman, McGrath and others who have attempted to shriek their conviction that "Yes, Virginia, there really was a Historical Jesus and anyone who doubts that is a very bad person who should be shunned."
Interestingly, Lataster points out that the only serious attempts by scholars to publish arguments for the historical existence of Jesus — those by Erhman, Casey and McGrath — have done outside the scholarly peer-review process. On the other hand, the two serious attempts by scholars to publish reasons to doubt the historicity of Jesus — Richard Carrier and Raphael Lataster — have gone through the scholarly peer-review process.
The irony of that little datum is not lost on anyone who is aware of the complaints of "historicist scholars" (those arguing for the historicity of Jesus and against the mythicist hypothesis) that mythicism does not subject itself to scholarly peer-review.
Who is Raphael Lataster?
Raphael Lataster is
a professionally secular PhD researcher at the University of Sydney (Studies in Religion) and teaches on religion at various institutions. His main research interests include Philosophy of Religion, Christian origins, logic, Bayesian reasoning, sustainability, and alternative god-concepts such as pantheism and pandeism. . . . 

Raphael wrote his Master's thesis on Jesus ahistoricity theories, concluding that historical and Bayesian reasoning justifies a sceptical attitude towards the 'Historical Jesus'. For his doctoral work, Raphael is analysing the major philosophical arguments for God's existence (as argued by William Lane Craig, Richard Swinburne and Thomas Aquinas), . . . 

Being passionate about education, Raphael hopes to continue teaching in Religious Studies and Philosophy, and makes every effort to engage with the public, through popular books, speaking engagements, and public debates.  (from his website)
Lataster, a supervisor specializing in early Christianities and whose main interests have been religion and education, "(un)fortuitously" came to the topic of Jesus's historicity while looking for a Master's degree topic that would have been more manageable than "a comprehensive treatment of pantheism". A few mythicist books intrigued him and Bart Ehrman's book for the historicity of Jesus he found to be unconvincing. He needed a topic to complete his postgraduate studies so this was it. He has not sought the limelight in this field, well aware of its controversial nature. Lataster is well aware of the bullying engaged in by a good number of historicists and reminds readers of other scholars today whose careers have suffered when they radically questioned certain foundational assumptions in both the Muslim and Christians religions. He sees his foray into the question of Jesus's historical existence as a way-stop in his academic career.
Is Lataster qualified in the relevant fields? (My own bolding and formatting in all quotations.)
Also, while it is true that I have not formally undertaken undergraduate units or subjects on Biblical history or the Biblical languages, I have through my postgraduate work (including professional supervision and self-guided training in the relevant areas) specialised in the New Testament, and early Christianity, published on these topics through peer-reviewed academic journals, and even taught on them at some of the world's most prestigious institutions and universities. Furthermore, I am proficient in what is arguably the most important language of all: logic. My work in the philosophy of religion, which I shall very much return to after the conclusion of this project, has given me the ability to easily – and brutally – identify logical errors.

Nowhere do I say that Ehrman or Casey have mistranslated the ancient Greek sources. But they do make logical errors, which should have us questioning the soundness of their conclusions. The errors of logic that they make are "as numerous as the stars in the sky and as the sand on the seashore". . . . 

Lataster, Raphael (2015-11-12). Jesus Did Not Exist: A Debate Among Atheists (Kindle Locations 417-427). . Kindle Edition.
Carrier writes opening and concluding sections in Lataster's book. What is Lataster's place in the discussion here vis à vis Carrier?
[35] Both of our recent books are starting to become referenced (non-negatively!) by mainstream scholars, in their academic books. For example, see Hector Avalos, The Bad Jesus: The Ethics of New Testament Ethics (Sheffield, UK: Sheffield Phoenix Press, 2015), p. 10, n. 41.
Lataster, Raphael (2015-11-12). Jesus Did Not Exist: A Debate Among Atheists (Kindle Locations 9034-9037). . Kindle Edition.
Later Lataster writes:
Whatever my intentions, my work has now reached over a million people and counting, thanks largely to my debates, podcast interviews, my heavily summarised article in The Conversation that was republished by The Washington Post (a significant moment for this issue entering the mainstream media), and peer-reviewed journal articles. With the latter, I find numerous 'allies' in the Academy. Well-qualified scholars that are happy to question Jesus' historical existence. People that supposedly don't exist if the majority historicists are to be believed. It is also noteworthy that these articles appear in various journals, published by different academic presses – none of which is Sheffield Academic Press, who published Carrier's book. In other words, we cannot blame a single person or group for this 'proliferation' of proper scholarship on the question of Jesus' historicity. There are clearly a lot of scholars, all over the world, that are willing to question this paradigm, if not deny it outright.
Lataster, Raphael (2015-11-12). Jesus Did Not Exist: A Debate Among Atheists (Kindle Locations 477-485). . Kindle Edition.
Carrier and I have many suitable qualifications for this endeavour, and between us, our work on the Historical Jesus (and skepticism regarding Christianity) has been received by millions, and has also attracted positive attention from scholars.[35] This collaboration should truly prove a useful endeavour.

We complement each other well, somewhat patching up each other's apparent deficiencies:

Carrier is a historian proper and is proficient in Ancient Greek, while I specialise in Christian claims (both historical and philosophical), am not so aggressively anti-religious, and am certainly no outsider to the Academy.

 

While it is true that I am not a specialist historian and have not learned Ancient Greek (none of which is necessarily relevant), 

the same cannot be said of Carrier.

And while Carrier is an outsider to the Academy and is fairly anti-Christian (none of which is necessarily relevant),

 the same cannot be said of me. 

Lataster, Raphael (2015-11-12). Jesus Did Not Exist: A Debate Among Atheists (Kindle Locations 429-439). . Kindle Edition.
So what does Lataster have to offer that's new?
A criticism I encounter often on the blogosphere – just as with Robert Price and Richard Carrier – is that I offer nothing new. I dispute that, and my Master's thesis and associated books and articles on the topic seem to refute that. Let us unpack that a little, to realise how significant my publishing efforts have been. My successful postgraduate thesis means that it received the backing of at least one supervisor, the head of my Religious Studies department, the highly regarded University of Sydney, and several examiners, from other (local and international) universities. The suite of articles means that several referees, editors, and academic publishers deemed it worthy.

The aforementioned paper on a particularly woeful method used by historicist scholars was accepted by the organisers of a prestigious History conference. Even my earlier popular book on the topic had been reviewed and praised by proper scholars in my field. All this adds scholarly credibility. This is no longer a crackpot theory that has long been refuted. This is the real deal, and the scholarly world cannot help but notice.
Earl Doherty . . . formulated an interesting theory on Christian origins . . . and Carrier then – and much more significantly – put the theory to the test . . . Scholars like myself, then, have an important role in critiquing Carrier's work and, if it is found to be sound, we have a duty to be supporting and promoting it.
As I continue to stress the inadequacy of historicists' methods, the number of scholars in the relevant and related fields who will question Jesus' historicity, or at least find it worthy of questioning, will grow.

[40] For example, certain aspects of the Gospels might indicate purposes other than to present historical information. Also, the poor evidence of the Gospels, relative to better-attested historical figures, can negatively affect the probability of historicity. This sort of thinking about reader bias and counterfactual probability is likely something that Carrier will discuss further in future.

Also, various scholars have a role to play. For example, Earl Doherty, building on the work of those before him, formulated an interesting theory on Christian origins. I effectively endorsed that theory as reasonable, and Carrier then – and much more significantly – put the theory to the test, probabilistically, finding it to be the theory that best fits the currently available evidence. Scholars like myself, then, have an important role in critiquing Carrier's work and, if it is found to be sound, we have a duty to be supporting and promoting it. Even if it draws the ire of the public, and our peers. . . . I did not formulate the theory that Doherty earlier adopted/refined (and nor did I 'invent' the notion that the unreliability of the Gospels could make it more probable that Jesus did not exist);[40] and yet I am playing an important role in arguing for its plausibility and in promoting the theory to scholars and laypeople alike. I could concede that the criticism I received is true and still note its irrelevance.
And something is in the air now. People are ready to hear it.
A scholar can contribute greatly to public knowledge simply by reintroducing the Academy and the populace to a concept that had previously been rejected by a people unready for it. And something is in the air now. People are ready to hear it. Great contributions are also to be made in refining previous research, so that it is more robust and defensible. Indeed, new discoveries (particularly those involving the varied beliefs of early Christians) may make previously unpopular theories more plausible. It may also be the case that asserting that Jesus sceptics are offering nothing new is an attempt to indicate that we are only considering old and long-refuted matters. This too is erroneous as 'the problem of Paul' and the poor state of the sources for Jesus have never been resolved, and again, new evidence can reinvigorate old arguments.
Why the "Outsider" is necessary
In the introductory section of his book Lataster argues why scholars outside the field of Christian studies are at least as well equipped and probably even in a better position to critically examine the question of the historical existence of Jesus.
[26] Such as a Richard Carrier. Of course, if he can now be considered such an expert, he certainly was not when he began investigating.
[27] Leaving open the door to highly logical and critical philosophers, such as a Stephen Law.
[28] Such as a Hector Avalos, or myself. Note that truly objective scholars of religion are especially valuable, as they do not privilege particular religions, or their sacred scriptures.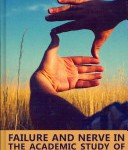 [29] Consider this useful resource on the lack of objectivity in much of the research undertaken about religion: William Arnal, Willi Braun, and Russell T. McCutcheon, eds., Failure and Nerve in the Academic Study of Religion (Sheffield, UK: Equinox, 2012). Of particular note are the comments, "There seems little doubt that such questions are more apropos in the study of Christian origins in which Christian theology and Christian scholars are so pervasive. Many scholars of the historical Jesus seemed bound by theological constraints or have theological agendas, such as creating an image of Jesus that would still allow Christians to be followers of Jesus… many, or even most, of these scholars imagine a Muhammad or a Jesus who either bears a remarkable resemblance to the Muhammad or the Jesus of their respective confessional tradition, or who is made religiously significant in some other (fashionable) way", and, referring to Christian origins, "the majority of those in the field hail from religious backgrounds and likely entered the discipline with theological baggage if not an agenda", on pp. 112-115. Interestingly, regarding the latter quotation, Bart Ehrman was specifically named. The book also includes Donald Wiebe's warnings against crypto-theology (that many scholars are covertly apologising for religion). 
[30] This incidental mention contrasts with the grand claims made about apparently 'incidental mentions' of Jesus found in Josephus and elsewhere, which we shall later discuss. For the quotation, see the soon to be published Sarah Balstrup, "Interpreting the Lost Gospel of Mary: Feminist Reconstructions and Myth Making," Literature & Aesthetics 25, no. 1 (2015).
[31] I make it very clear, throughout, that prominent historicists seem completely unable to argue logically. If they can't even make good arguments for Jesus' existence, I struggle to comprehend why they should be considered experts on this particular issue.
I posit that those more suitably-equipped, and with less questionable motives, would be secular historians who, though it may seem odd, are specifically not experts in the New Testament or the Historical Jesus,[26] and also secular scholars of religion, familiar with the philosophy,[27] history, and sociology, of Christianity and related faiths.[28] This is especially important when we consider that many New Testament experts are oblivious to the vast pre-Christian Jewish literature that expresses belief in, amongst other things relevant to Christianity's origins, a celestial messiah. Furthermore, the Religious Studies scholars are typically very knowledgeable about non-cognitivist religions, and realise that religions are not always concerned with the facts.

In other words, proper Religious Studies scholars will be more prepared, than, say, a specialist Historical Jesus or Christian Origins researcher, who is undoubtedly interested in self-preservation, to examine the relevant texts without the assumptions that they describe literal historical events.[29] (One particularly noteworthy example is that of Sarah Balstrup, who brazenly and incidentally included the phrase, "if he was indeed a historical person", when making mention of Jesus' alleged lifetime.)[30] Above all, these consults ought to be proficient in logic, critical thinking, argumentation, and probability theory – we are, after all, trying to determine what is the most probable hypothesis, or, at least, if a particular scholar's case is sound.[31] If what I have said makes an ounce of sense, it should be clear that our 'outsider' status is not a weakness, but a strength. It may even be necessary. Consider a recent experience of mine.
That personal experience was a paper Lataster had written "on a disturbing, ridiculous, and idiosyncratic method used by [Jesus] historicists" titled, "The Gospel According to Bart: The Folly of Ehrman's Hypothetical Sources". The Society of Biblical Literature rejected it. However, it was subsequently accepted presentation at the Annual Conference of the Australian Historical Association (Sydney, 7th July 2015).
This paper dealt with what I call Ehrman's law, which shall be explained later and discussed throughout this book. My presentation of the paper was very successful, with almost everybody (a room full of proper historians) agreeing with me that this method used by Biblical 'historians' is ridiculous and not typical of historians proper.

The one objector turned out to be a sociologist rather than a historian, is a Christian, failed to backup his claim that many other historians do likewise, and eventually agreed with my conclusions. He – surprisingly – was also happy to agree that Mark is likely an allegory of Paul's writings, which we shall certainly discuss later.

At the conference, I was also advised to avoid attempting to publish the eventual article/s through journals associated with organisations such as the Society of Biblical Literature, as it would apparently be a waste of time. Clearly outsiders perceive these self-styled experts very differently from how the alleged experts perceive themselves; truly a salient point.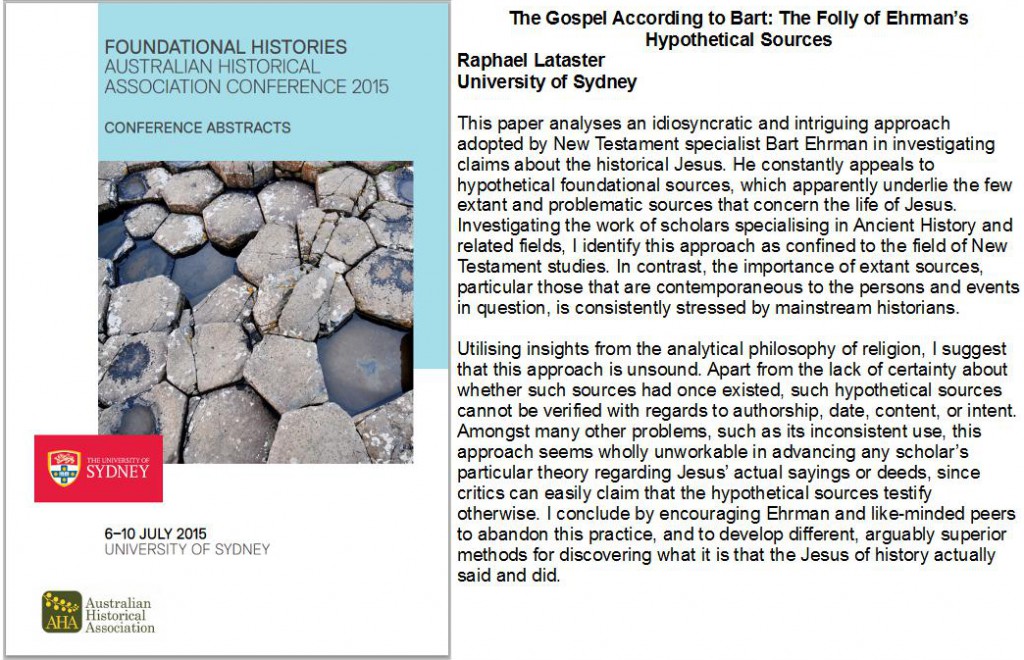 Forget the mythicists; just listen to the historicists argue their case
What I like about Lataster's approach so far is his sharp analysis of the best arguments of the historicists. He goes through Bart Ehrman's arguments for historicity step by step and shows how, with just a moment's reflection, they often really argue for the Jesus agnostic/mythicist side.
In fact, that's a main thrust (at least so it appears from the little I have read so far) of Lataster's argument:
I find it quite amusing when my detractors point to the seeming implausibility of mythicists' theories and to apparent errors in my case for Historical Jesus agnosticism, when the justification of agnosticism is already made obvious by consulting the people arguing for Jesus' historical certainty. Forget what I have to say. Forget the more aggressive overtures of outright mythicists such as Richard Carrier, Robert M. Price, David Fitzgerald, and Acharya S. Simply peruse the sources for yourself. Do that, and also hear from the historicists how they 'prove' Jesus' existence. If the case for Jesus is unconvincing, then agnosticism is already justified. You needn't bother with the various active cases against Jesus' historical existence, many of which honestly sound ridiculous. For your convenience, I condense my years of doing just that into this 400-odd-page book.

Lataster, Raphael (2015-11-12). Jesus Did Not Exist: A Debate Among Atheists (Kindle Locations 676-683). . Kindle Edition.
And Lataster finds it difficult to adequately describe the utter nonsense of Bart Erhman's attempt to prove the historicity of Jesus by postulating imaginary sources and then announcing what those imaginary sources used as their sources and what their imaginary authors intended to convey. Recall that Lataster's critique was rejected by the Society of Biblical Literature but it was accepted by a prestigious historians' conference in Sydney earlier this year.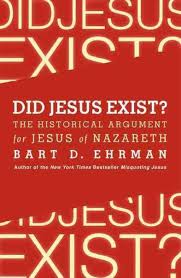 Many readers will recall the arguments. What we read in the Gospel of Matthew, for instance, that is not found in the Gospel of Mark, is assumed to have been derived from another written source only known to Matthew, and called M. This M document was based on oral traditions that themselves underwent various mutations. Some of Matthew's sources were clearly fictitious, such as the virgin birth narrative. Never mind that we can discern clear literary antecedents for many of Matthew's "M" material in the fictitious narratives of the Old Testament and elsewhere as well as evidence that Matthew made up things to support his particularly theological perspective, Ehrman still insists that the existence of M is an additional "independent source" that somehow adds "proof" to the historical existence of Jesus!
I simply cannot find enough negative superlatives in all the thesauruses in all the libraries in all the world to describe the complete and utter ridiculousness and bankruptcy of Ehrman's approach: The generally unreliable, untrustworthy, and fiction-filled Gospels can occasionally be considered excellent sources of objective and accurate historical information because of their foundational written sources, which do not exist, which contained many fictions if they did, and which cannot now be scrutinised for authorship, age, genre, intent, and so forth. These hypothetical written sources are themselves based on oral traditions, that also cannot be scrutinised, that changed over time, and that may well have been made up whole cloth. Therefore we have conclusive proof that Jesus definitely existed. This is enough to make supremely logical analytic philosophers suffer aneurisms. In what universe can this be considered good history, and good scholarship?

Lataster, Raphael (2015-11-12). Jesus Did Not Exist: A Debate Among Atheists (Kindle Locations 1203-1210). . Kindle Edition.
Raphael Lataster may not be the first to have made such criticisms of Ehrman (Carrier, Doherty, and Yours Truly have done so at length) but Lataster's analysis comes with an extra shine and sharpness and has the potential to reach more people within the Academy — that refuge so many historicists have declared out-of-bounds to mythicism.
The following two tabs change content below.
Neil Godfrey
Neil is the author of this post. To read more about Neil, see our
About page.
Latest posts by Neil Godfrey (see all)
---
If you enjoyed this post, please consider donating to Vridar. Thanks!
---