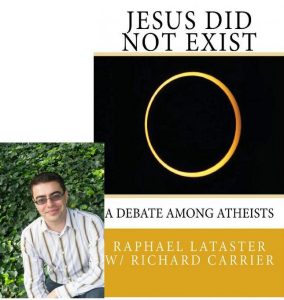 I am finding Raphael Latater's book, Jesus Did Not Exist: A Debate Among Atheists, a most invigorating and fresh approach to the topic. Caveat: I am taking it slowly and so far have not even completed the first chapter. I have read Richard Carrier's introductory remarks and Raphael Lataster's own background introduction and am only about half way through the first chapter. Along the way I'm stopping to study and follow up most of the footnotes, too. But if what lies ahead is as insightful and thorough as what I have read so far then I can see this book being the last word on the flawed attempts of Casey, Ehrman, McGrath and others who have attempted to shriek their conviction that "Yes, Virginia, there really was a Historical Jesus and anyone who doubts that is a very bad person who should be shunned."
Interestingly, Lataster points out that the only serious attempts by scholars to publish arguments for the historical existence of Jesus — those by Erhman, Casey and McGrath — have done outside the scholarly peer-review process. On the other hand, the two serious attempts by scholars to publish reasons to doubt the historicity of Jesus — Richard Carrier and Raphael Lataster — have gone through the scholarly peer-review process.
The irony of that little datum is not lost on anyone who is aware of the complaints of "historicist scholars" (those arguing for the historicity of Jesus and against the mythicist hypothesis) that mythicism does not subject itself to scholarly peer-review.
Who is Raphael Lataster?