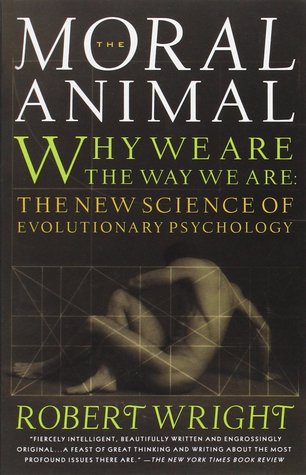 Another work I'm finally catching up with is Robert Wright's Moral Animal: The New Science of Evolutionary Psychology (1994). We all know the usual narrative about men being shaped by their genes to want to reproduce with everything in sight while women are always on the shrewd lookout for the best candidate to protect and provide for her children.
To cut to the chase and speaking in broad evolutionary/social psychological terms, Wright raises an interesting question (at least for me who is shamefully twenty years late in reading his book!):
[W]hereas a polygynous society is often depicted as something men would love and women would hate, there is really no natural consensus on the matter within either sex. Obviously, women who are married to a poor man and would rather have half of a rich one aren't well served by the institution of monogamy. And, obviously, the poor husband they would gladly desert wouldn't be well served by polygyny. (p. 96, my formatting and bolding in all quotations)
Wright adds that the males who are advantaged by monogamy are not only those at the bottom of the income scale.
Consider a crude and offensive but analytically useful model of the marital marketplace. One thousand men and one thousand women are ranked in terms of their desirability as mates. Okay, okay: there isn't, in real life, full agreement on such things. But there are clear patterns. Few women would prefer an unemployed and rudderless man to an ambitious and successful one, all other things being even roughly equal; and few men would choose an obese, unattractive, and dull woman over a shapely, beautiful, sharp one. For the sake of intellectual progress, let's simplemindedly collapse these and other aspects of attraction into a single dimension.

Suppose these 2,000 people live in a monogamous society and each woman is engaged to marry the man who shares her ranking. She'd like to marry a higher-ranking man, but they're all taken by competitors who outrank her. The men too would like to marry up, but for the same reason can't.

Now, before any of these engaged couples gets married, let's legalize polygyny and magically banish its stigma. And let's suppose that at least one woman who is mildly more desirable than average — a quite attractive but not overly bright woman with a ranking of, say, 400 — dumps her fiance (male #400, a shoe salesman) and agrees to become the second wife of a successful lawyer (male #40). This isn't wildly implausible — forsaking a family income of around $40,000 a year, some of which she would have to earn herself by working part-time at a Pizza Hut, for maybe $100,000 a year and no job requirement (not to mention the fact that male #40 is a better dancer than male #400).

Even this first trickle of polygynous upward mobility makes most women better off and most men worse off. All 600 women who ranked below the deserter move up one notch to fill the vacuum; they still get a husband all to themselves, and a better husband at that. Meanwhile 599 men wind up with a wife slightly inferior to their former fiancees — and one man now gets no wife at all. (p. 97)
Wright digresses to address some obvious objections, such as the woman who will loyally "stand by her man" no matter what, etc, but . . .
The basic point stands: many, many women, even many women who will choose not to share a husband, have their options expanded when all women are free to share a husband. By the same token, many, many men can suffer at the hands of polygyny.
Conclusion:
All told, then, institutionalized monogamy, though often viewed as a big victory for egalitarianism and for women, is emphatically not egalitarian in its effects on women. 

Polygyny would much more evenly distribute the assets of males among them.

It is easy — and wise — for beautiful, vivacious wives of charming, athletic corporate titans to dismiss polygyny as a violation of the basic rights of women. But married women living in poverty — or women without a husband or child, and desirous of both — could be excused for wondering just which women's rights are protected by monogamy. The only underprivileged citizens who should favor monogamy are men. It is what gives them access to a supply of women that would otherwise drift up the social scale. (p. 98)
Serial monogamy is not the same thing
Wright later points to studies that show a link between unmarried men and murder, robbery, rape. It is not unreasonable to question whether increases in these crimes are linked with society's drift into serial monogamy. Serial monogamy, with older men taking younger (with more child-bearing years) women out of the market has a similar social effect to polygyny. It leaves more young men without matching women.
[A] Darwinian outlook shows the prevailing marital institution, serial monogamy, to be in many ways equivalent to polygyny. As such, this institution is seen to have inegalitarian effects on men, working against the disadvantaged. Darwinism also highlights the costs of this inequality — violence, theft, rape. 
Then there are the costs on the children. Statistically substitute parents generally care less deeply for children not their biological own. And we don't need to spell out the many deleterious effects on children of divorce, etc. We're speaking very generally, of course. But it is at such a level that we do tend to see social trends. Wright's conclusion:
Whatever the relative merits of monogamy and polygyny, what we have now — serial monogamy, de facto polygyny — is, in an important sense, the worst of all worlds. (p. 104)
The following two tabs change content below.
Neil Godfrey
Neil is the author of this post. To read more about Neil, see our
About page.
Latest posts by Neil Godfrey (see all)
---
If you enjoyed this post, please consider donating to Vridar. Thanks!
---