The Kyle Kulinski-Glenn Greenwald exchange arose as a response to Kyle's earlier video calling for a "cease fire" between New Atheists and other atheists. This post backtracks and looks at that video before resuming the Glenn Greenwald exchange.
During the exchange we were advised to view Kyle's earlier video, New Atheists Vs Progressives — Proposing A Ceasefire, the one that Glenn Greenwald was responding to specifically. So I dutifully paused to check it out and was glad I did.
I'll start with Kyle's proposals in that video before presenting another paraphrase/transcript of Glenn G's subsequent remarks and commentary.
Kyle wishes that both sides, New Atheists and others he calls Progressives, would
His argument sounds mathematically reasonable. If we agree with someone on a dozen key points that are very important to both of us and disagree on only one other one, then surely we should not be pouring scorn upon each other as if the other is beyond the pale.
Glenn Greenwald's response demolished that point's mathematical certainty, however. If I agree with Picklzanjam on feminist issues, gay rights, religion-is-bad, beer-is-good, etc etc etc etc — but after ticking all those check boxes Picklzanjam says he is also a white supremacist racist, then I'm not going to treat him as a good buddy I can get along with just because we agree on all of the other issues.
Kyle appeared to understand this point but later he wanted to push home his belief that people like Sam Harris are not really extremist in any of their views. I will return to that objection later when I cite Glenn G's views on that view.
Second, Kyle wishes critics of the New Atheists would….
Here's where I part company, to some extent, with a number of other atheists who are more activist in their critical stance against religion. Firstly I need to say I wish people did not feel a need for religion. Second, on a personal level I think religion sucks for a whole range of reasons. Third, I particularly deplore fundamentalist type cults and organizations for the particular harms that they can do — people literally die because of their teachings and practices, and some suffer the pain of a living death as a result of other practices and teachings.
Having said that, if I have to criticize any religion it is going to be the one(s) I know the best from personal experience. I understand Christianity and certain forms of it far better than, say, Islam or Hinduism, and am in a position to criticize with the benefit of deep personal knowledge, experience and additional studies (mostly from scholarly specialists) on these particular religions. I am in no such position to criticize any other religion.
Furthermore, because I can speak from experience (as well as with some independently informed understanding of certain aspects of Christianity), I know I am in no position to ridicule or attack Christians who hold beliefs I reject. I understand too well how a devout believer will never be persuaded by any arguments from an atheist or any other critic of their religion. Those few who say they have been persuaded to rethink their deep faith through rational argument, I suspect, were already in a space where they were beginning to question their beliefs as a consequence of a range of other factors.
A good many social scientists assure us that there is strong research evidence to support the view that our rational faculties are very often in the service of other less obvious motivations but they give social respectability (rationalization) to those other drives — "to reduce uncertainty, to impress other people, to gain status" etc.
The only way, pretty much, to extract a fundamentalist or cult-member from their beliefs is to find a way to isolate them from their support network as the first step. The follow up needs to address perceptions and information, not rational arguments over doctrinal beliefs. Rational argument alone doesn't work. Not because people are stupid, but because the religious mind is not grounded in rational arguments. If it appears to be rationally grounded the rationality is (I would say) always a rationalization decorating and hiding other drives.
Books attacking doctrines probably do more for the choir and interested bystanders along with the believers who are already in the process of "losing their religion" (nothing wrong with that) than they do in deconverting hard-core fundamentalists.
Why don't I attack Islam? I don't see the point. The real question of importance is to understand why a tiny few people commit murderous violence. Sure some of them say it's because of their religion, but they also says it's because of other things, too, and we know there are many more who believe the same things but reject violent action. What we need to understand is why some people do and say what they do. I have found a lot of rewarding insights into this question by reading the works (and research) of anthropologists and neuro-psychologists and other social scientists. One consistent message is clear: people do not become violent jihadists simply because in a devout moment they read and believed a certain passage in the Koran. Most Muslims abhor Islamist violence so it strikes me as counterproductive to try to attack the Muslim religion. Most Muslims who abhor violence need to be given all the support we can offer.
It would achieve nothing to attack Christianity because some Christians believed God wanted them to kill abortion doctors. It would achieve nothing to attack Judaism because some Jews believe they have a God-ordained responsibility to take land from Palestinian Arabs. I'd rather support the religious Jews who do not believe that.
As we saw in the previous post Glenn Greenwald certainly does make distinctions between Sam Harris and Richard Dawkins. My own problem has been with followers of people like Sam Harris (such as Jerry Coyne) and if I have not addressed the caveats it is because I have been struck most by their apparently blatant rejection and refusal to consider the research of social scientists and neurologists that belies their assertions.
Apart from that I have nothing to add to Greenwald's response (below).
I don't have a serious problem with the philosophy of conservatism as founded by Edmund Burke. Those branded today as "neoconservatives" appear in significant ways to me to be reactionary rather than conservative.
I'm happy to jettison the label but I cannot ignore the fact that at least in the writings of Dawkins, Harris and Coyne that one finds public support for the Western (in particular US, UK, France, Israel, Australia) policies of belligerent confrontation against non-aligned Muslim states and people, and a fanning of public fear of Islam that facilitates support for this policy, and the standard methods of an everlasting "war on terror":
We will continue to spill blood in what is, at bottom, a war of ideas. (End of Faith, p. 53)

The truth is, as Dershowitz points out, that "no other nation in history faced with comparable challenges has ever adhered to a higher standard of human rights, been more sensitive to the safety of innocent civilians, tried harder to operate under the rule of law, or been willing to take more risks for peace." (End of Faith, p. 135)

There are, after all, no infants interned at Guantanamo Bay, just rather scrofulous young men, many of whom were caught in the very act of trying to kill our soldiers.33 (End of Faith, p. 194)

If we are willing to drop bombs, or even risk that pistol rounds might go astray, we should be willing to torture a certain class of criminal suspects and military prisoners; if we are unwilling to torture, we should be unwilling to wage modern war. (End of Faith, p. 197)

I believe the account offered above is basically sound, I believe that I have successfully argued for the use of torture in any circumstance in which we would be willing to cause collateral damage.36 (End of Faith, p. 198)

Life under the Taliban is, to a first approximation, what millions of Muslims around the world want to impose on the rest of us. (End of Faith, p. 203)

The idea that Islam is a "peaceful religion hijacked by extremists" is a dangerous fantasy (Reality of Islam, 2006)

The only future devout Muslims can envisage—as Muslims—is one in which all infidels have been converted to Islam, politically subjugated, or killed. (Reality of Islam, 2006)

It should be of particular concern to us that the beliefs of devout Muslims pose a special problem for nuclear deterrence. (Reality of Islam, 2006)

.
It is self-evident and cannot be denied that religion is a factor, but the "root problem & cause of terrorism"? I can't "admit" any of those flippant denunciations by uninformed atheists who blamed the Christian religion as the root problem and cause of the strife in Northern Ireland, and I cannot "admit" that the Muslim religion is the root problem and cause of the Palestinian hostility towards Israel.
But perhaps "sometimes" it is the root problem and cause? We certainly should be open to the possibility but at the same time we need to be open to testing that hypothesis in each case. To this end we need also to be sensitive to our own Western cultural history of viewing Muslims, the Muslim culture and Arabs (in particular most Middle Easterners and even other Eastern races) through a demeaning perspective as mysterious, dangerous or threatening, less than our equals. And atheists like anyone else have a responsibility to be open to scientific (including social scientific) research into human behaviour just as we are into the findings of biology and astronomy. I have attempted (as far as I reasonably can given that I have other real life responsibilities and am not a full-time student or professional scholar) to inform myself of what factors underlie terrorism and the nature of religion itself in the light of relevant contemporary specialists (I have been lucky enough to have been able to purchase dozens of scholarly books and access scores of scholarly articles) and I have not found anything in the research findings of neurology, psychology, anthropology, sociology, political science and history that lends any support to "religion" per se being "the root problem & cause of terrorism".
In the discussion with Glenn Greenwald I realized that not even Glenn has had the chance to inform himself of the research into the nature and workings of religion and religious belief in relation to human behaviour.
Kyle's advice for the New Atheists
The 50% rule applies to both sides, which makes sense given that two 50%s makes up both sides.
So start with point 2 here:

I understand that among those who are "anti-Muslims" see themselves as defenders of Western civilization and values that they (and I) believe are historically "good". They fear an excessive influx of alien cultures. No doubt in some places the difficulties are more acute (and mismanaged) than in others. Recent readings have led me to wonder if hostility to "the other" is not so much the consequence of the failure to appreciate the full humanity and "sameness" of the other as it the result of a concern to maintain the power and dominance (and identity) of one's own group. But that's from a 2001 publication (Boyer, Religion Explained) and I don't know what research and testing of this hypothesis has been churned out since.
As for the second part of Kyle's point here — "know your facts on right wing terrorism" — Yes, indeed. But don't just know the details listed in the news media; know also how all terrorism, Islamic and other types, is studied and explained by social scientists. I've attempted to post some awareness of this in the past and am currently doing so again with my new series on the book Friction.

There is something missing in Kyle's advice here. He is deploring State violence as immoral but he does not seem to reference any form of counter violence responding to State violence. Would we not expect to see that? Is that not what the history of the Middle East and other areas subject to violent takeovers of resources and strategic areas have documented? When people's homes and neighbourhoods are bombed would we not expect to see the side of the victims attempting at some point to return the same damage upon the States responsible? Is it just possible, is it a proposition at least worth testing, that Islamic religion has become a medium through which those who identify themselves with the victims of State violence are retaliating against the war initiated by Western States for power, control, natural resources? No no no — that's not a justification of anything. If we deplore one war crime we can never excuse another war crime or crime of any sort in retaliation. But understanding is important.
Do people really study a sacred text (or several of them) and then, contrary to the way millions of their peers study and believe those same texts, decide that God is commanding them through those very texts to go out and kill others — all in the absence of any other motivating or dispositional factors? Surely that does not sound like the way normal humans work.
I am also conscious of Hector Avalos's take on religious violence and realize I have not addressed that in the context of any of these discussions yet. I know this is something worth revisiting.

As I said above, "No no no — that's not a justification of anything. If we deplore one war crime we can never excuse another war crime or crime of any sort in retaliation. But understanding is important."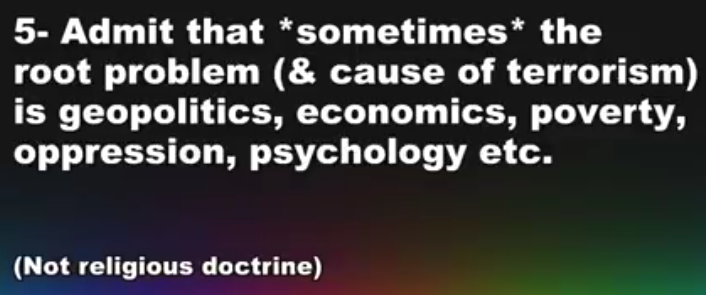 Of course Sam Harris says other (non-religious) factors are involved but the message he conveys is that these are relatively superficial in comparison with the religious factor, and that the religious factor is the critical driver wherever it is found, not any of the other associated factors. That's not "admitting" that other factors are ever "the root problem and cause".
Next post will complete Glenn Greewald's response.
The following two tabs change content below.
Neil Godfrey
Neil is the author of this post. To read more about Neil, see our
About page.
Latest posts by Neil Godfrey (see all)
---
If you enjoyed this post, please consider donating to Vridar. Thanks!
---