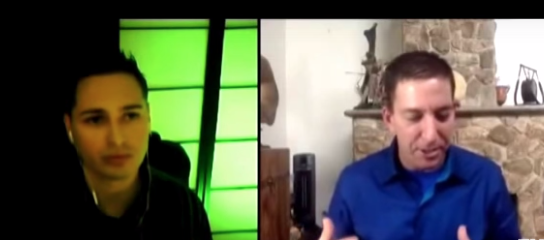 The following are my notes from the the video of my previous post. I have pulled out just the section discussing Sam Harris and will post the remainder later (after listening to Kyle Kulinski's earlier video "cease-fire".)
This discussion goes to the heart of the controversy over Sam Harris: why so many of his supporters insist that he has been misrepresented, lied about, slandered — that all he ever means is something quite ordinary and uncontroversial . . . . So why, then, is he so often "misunderstood"?
The minutes/seconds markers are approximate. Unless otherwise indicated the coloured indented quotations are by Glenn Greenwald. Uncoloured text is paraphrase.
46:55
"And I do think Sam Harris is a uniquely kind of inflammatory figure for a whole variety of different reasons in a way say that Richard Dawkins or even Christopher Hitchens aren't and weren't"
47:25
"I've never encountered in my entire life a public figure who immediately brands any of their critics as being not just wrong but [cannot catch his words] liars. It's almost impossible to criticize Sam Harris without him claiming that you're wrong or mistaken but that you're viciously smearing and lying about what it is he's saying — in a way Christopher Hitchens never did or that Richard Dawkins doesn't do."
[My own comment: Amen. This observation also explains why some of Harris's defenders are so offended by any criticism of Harris and likewise accuse "us" of "misrepresenting" and "lying" about Harris. — And this is exactly the problem we have experienced from the followers of Acharya S/DM Murdock, too.]
49:00
Kyle Kulinski says Sam Harris seems to be becoming more rational. At first he sounded like he was in favour of racial profiling and people said "Hey! What?" but then he said "All I meant was…." — his hedges make his arguments a lot less bad….
49:30
Glenn Greenwald responds: This is the kind of thing I mean when I say he is inflammatory etc. There are people in public debate who see their role to be provocative — they have an important role. But if you do this you have to be aware of what you are doing. Dawkins does this very well and he's unapologetic about it. Sometimes he says he is misunderstood (as we all are at times) but by and large he stands by what he says and means. Glenn G likewise knows his views will offend people and he is prepared to engage in debate to defend them. But what SH does is a kind of intellectual cowardice —
He purposely says things in a way to be the most provocative possible [e.g. writing under a heading "In Defense of Torture" and saying that some beliefs are so extreme it's ethical to kill people for them] "He's not stupid. He understands exactly what he's saying and how people are going to react. And when people react in the way that he intends (which is to get provoked and to get offended and to get angry) — instead of saying, No, your offence and your anger doesn't change the fact that this is correct, he'll say "You've lied about my position and that is not what I think. This is instead what I think." And you're right [addressing KK] — the things that he then says he actually thinks rather than and the things he said in the beginning are much more reasonable because by that point he's in the mode where he's trying to say that he's been victimized by slanderers and liars who have lied about his position. "
Example — Sam Harris said certain beliefs are so bad you can kill people for having them…Resa Aslan and Glenn G wrote this up and Sam Harris reacted saying we were using the mechanics of slander etc and he then described what he meant in a much more nuanced way — "and all I meant was that people like al-Baghdadi  whose beliefs lead them to do terrorist things/kill others — they can be ethically killed." —
53:00
Robert in Atlantic [unable to catch the reference — both author and article] said this "perfectly encapsulates Sam Harris". Either he meant some people are so bad and not just their beliefs but their actions are murderous and evil and they can be killed not just for their beliefs but for their actions — and that he has such poor expression and that we misunderstood his original claim and he really meant something so banal, anodyne, that no-one would disagree with ….. Or he meant what he said.
What he meant was the second [that some beliefs are so bad people can be ethically killed for having them], but then when he wanted to accuse his critics of being liars he moved to the first position which is extremely reasonable.

That's his tactic in general…. and why he's such a lightening rod for so much of the vitriol.
54:00
Kyle Kulinski: After he starts a debate on torture he ends up saying torture should be illegal across the board which leaves one wondering why they were having the debate in the first place.
Glenn Greenwald:
He first comes out as if the brave intellectual being alone to stand up and say torture can be justified sometimes …And when you point out that he's doing that he says 'How dare you lie about my position — all I meant was that it should always be illegal.'
54:30
"Now whatever else is true, as a writer, if you're constantly being misunderstood by people who don't have a history in any other context of lying, maybe it's time to start evaluating what it is you're doing as a public intellectual that's causing so many people to either misunderstand what you're saying or distorting it. He doesn't ever seem to engage in that kind of reflection. He's ready instead to just assume that everyone who is a critic is really just ethically wretched and purposely lying about what it is that he's saying. That makes it really hard to have a discussion with people."
55:20
Kyle Kulinski: His real beliefs are found in his much more reasonable afterthoughts —
57:00
Glenn Greenwald: But as writers you know how your words might be misunderstood so you clarify in advance for those who might misunderstand what you mean…. Glenn also used to have the idea that he was not going to hold people's hands and explain it all — but "at a point when you're misunderstood enough you do explain and clarify your view — and my responsibility as a writer is to be as clear as possible — and not trick people into thinking you're saying something else."
—-
By the way, here's another review of a review of Sam Harris's book on spirituality: http://www.firstthings.com/blogs/leithart/2015/10/the-self-contradictions-of-sam-harris
The following two tabs change content below.
Neil Godfrey
Neil is the author of this post. To read more about Neil, see our
About page.
Latest posts by Neil Godfrey (see all)
---
If you enjoyed this post, please consider donating to Vridar. Thanks!
---