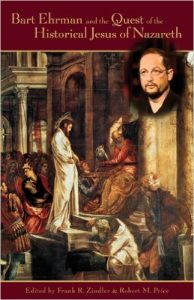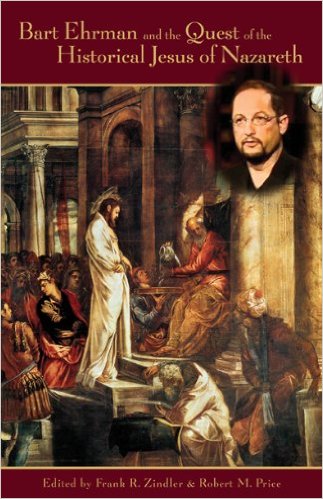 When the Ehrman/Price Debate sponsored by Milwaukee Mythicists was opened up to questions from the audience Frank Zindler was the first to speak. He had two questions but the rules allowed him time to only ask one. Much of the audience, so I have heard and as seemed quite apparent to me from the video, was quite taken aback by Bart Ehrman's hostile dismissal of his first question. Frank asked Bart if he had read the book published in critical response to his Did Jesus Exist? since he had given no indication in the debate that he was aware of its criticisms of the arguments he had just repeated. Ehrman brusquely replied that he had read it, "twice", but that he disagreed with everything it said and he would not respond.
So much for Frank's first question. Here from Frank Zindler is that second question that he had hoped to ask Bart Ehrman:
Bart, many of us have used your research to support many of our own arguments. For example, in Orthodox Corruption of Scripture you show many examples of anti-Docetic passages in the NT, from the "born-of-woman" Gal 4:4 to the antichrist verses of 1-2 John. Galatians is usually dated to ~54 CE, and if Jesus ever existed, he died in 30 or 33 CE (although Irenaeus claimed he lived into the reign of Claudius, that ended in 54 CE—the very year in which Galatians was written!)

As you know, there are no manuscript variants lacking the born-of-woman gynaikos of Gal 4:4. You have criticized me for claiming interpolation in cases where manuscript evidence is lacking. So……….

According to you own method, the anti-Docetic Gal 4:4 is not an interpolation; it dates to 54 CE if the traditional dating be correct.

So………

If Jesus died in 33 CE, how is it possible that just 21 years later—or even in the very year Galatians was written—there could be widespread forms of Christianity that denied that Jesus had had a body? Was not some form of Docetism therefore the earliest form of Christianity?
Other posts discussing Galatians 4:4 — including from a range of scholarly perspectives — are archived at:
The following two tabs change content below.
Neil Godfrey
Neil is the author of this post. To read more about Neil, see our
About page.
Latest posts by Neil Godfrey (see all)
---
If you enjoyed this post, please consider donating to Vridar. Thanks!
---