Dear Professor,
You wrote on October 21 2016 in your post Mythicists: Did Nazareth Exist? for your paying readers the following:
Mythicists often argue – one of them named Rene Salm has written an entire book arguing – that Nazareth did not exist.  And if no Nazareth, then no Jesus of Nazareth.

I have always found this argument to be not only wrong but flat-out silly.  I probably won't use the word "silly" in the debate, since I don't want to insult anyone, but really….

So the reason the argument on this point by the Mythicists is wrong is that it's been proven to be wrong.  The reason it is silly is this.

Suppose we grant the point that Nazareth didn't exist (even though it did).  How would that have any bearing on the question of whether the man Jesus was an actual historical being?  Saying that Jesus did not exist because he could not have been born in Nazareth is like saying Barack Obama does not exist because he could not have been born in America.

I find arguing with Mythicists, for the most part, terribly frustrating.   Possibly you can see why. (my emphasis)

I am mystified. Though you "have always found this argument to be . . . flat-out silly" (I agree it is silly) I have never heard René Salm (or any mythicist) make that argument.
In fact Rene Salm nowhere argues that because Nazareth did not exist therefore Jesus did not exist, neither in The Myth of Nazareth (that you read prior to writing Did Jesus Exist?) nor in Bart Ehrman and the Quest of the Historical Jesus of Nazareth (in which he responded to your book DJE? and that you assured us you read "twice").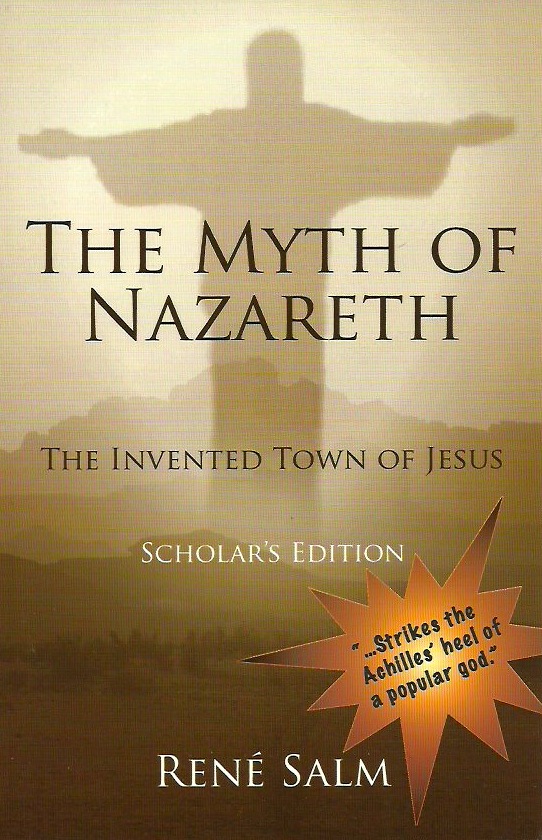 What Salm did write in The Myth of Nazareth in relation to the significance of Nazareth not existing in the early first century was the following:
If Nazareth did not exist in the time of Jesus, then questions quickly arise: Why did the evangelists place him there? Was there something regarding his real provenance that they found objectionable? What was that provenance? If Nazareth was a persistent and recurrent invention in the gospels, then we leave the realm of error and enter the realm of elaborate fiction. This recognition would require a fundamental reappraisal of the Jesus story, and a paradigm shift in Christianity. . . . .

The implication is . . . irrefutable: if there was no Nazareth before his birth, then Jesus did not come from Nazareth. . . . .

It is not my intention here to question the conventional understanding of Christian origins, that a man by the name of Jesus . . . lived in Palestine in the early first century CE and inspired the religion we now call Christianity. . . . I restrict consideration to the archaeology of Nazareth, with the purpose of showing that the provenance of Jesus, as set forth in the gospels, is not historical.

He — whoever he was (or wasn't) — certainly was not Jesus "of Nazareth" in Lower Galilee. . . . It remains to be determined why the evangelists found it necessary to invent such a Jesus.

(MoN, pp. xii-xiii, 148, 157-8, 308, my emphasis)
Would you like to explain what has prompted you to now impute such a silly argument to René Salm in particular and inform us who the mythicists are who have published that argument?
Fabricated self contradiction
Dear Professor, you further write to your paying readers:
A Mythicist like Salm argues that yes, it did exist in different periods of history (still exists today as a city, as those of you who have visited Israel know).  But it was uninhabited in Jesus' day.

You may notice that the argument that it existed but was uninhabited contradicts the argument that it never existed; some of the mythicists are not terrifically consistent in their logic, from one argument to the next.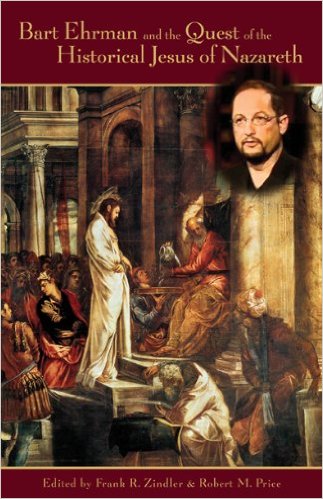 After you made a similar false charge in DJE? Salm corrected you on this point on page 341 of Bart Ehrman and the Quest of the Historical Jesus of Nazareth. In the Q&A at the end of the Milwaukee Mythicist sponsored debate with Dr Price you assured us all that you had read that book "twice". So the question arises: Since Salm has made it consistently clear that it is the site, not the town or village, that was uninhabited in Jesus' day, why you continue to repeat this disinformation.
You have twice read Salm's explanation:
Secondly, I don't claim that "the town came to be reinhabited" but that the site came to be reinhabited. It may seem like a minor detail, but the first chapter of my book shows that a settlement indeed existed in the basin in the Bronze and Iron Ages. It was not called "Nazareth" but "Japhia" [MON 53–55]. Again, one wonders if Ehrman paid attention to the book.
Plugging one's ears . . .

Bart (if I may), you further wrote:
Salm also, I should note, argues that the ancient place of the city could not have been on the hillside where it has traditionally been located but two kilometers away in the valley; he also points out that archaeologists have never dug in this alternative site. But then he argues that therefore it never existed there. Well, if the site hasn't been excavated, how could there be "evidence" that it never existed?
This representation of Salm's argument is doubly mystifying because since the publication of DJE? you have been reminded twice that you asked this question of René Salm while researching for DJE? and Salm made the answer clear to you back then, five years ago, as we read in BEQHJN on pages 363-364: Continue reading "Dear Professor Bart Ehrman, Please explain, if you will….."