The citations refer to the previous two interview posts.
Miami is the first one with David Fitzgerald; Logicast is Daniel's follow up podcast.
The time references match the preceding time marker in each of the two posts.
So [Logicast, 49:00] means that the source for my statement can be found by beginning to read from the 49:00 minute header in Daniel's followup podcast post.
Daniel Gullotta is a young student (26 years old, just starting a Masters course at Yale) who is looking forward to breaking into the field of biblical studies as a professional scholar [Logicast 49:00, Miami 72:40 and blog bio]. The field is winding back in many universities but Daniel is doing all the right things — especially with his self-promotion via his blog and other social media [Logicast, 29:00, 1:29:30] — to improve his chances of eventual employment. All credit to him and we wish him well as we do anyone embarking on a new career.
What I would like to do in this post is to raise some of the dynamics — psychological and social — that I noticed at work in the recent exchanges I recently posted here.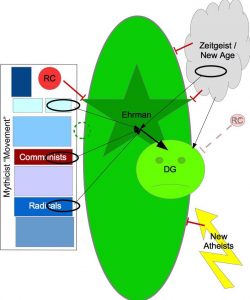 What interested me as I wrote up my notes on these two exchanges was not so much the arguments themselves — they were at a very basic level and sometimes misinformed — but the way the issues were framed and what the flow of conversation revealed about the different perspectives at play.
In other words, what is really going on when challenges to mythicism are raised and when there are discussions between mythicists and historicists? What is it that lies behind the arguments themselves and that perhaps indicates why arguments on neither side "work"?
It's a question I could explore more widely by examining a wide range of exchanges and denunciations but I also have to invest in a full time job so that's not going to happen today. I am, however, revising the many comments on the old Crosstalk discussion forum where Earl Doherty made his first public appearance in the world of scholarly exchanges and would like to share a similar set of observations from those exchanges one day. Till then, we start with a very small case-study based on one "budding scholar" in two online interviews.

Daniel is careful to emphasize his "budding" status, "I'm not there yet", he reminds us [Logicast, 18:00]. He's still learning and working towards his higher degrees. He looks up at the books on his shelf and tells us he is awed by the lofty reputations of their authors' names. They stare down upon him "intimidatingly" [Logicast, 7:10]. The field of biblical studies is clearly where he sees his future.
Daniel does not identify with the conservative or fundamentalist side of this scholarly field although he does acknowledge some very good work that must be engaged emanating from that wing [Logicast, 7:10]. He is excited by the current and future state of historical Jesus studies as old methods (form criticism; criteria of authenticity) are being challenged and new ones being tested (Dunn, Crossley, Keith, Le Donne) [Miami, 64:30; Logicast, 1:4:00].
Daniel's studies as an undergraduate began at the University of Newcastle (Australia); he undertook a theology degree specialising in biblical studies. [Miami, 3:30; Logicast 29:00, but see Daniel's blog bio for more details]. It was there that he first encountered the idea that Jesus did not exist. It was part of the documentary movie Zeitgeist that was popular at the time [Miami, 3:30] — a film sensationalising conspiracy theories, the paranormal, etc.
His younger brother not long afterwards ignited his curiosity over the idea that anyone could seriously doubt the historical existence of Jesus. In the same year (2012 — when Daniel was 22 or 23?) Bart Ehrman's response to mythicism, Did Jesus Exist? was published [Miami, 3:30] and Daniel appears to have been aware of Richard Carrier's blunt response to this book. Since then Daniel has read Carrier's On the Historicity of Jesus [Logicast 1:27:30].
What has "fascinated" Daniel is not so much the arguments of mythicism but the "reception history" of the Christ Myth theory [Miami, 3:30; Logicast, 23:30 and 24:00]. Daniel's framework of the history of this theory closely follows Bart Ehrman's summary on pages 14 to 17 of Did Jesus Exist? —
Its birth in the 18th century Enlightenment

and through the 19th century

and then on into the Dutch Radical movement,

and then picked up in the Soviet Union.

then it reappears in the '70s and '80s in the New Age form.

and now it has re-emerged in the atheist sceptic community.  
Commentary on the above:
What we find here is a person whose future career and deep personal interest is identified with the mainstream academic world of theology and biblical studies. His introduction to mythicism is in this context and the concept itself first meets him as part of a program highlighting bizarre and paranormal phenomena and then through a highly respected and prominent mainstream scholar who himself frames mythicism as a bizarre idea without any serious credibility, most of whose advocates lack relevant scholarly qualifications. The one scholar sympathetic to mythicism who responded publicly to Ehrman's book is not employed in the same academy as Ehrman and in which Daniel is involved. Yet Carrier exposed Ehrman's incompetence and his less than professionally honest treatment of the mythicist publications so bluntly that Ehrman has since refused to engage with Carrier at all.
Anyone not familiar with the mythicist arguments (apart from hearing of them in the context of Zeitgeist) and who learned of them through a well respected and prominent representative of the mainstream academy with which one personally identified, is naturally going to wonder about why such an idea gains any traction and momentum at all. One can understand why the reception of this idea is of more interest than the "bizarre details" of the arguments themselves. In fact the arguments in such a context would be of interest for their "bizarre" nature and for addressing the question of "why does anyone 'out there' believe this stuff?" What is of interest is why it is that people who are "out there" — who set themselves quite outside the established scholarly community — take on such an unconventional idea rejected by serious scholars.
Moreover, the one scholarly (but an independent scholarly) voice who does respond to Bart Ehrman dares to bluntly say something unthinkable — that Ehrman's scholarly skills and professionalism have deserted him in his critique of mythicism.
It does not take long for such a new "budding scholar" to hear of the intemperate insults and abusive language coming from supporters of a well web-publicized "New Age" type of mythicism, Acharya S or D.M. Murdock who supports the religion portion of the Zeitgeist movie. Anyone who has dared to criticize Acharya's work knows that they must expect to be met with personal and abusive attacks from her supporters. Her works do argue that dark conspiracies within the early Church covered up the mythical origin of Jesus.
This has also been a time of the outspoken New Atheists and their apocalyptic "Four Horsemen" — Dawkins, Hitchens, Harris and Dennett. Hitchens and Dawkins additionally expressed some openness to the possibility that Jesus himself was a myth. But their knowledge of religious studies has not been strong and religion scholars have commented on this lack. Their zeal and colourful eloquence in attacking religion has not always been tempered with more nuanced understandings of religion's character and functions that have been derived from modern fields of psychology, sociology and anthropology, let alone biblical studies.
So we have something like the following diagram. (DG is of course Daniel Gullotta and RC Richard Carrier.)
Everything green is within the realms of respectable establishment scholarly biblical studies. Everything not in green is associated in some way with a mythicist idea.
The dark green star shaped is labeled Ehrman for convenience. It would be just as valid to add here other prominent names within mainstream biblical studies who have been influentially outspoken against mythicism. This star is the channel through which DG has been introduced to "the reception history" of mythicism. Notice that only a few aspects of the mythicist movement are singled out, especially those associated with "Dutch radicalism" and "Soviet communism". This reception history is blended with mythicist associations found in the Zeitgeist/New Age movement.
The Mythicist Movement on the left represents the long line of scholarly works by various persons from the eighteenth century up to the present time. By "scholarly" I mean works that follow the normative methods of scholarly inquiry; authors are very often scholars in fields outside the area of mainstream Christian/Theology/Biblical studies; sometimes they are serious amateurs who have acquainted themselves with a wide range of scholarly research. They are a mix of atheists and and various types of religious/spiritual believers, although probably most have been atheists and agnostics.
Richard Carrier appears twice: on the right he is a shadowy fear DG is "terrified" of facing in the future [Logicast, 1:27:30].
The dashed green loop joining the mainstream biblical studies area with the mythicist movement box represents mainstream the handful of mainstream scholars who have publicly expressed an open mindedness on the mythicist question.
The Zeitgeist/New Age movement of more recent provenance also embraces mythicist ideas but few would consider their methods to be "scholarly". The same methods tend to underlie arguments for paranormal and occult phenomena, conspiracy theories, and overall they tend to adopt a strongly hostile stance towards mainstream religions. The dominant mythicist strand in this movement is astrotheology. DG was introduced to this mythicist idea independently when an undergraduate student.
There are two groups who are vocal in their antipathy towards the green area of mainstream religion, Zeitgeist/New Age and the New Atheists.
Richard Carrier has also confronted Ehrman (and others represented by the star) and DG is fearing a similar confrontation from RC in the future.
The astrotheology movement has also confronted Ehrman personally. There is a distinct difference from RC's confrontation with respect to the specifics targeted and the extent of personal abuse. It is doubtful, though, that those differences have been registered by the one (Ehrman, e.g.) whose professionalism has been challenged.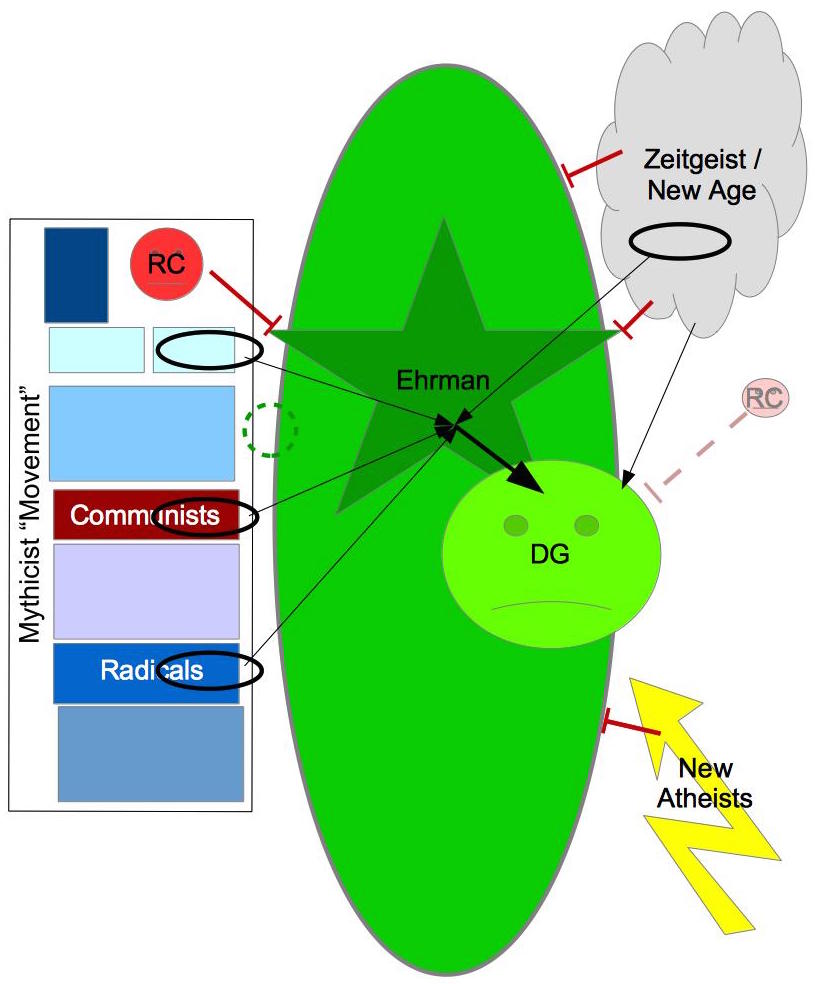 When seeing the channels through which mythicism has been introduced to Daniel, it is not difficult to understand why he (or for that matter most persons in green) default to a jaundiced view of the actual arguments for mythicism and would be more curious about its reception in the wider non-green community.
This model would lead us to predict certain responses to mythicism.
We would expect to find the debate framed as a contest for group power and prestige.
We would expect that Daniel would look to the more mature "green persons" for the appropriate responses to what is seen as a challenge from mostly ill-informed outsiders who, among their range of complaints against the world supported by the religious studies arena, assert Jesus was or was probably a mythical person.
We would expect him to identify with the "research" and responses of Ehrman. There will no doubt be some room for differences here and there because one of the essential hallmarks of a good scholar (even a budding "green" one) is to demonstrate some intelligent independence and creativity in one's contribution to "the world of green". And the more one reads of the mythicist works themselves the more scope one will inevitably find to disagree with Ehrman (and other "green star" persons). Yet whatever differences of details one would predict support for the overall position of Ehrman nonetheless.
We see that Daniel has already identified with Erhman's position as one under personal attack from these mythicists as noted by his expressed fear of how Carrier is going to respond to his review of his book.
We would expect that in the future Daniel will venture to read some other mythicist literature directly for himself, but it would be read from the perspective of trying to "understand what these outsiders think and why". The arguments would not be studied and explored in the manner arguments from within the "green scholars" or ideologically sympathetic and supportive outsiders but would be scrutinised as "other data", "other beliefs" as belonging to a cultural other that needs to be explained and studied as an anthropologist would study and report on the beliefs of a remote primitive tribe.
We would expect Daniel to defend the views and methods of "the green" and to express personal identification with these views and methods "against" any and all forms of mythicism.
We would expect Daniel to have only sufficient knowledge of mythicist arguments that will provide him with material with which to leverage an explanation of how his own scholarly world "really works" and why it is the respected authority and establishment.
We would expect him to read/hear mythicist arguments as far as they can be rebutted by the routine "green" answers. There will be little to no interest in exploring them further and if the arguments are indeed deeper than to be demolished by the routine answers this fact will remain obscured.
We would expect him to take special notice of any tone or manner expressed by a mythicist that can be interpreted negatively and any negative interpretation or impression will be magnified by anything that might have been intended by "the other".
We would expect to find a deploring of arrogance of those who challenge the established scholarly academy and at some level at least an implied, if not overt, belittling of the skills, characters and motivations of mythicists.
The more conscious Daniel is of scholarly standards of communication the more likely this belittling will be implied. But one will expect to see evidence that the complaints against the attitudes or behaviours of mythicists (which will often be exaggerated from the perspective of outsiders) are not complaints about poor standards per se, but are restricted to the poor behaviours of mythicists only. The same or worse behaviours expressed by "men and women in green" and their supporters towards mythicists will either be completely unnoticed or generally excused or rarely if ever censured.
In other words, we would expect to find the debate is framed as a contest for group power and prestige.
And indeed these predictions are all fulfilled in the two interviews. . . . 
First of all notice the way the two groups are quite artificially delineated. One is associated with positive characteristics and the other with negative ones.
Group identification and characterisation
The biblical academy is presented as a healthy mix of atheists, agnostics, Christians, Jews so as to present a public face of "objectivity" and where ideology would never get in the way of genuine scholarship. Notably the atheists in the academy are definitely not anti-religion!
Logicast, 7:10
DF's comment was that he only pays attention to secular historians because Christians are circling wagons and I took umbrage to that. My bookshelf — "I look at all the names staring down at me very intimidatingly" — I don't know what most of them do on a Sunday morning. . . . . 

DG: Some go to synagogues earlier in week. "This isn't just a field divided by atheists and Christians. There's also Jewish voices and there's also people you wouldn't know if they were atheist or Christian.
Miami, 13:30
"When I look at my bookshelf I see a lot of names and I honestly don't know what a lot of these scholars believe [philosophically]. What I care about is good history. And some of them [I don't know] what they believe. I'm also friends with them on social media, so I get a sense of what these scholars do on a Sunday or don't do rather.
Logicast, 25:00
Yes, Maurice Casey, like Burton Mack and Michael Goulder, were "self-declared non-religious" scholars. It was then "and it still is entrenched in Christian circles" that to be anything other than a Christian or Jew was to be "quite different". And "typically the way they behaved". You wouldn't see people like Casey or Goulder at places like Skepticon. Both Casey and Goulder preface themselves as "non-aggressive" — Goulder on BBC interview said he was a "nonaggressive atheist" and Casey said he was "not against religion."
At the same time the reality — that one ideology does indeed dominate — is also undeniable.
Miami, 13:30
I think it's important not to conflate all scholarship from people who happen to be Christians with evangelical conservative and even fundamentalist scholarship. I think it is important to make that comment. Because there are plenty of scholars who do go to church on Sunday whose work I absolutely adore."
Logicast, 7:10
There's plenty of people I know for a fact are religious and they are doing wonderful work." e.g. Chris Tilling [says Thiering but pretty sure he means Tilling] and his new book Paul's Divine Christology; Larry Hurtado; N.T. Wright — "is such a powerful voice in NT scholarship that he needs to be engaged with" despite disagreements with him. We need to acknowledge that there are many wings of scholarship like many denominations of Christianity. My favourite HJ scholar is a Roman Catholic. . . 
The other group, the mythicists, is just as artificially defined. Moreover, atheists are depicted as "anti-religious", that is, with a hostile agenda against religion. While the above group with which Daniel identifies and to which he further aspires has good properties, the mythicist group has negative ones.
Miami 64:30
Mythicism will always be on fringes because it lacks (I'm sorry but with respect) explanatory power. This podcast is a good example of why some people are so concerned. It is so entrenched in the atheist movement. One can't differ the philosophy of one from the scholarship of another.

It is only being entertained by atheists, podcasts, talk shows. Atheism has done itself a disservice by being so fascinated by this idea. Although it is an interesting topic.

So if some in the next generation do flirt with it they need to stop self-publishing and stop podcasting like this and go to conferences and get in peer review journals and write respectable books and engage with peers well before the lay people get involved.
Logicast, 15:00
Nonreligious atheists, agnostics, sceptics tend to view biblical studies as Christianity as a whole being against the rest of us free-thinking, rational people. But that's not how the field is framed.
Logicast, 24:00
and now it [the mythicist movement] has re-emerged in the atheist sceptic community.  
To see just how artificial this depiction of "the other" is browse through the current "Who's Who" page. And that does not even begin to address the historical mythicists(e.g. Couchoud) who have been no more anti-religion than Goulder or Casey.
So this is where the discussion starts, where the dialogue partners are identified: one side on the civil, open, tolerant, objectively devout academy; the other on the side of the anti-religious atheists. (Don't forget the Soviet Communist association, either.)
Notice that Daniel further conceptualises the mythicist arguments themselves as all being derived from their "group" just as historical Jesus models are products of the academic group.
Example from Logicast, 44:00
DG: One of problems I find with mythicist arguments in ALL its forms (and there are many varieties) is that ironically mythicists complain about a lack of consensus within scholarship

. . . .

DG: Ironically there is a lack of consensus (among mythicists). On my website I break them down. They have the fictional Jesus, the conspiracy theory Jesus (Atwill), the celestial Jesus (the most popular one amongst atheists — first by Doherty and then picked up by Carrier).
On Daniel's blog we find a discussion of four mythicist theories as if they are all products of a "group" in the same sense that the many views of the historical Jesus are the outputs of a single scholarly "group" or academy. That is, the divergent mythicist theories are collated and viewed from the perspective that they all derive from the same set of assumptions and attitudes that characterise the "other" or the "outsider". This perspective coheres with the above quoted interview statement that speaks of a common characteristic of "mythicism in all its forms".
The identification of mythicists as "a group" is found throughout both interviews and appears in most cases wherever Daniel speaks of "mythicists" collectively to attribute to them a form of behaviour or attitude or scholarly acumen.
One indication of Daniel's identification with Ehrman and the perspective of his (and Ehrman's) views as authoritative by virtue of its "good sense" and the fact that it does involve formal training through the scholarly academy
Logicast, 18:00
DG: It becomes like a doubting Thomas question. They [i.e. mythicists] are saying, "Unless I see the wounds and put my fingers in his side I won't believe." It does remind me of this "level of scepticism" and doubt "where no-one and nothing is trustworthy anymore". And it does become difficult for someone like me who has a blog and trying to communicate with people like yourselves in the lay community. I'm always careful to ask others to introduce me as a "budding scholar" because I'm not there yet, and I don't claim to have enough expertise to represent the academy. But as one who does engage with scholarship far more than the average lay person, someone who is going into a considerable amount of depth…"

. . . .

DG: …. And it become disheartening when "my word means absolutely nothing" and it's worse when someone like Bart Ehrman, when his word "means absolutely nothing" "It frames it in a very difficult way to even have conversations. . . . Which is why I think my discussion with David was helpful because we could at least talk openly and candidly which I think is something that has been lacking on this discussion."
And by contrast the mythicists are on the outside because the do not follow within the formal structures and communication channels of the academy. There is nothing wrong with establishment scholars having blogs and doing interviews for the public but when others expressing views that pose a direct challenge to the most fundamental assumptions of the academy go to the public then that is a real problem:
Miami, 64:30 and 71:30
Mythicism will always be on fringes because it lacks (I'm sorry but with respect) explanatory power. . . . .

So if some in the next generation do flirt with it they need to stop self-publishing and stop podcasting like this and go to conferences and get in peer review journals and write respectable books and engage with peers well before the lay people get involved.

. . . .What troubles me is someone like Carrier writing one book and then going to all these conferences and then going to the lay people — there's a problem there.
Daniel, of course, appears on podcasts, as do many other establishment biblical scholars. So what decides when the behaviour is bad is not the behaviour itself but who is actually doing it. It is bad for a group with negative properties to do what the positively characterised group does.
Knowledge and learning versus ignorance
Logicast, 49:00
What I find is that mythicists are not immersed in the scholarship. But this is lay people generally.
Contrast this with other quotations already supplied in the other sections that address the contrast of Daniel's engagement with the scholarship.
How they behave
This segues from the preceding point that also address behaviour. For Daniel how people behave is a significant factor:
Logicast, 24:00
"who these people are, where this movement comes from, and how they conduct themselves is quite fascinating."
And Logicast, 25:00
Yes, Maurice Casey, like Burton Mack and Michael Goulder, were "self-declared non-religious" scholars. . . .  And "typically the way they behaved". You wouldn't see people like Casey or Goulder at places like Skepticon. Both Casey and Goulder preface themselves as "non-aggressive" — Goulder on BBC interview said he was a "nonaggressive atheist" and Casey said he was "not against religion."
The same Logicast podcast is stained with expletives and emotive attacks on atheists and mythicists that I don't need to repeat here. Daniel appeared to be quite comfortable with these interviewers and expressed a hope to return. This sits well with Daniel's other remarks on Ehrman's attacks on mythicism insofar as he seems to be unable to recognise the "bad behaviour" and insulting abuse coming from such a leading representative of the group to which he aspires to belong.
The standard group responses
There are many instances of this in the interviews but I will give just one typical example here:
Miami, 10:50
I think it's important to establish what HJ scholars do …and something I find quite frustrating when talking to lay people or mythicists in this discussion is that they seem to equate the HJ with the Christ of faith — a lot of people conflate the two.
Of course anyone who has seriously engaged with mythicist literature (not from the Zeitgeist side, though) knows how very conscious the authors are of the mainstream scholarly studies and the clear differentiation between the Christ of faith and the historical Jesus as reconstructed by scholars.
Right defines the real group of the academy; Wrong defines the conceptualised group of the other
Logicast, 1:19:00
I'm not really done with mythicism. The reason I say I'm done is that I'm done trying to convince mythicists they are wrong. If someone asks me what scholars think I'll discuss, but I'm done trying to tell mythicists they're wrong.

. . . .

I'm not going to waste my time trying to convince mythicists they are wrong.

.
David realises I am not the enemy and I know he's not the enemy. And the fact that this topic is framed in those ways is problematic.
The Way Forward?
Daniel made a very positive comment at the opening of his Logicast interview:
David realises I am not the enemy and I know he's not the enemy. And the fact that this topic is framed in those ways is problematic.
It is not my purpose to address the arguments offered by Daniel for the historicity of Jesus in the podcasts. What I'm looking at here is the way the exchanges have been framed. So it is interesting that despite this framing Daniel still did not see David as "the enemy".
One would like to think that eventually, had the conversation been without time limit, a much deeper understanding of David's perspective would have been reached. The reality is, however, that full time study, especially at postgrad level, leaves precious little time. Daniel has even been advised to cease blogging while at Yale and he has complied with that request. Academics, especially young aspiring ones, are extremely busy people. They have scant time for topics outside their immediate professional interests. They have less motivation to pursue interests that stand contrary to the ideological foundations of their professional identities.
I personally think it would be helpful if those mythicists who do engage seriously with the scholarship of the academy clearly stand apart from "New Age" or Zeigeist type mythicists. Robert Price does this when he writes in his Introduction to The Historical Bejeezus:
I take quite seriously even works considered eccentric by the (often dull) mainstream of conventional scholarship. It is only by taking such books seriously, rather than offering facile mockery and disdain, that one can tell the difference between nonsense and brilliant new theories. But I have no wish to defend nonsense, and my book's title pretty well indicates that I find a good bit of it in several of the books I review. And, again, it is my job to show why they are nonsense if indeed they are. . . .
But Price could do more to inform his readers of the logical and methodological flaws in Acharya's work and Daniel is at least partly right [link http://danielngullotta.com/2015/01/09/review-the-historical-bejeezus-what-a-long-strange-quest-its-been/ is no longer active] in his criticism of Price's position towards astrotheology. It is a mistake for mythicists to think that they somehow need to "stand together" against the academy. That way can only lead to a deepening of the divide that currently exists and that I have attempted to demonstrate above.
Carrier is right when he demands scholarly integrity come what may — whether it be towards mainstream scholars or prominent mythicists outside the guild. Carrier is also "right" when he is seen engaging in debates and discussions online because then he comes across much more the way David Fitzgerald came across when in discussion with Daniel on Miami Valley Skeptics — as someone who is "not the enemy". Carrier is also right when he calls a spade a spade and confronts the unprofessional conduct of other scholars, but he is not right when he sometimes goes one step too far and uses insulting language in public discourse.
I know. I learned from experience. I have expressed regret for the very few times I did resort to facetious or satirical insults in the past. One does have a breaking point but if one let's it show publicly then one loses publicly. Those one or two times I failed were thrown back at me years later. By avoiding repaying kind with kind I know I won public support when "enemies" like McGrath and Hurtado, Casey and Hoffmann, stooped to persistent rudeness and abuse.
Arguments alone don't win public support. People can never even hear arguments they don't want to hear.
And winning the public support is what scares the establishment. See Tim's post Protecting Our Institutions from "Meddlesome Outsiders". Who knows, maybe not but also just maybe that may be the way, over time, to get more of those dashed green loops into that diagram above.
The following two tabs change content below.
Neil Godfrey
Neil is the author of this post. To read more about Neil, see our
About page.
Latest posts by Neil Godfrey (see all)
---
If you enjoyed this post, please consider donating to Vridar. Thanks!
---