How do the roots of the Gospels compare to those of classical works? Is the historical evidence for Jesus Christ as good as that of Julius Caesar?
People often raise such historical questions critically, claiming the evidence for Caesar's life is better attested than for Jesus's. But is this really so? ~ Darrell L. Bock
.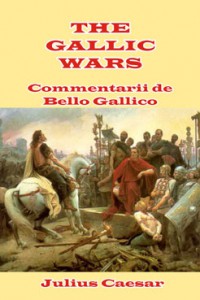 Professor Darrell Bock's article (Sources for Caesar and Jesus Compared) belongs on The Gospel Coalition  website and contributes nothing of scholarly value to anyone with a serious historical interest in Christian origins.
Bock opens with a typical evangelistic smokescreen of appropriating the language of an ancient historian ("Tracing ancient history is about examining sources and the manuscripts behind them . . .") but before he finishes he will twice make it clear that his real agenda is preaching or protecting the message of the gospel of Jesus Christ.
Can anyone stop themselves from raising an eyebrow when they read the following:
In some ways, Caesar's autobiographical account gives us more to consider than the accounts of Jesus do. It provides direct testimony about events Caesar participated in.
"In some ways" — "in some ways" the autobiographical work of Julius Caesar gives us more historical data to consider than our late third hand theological accounts about Jesus give us about the founding figure of Christianity. "In some ways", but otherwise it's going to be a fairly even balance in the availability of historical data about each figure!
In addition to Caesar's own writings Bock lists other surviving records from contemporaries of Caesar, the writings of Sallust and Cicero.
Sallust and Cicero were Caesar's contemporaries as well, so there are reliable outside sources closely tied to the time of these events.
Yes indeed. Caesar's contemporary, Cicero, is the most fruitful source, even moreso than Caesar's own writings on the Gallic War.
Other historians of value yet overlooked by Bock are Livy (whose sections on Caesar survive as epitomes), Asconius, Paterculus and others who completed Caesar's own account of the Gallic Wars and certain of his activities in the Civil War. Perhaps he was in too much of a rush to get to the two late historians (a hundred years after Caesar) with useful information about Julius Caesar.
Two of the most important sources for the emperor's life, however, Suetonius and Plutarch, write in the early second century. That's more than 100 years after the time of Caesar.
These are the crux of Bock's argument. If these two works written a century after Caesar are treated as valuable sources then so should we give equal credibility to the Gospel accounts about Jesus:
If we believe what the best sources say about Julius Caesar [meaning Suetonius and Plutarch only], then we should believe what the best sources say about Jesus Christ.
Yes, well. Seminarians would be wiser not to advertise their (il)logic for all to see like this.
But let's enter into Bock's game for a moment. Why do historians "believe" Plutarch? Here's part of the reason, and a fairly major part, explained by the historian Richard Billows in his book Julius Caesar: Colossus of Rome:
Plutarch had access to and used an array of writings now lost to us – memoirs by Sulla, Rutilius Rufus and Lucullus; histories by the likes of Asinius Pollio, Ampius Balbus, Tanusius Geminus – who were contemporaries or near contemporaries of Caesar. In the late second and early third centuries two other Greeks wrote historical works that provide a great deal of information about our period. (p. xi)
And Suetonius?
Suetonius burrowed in archives and minutes: as a high member of the emperor's secretariat he had access to the imperial archives, though it is unclear that he derived anything of value for this Life (as he did for Divus Augustus). But he shows knowledge of the pamphleteering exchanges of the last Republic, and can deploy the accusations launched by Tanusius Geminus, the elder Curio, Caesar's fellow consul Bibulus, and M. Actorius Naso when paddling in the murky waters of the first Catilinarian conspiracy (Christopher Pelling, "First biographers" in A Companion to Julius Caesar, p. 253)
We know who Plutarch and Suetonius were. We can cross-check their accounts with earlier sources and with later ones. We trust them to the extent that they had access to sources contemporary with Caesar.
On the other hand, we have only hypothetical sources for the gospels (Q, oral tradition, special materials of Matthew and of Luke . . .). All of these are debatable. Many of us know of Mark Goodacre's challenge to Q; and I have posted many times on various challenges to the arguments for oral tradition as a source. There have also been many publications (especially among mainstream scholars) establishing strong arguments for lesser or greater amounts of the gospels being adaptations of Old Testament narratives. Some have even seen gospel sources in classical Greek literature.
The point is that gospel sources are traditionally hypothetical; the sources used by the earliest biographers of Caesar are known to be contemporaneous with Caesar.
Further, we know the identities of the authors of our sources about Caesar. We know neither the authors nor the original audiences of the gospels. We don't even really know when they were written. In other words, the provenance of the gospels is lost to us.
Not knowing who wrote something, when and for whom, is bad enough. That sort of information we have for our sources for Caesar and it helps orient our interpretative faculties. What's worse for Bock's comparison is that the gospels don't even pretend to follow the same genres as Plutarch's, Sallust's or Cicero's writings. The gospels betray no interest in establishing credibility among readers in the same ways Plutarch and Suetonius do: assuring readers of the reliability of their sources and writings through clear identification of those sources and their own standing. The gospels assure readers of their authenticity be appeals to prophetic fulfilment and the voice of anonymous authority (Luke's prologue notwithstanding).
On the rare occasions a Roman historian or biographer mentions a miracle the sceptical reader is quickly assured that the author understands (and perhaps even shares) his or her scepticism. The original audience of the gospels were more interested in uncritically listening to the wonderful works of God and the miracles of his Son. The gospels were theology from the start and very often re-writes of "Old Testament" narratives, not history.
(In a future post I'll talk more about the reliability and otherwise of various ancient sources, and not only of the gospels but also of various historians like Josephus and Herodotus. We will see that sometimes where they are the most "convincing" with the richness of their details and protestations of direct personal eyewitness experience they are, in fact, lying, or at least deceiving their readers. But I'm straying.)
Bock also has a lot to say about the comparative manuscript tradition behind our sources for Caesar and Jesus and concludes:
Classics scholars build much of our understanding of Caesar around these sources, even though their manuscript traditions contain significant gaps of time.
His whole argument is largely irrelevant, however. Scholars are very aware of the problems of not having the original manuscripts (the autographs) of our sources. They know of the possibility of corruptions creeping in as manuscripts are copied. A classic illustration of this is the journal of Columbus. That would appear to be a first-hand account but scholars have been troubled by the fact that it's not in Columbus's own handwriting. Our earliest copy has been penned by Bartolomé de las Casas (two generations after Columbus). That inevitably raises questions about how much we really know about Columbus's own thoughts:
Trusting that Las Casas got Columbus right, and that Columbus got himself right, most historians have taken comfort, but the journal is riddled with inconsistencies and incongruities, suggesting a massive early rewrite by Columbus for his own purposes. It can also be shown that, as a transcriber, Las Casas wielded an attitude as well as a pen. (David Henige, Historical Evidence and Argument, pp. 44-45)
Then recall Bart Ehrman's Orthodox Corruption of Scripture and wonder.
All the manuscript tradition can do is offer us (relative) assurance about the integrity (more or less) of our text. It does not change the factors involved in the interpretation of the text's narrative contents, or whether a text was written as history or as a theological miracle story.
Bock further makes the apologetic appeal to the authenticity of the names traditionally assigned to the gospels. Of course this is another bit of legerdemain: the names might just as well be Joel, Lot, Adam and Enkidu. Names alone are meaningless. What counts is what we know about the person identified by the name. (Besides, there is no evidence for even the names by which we know the gospels ever being associated with them from their beginnings.)
Bock gives his game away in the final section of his article.
The nature of the claims tied to Jesus often gets in the way of such an assessment. Many hesitate to see Jesus in the same light as Caesar since the Gospel sources testify that Jesus claimed to be the Son of God and performed unusual signs and wonders to validate his claim.
There you have it. You, Sceptic, are hung up over the gospels because in your hard-heartedness you do not want to submit to God and believe the gospel! That is Bock's punchline. If you are persuaded by the logic and evidence in this post then your motive is ungodly. You are in need of salvation.
Then Bock tells us that one detail that is known "without dispute" is that Jesus had "such a big public reputation" — so wide was it that a "wide array" of other sources acknowledge this. And what other sources? Bock mentions Justin writing in the second century! And the Talmud in…. what was it? the sixth century? maybe the fourth? But none contemporaries. No Ciceros or Sallusts or Asinius Pollios or Ampius Balbuses or Tanusius Geminuses for Jesus. And no Plutarchs a century later to refer to these contemporary sources either.
I feel I have written this post once too often before. Let this do till another day when I hopefully can find a fresh angle to tackle it. Till then, I think you get the point.
I'm sure Darrell Bock is a nice enough gentleman but I see no common ground that would enable a critical scholar to seriously engage in an academic discussion with such an evangelist apologist.
P.S. I have not read Richard Carrier's response to the same Bock article. I trust there will be a broad similarity in the core arguments.
The following two tabs change content below.
Neil Godfrey
Neil is the author of this post. To read more about Neil, see our
About page.
Latest posts by Neil Godfrey (see all)
---
If you enjoyed this post, please consider donating to Vridar. Thanks!
---