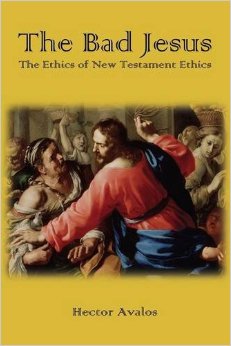 Recently we looked at Tom Holland's interest in "de-radicalising Muhammad" and today part one of an online interview with Hector Avalos has appeared in which he discusses his new book The Bad Jesus in which he exposes the "low-down" on Jesus. Just as Holland argues for the importance of promoting an understanding of what can and cannot be known about Muhammad, Avalos argues that the Christian bias of New Testament scholars has driven them to put a superior ethical spin on acts and sayings of Jesus that are in fact antithetical to today's ethical norms.
Avalos explains that The Bad Jesus is actually a sequel to The End of Biblical Studies.
Biblical studies is still part of an ecclesiastical academic complex, very biased toward the Christian viewpoint in particular, and religionist throughout. Biblical scholars are there to promote the value of the Bible because in part it is self-serving. It furthers their own profession to be biblical scholars. And if the Bible has no value then what use is there for Biblical studies. . . 
A religionist, "in particular Christian orientation", permeates the field of Biblical studies and Avalos observes that the subfield of Christian ethics is the most biased of all. The ethical superiority of the purported founder of Christianity is the lodestone of the scholars involved. In Avalos's mind the reason for this is that most scholars continue even today to view Jesus through the lens of Chalcedon and Nicea. Though they claim to be studying the historical Jesus they nonetheless still see Jesus as divine.
This should not be a controversial statement to anyone who has read a wide range of historical Jesus studies. Even "liberal Christian" scholars have made little effort to hide their belief that Jesus is alive today and that they regularly commune in some manner with him.
An interesting biographical detail we learn is what led Hector Avalos to undertake formal studies in the Bible after becoming an atheist. Continue reading "De-Sacralizing Jesus"