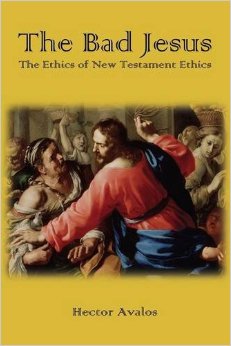 Recently we looked at Tom Holland's interest in "de-radicalising Muhammad" and today part one of an online interview with Hector Avalos has appeared in which he discusses his new book The Bad Jesus in which he exposes the "low-down" on Jesus. Just as Holland argues for the importance of promoting an understanding of what can and cannot be known about Muhammad, Avalos argues that the Christian bias of New Testament scholars has driven them to put a superior ethical spin on acts and sayings of Jesus that are in fact antithetical to today's ethical norms.
Avalos explains that The Bad Jesus is actually a sequel to The End of Biblical Studies.
Biblical studies is still part of an ecclesiastical academic complex, very biased toward the Christian viewpoint in particular, and religionist throughout. Biblical scholars are there to promote the value of the Bible because in part it is self-serving. It furthers their own profession to be biblical scholars. And if the Bible has no value then what use is there for Biblical studies. . . 
A religionist, "in particular Christian orientation", permeates the field of Biblical studies and Avalos observes that the subfield of Christian ethics is the most biased of all. The ethical superiority of the purported founder of Christianity is the lodestone of the scholars involved. In Avalos's mind the reason for this is that most scholars continue even today to view Jesus through the lens of Chalcedon and Nicea. Though they claim to be studying the historical Jesus they nonetheless still see Jesus as divine.
This should not be a controversial statement to anyone who has read a wide range of historical Jesus studies. Even "liberal Christian" scholars have made little effort to hide their belief that Jesus is alive today and that they regularly commune in some manner with him.
An interesting biographical detail we learn is what led Hector Avalos to undertake formal studies in the Bible after becoming an atheist. He wanted to know where such an influential book came from and how it came to be so influential. That was my own primary motivation for engaging in a serious (albeit amateur) study of the Bible after I likewise became an atheist.
Another point that struck a chord with me in the book and reiterated in the interview is the observation that God does not really command us to follow him at all. My own take is that God actually asks more of us than he expects of himself or of Jesus. I'm referring to the biblical commands to forgive without limit those who wrong us. But that's not what the Biblical God himself does. God and Jesus, we read, are quite within their rights to reach a point where they eventually snap and lash out in the most cruel violence those who merely defy their will. And the punishment they inflict is far more cruel than anything we read about in the Old Testament.
The interview also addresses Jesus' pro-imperialistic stance (contrary to scholarship that argues Jesus stood in opposition empire). Yes, he did oppose the Roman empire, but not imperialistic domination itself.
One more detail that has particularly interested me for some time now and that I have raised in several posts is the nature of early first century Judaism and the way it was not at all uncommon for Jewish factions to be declaring their fellows with different views and practices to be "non-Jews". This Second Temple landscape appears very often to be overlooked in many scholarly analyses of the supposedly "anti-Jewish" sentiments in the gospels.
Meanwhile another two-part review of The Bad Jesus by New Zealand Marxist scholar Robert Myles:
I have no problem with a Marxist analysis of the way the world works today or of Marx's understanding of the factors that lead to alienation in capitalist societies. But I do believe that where the sciences have progressed to the point of surpassing what was understood in the nineteenth century about evolution, human nature and psychology then in those areas Marxism needs to be revised or discarded. On the other hand if you do view the "privatised family" structure as a capitalist construct designed to serve bourgeois interests then you might agree with Myles's critique of at least one aspect of Avalos's view of Jesus.
Robert Myles suggests that Jesus' command for his followers to leave their families may well be interpreted as a positive ethic for those on the political Left since it challenges the capitalist system's power structures. I wonder if Hector Avalos would add that not only Christian scholars have a professional need to assert the contemporary relevance of Jesus but that even secular Marxist scholars have a professional interest in the same that is no less strong.
I myself see the nuclear family structure as a human universal independent of any particular economic system. I also see values in terms of human feelings and wellbeing (psychological as well as material) and not as a matter of decisions over the juggling of socio-economic forces.
Hector Avalos does identify himself with the New Atheists and it is true, as Robert Myles notes, that the likes of Dawkins, Harris, Coyne, the later Chris Hitchens, are all embedded in the political Right. I don't know whether Avalos does likewise. If he does, and if Myles has a point about Avalos's Jesus being "bad" because he fails to live up to capitalist bourgeois values at least to some extent, I think there is still much else in Avalos's critique that sits well with more universal humanistic and post Enlightenment ethics.
The following two tabs change content below.
Neil Godfrey
Neil is the author of this post. To read more about Neil, see our
About page.
Latest posts by Neil Godfrey (see all)
---
If you enjoyed this post, please consider donating to Vridar. Thanks!
---