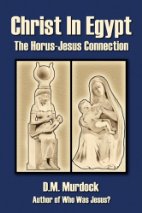 I recently posted the following on the Biblical Criticism and History Forum. I post it here to explain the main reason I am very cautious about the works of one group of Christ Myth advocates and hopefully to encourage them to a more constructive and critical approach to the debate. I do hope that the supporters of this perspective will try to understand that my failure to take their views on board is not motivated by any sort of hostility towards the author or their proposed thesis itself but is based upon their failure to appreciate the fundamentals of sound argument and critical thinking.
Let's start with the positive. In defence of D. M. Murdock's (aka Acharya S's) discussion in Christ in Egypt about "crucified" Egyptian gods I think she does an interesting job of detailing the evidence for the various deities, especially with respect to Osiris, including the function of the djied cross or pillar, and early Christian interpretations of these — pages 336 to 352.
I think this is interesting background information that should rightly be factored into any historical and literary analyses that considers the origins of the Gospel of John's miracle of the raising of Lazarus (as addressed in detail by Randel Helms in Gospel Fictions), Secret Mark (with its patent links to the raising of Lazarus story in John's gospel) and the stories of Alexandrian provenance for certain early Christian authors.
But then on pages 353 to 356 it seems Murdock crashes into a brick wall by trying to overstate her case.
Or am I missing something that she has explained elsewhere to justify her argument?
We come to the heading "Divine Man" Crucified in Space. Referring to Massey's discussion of the phrase "crucifixion in space" Murdock writes: 
The crucifixion in space usually refers to that of Plato's "second God, who impressed himself on the universe in the form of the cross,"2 constituting the Greek philosopher's "world-soul" on an X, which, as we have seen, represents the sun crossing the ecliptic. . .

(p. 353)
I expected to see here the footnote directing me to Plato and his discussion of this "second God". But instead she takes us to Lundy, Bradshaw, Roberts, and Philo. That leaves me wondering where Plato speaks of "a second god" who made himself in the "form of a cross" at the ecliptic. My memory tells me that Plato did speak of the ecliptic being like a cross but no more. Have I forgotten crucial details? Murdock does not help me here.
Murdock then writes:
Another Platonic concept is the crucified "divine man"3 or "just man," found in Plato's Republic …
Again I look up the footnote and am disappointed once again to find not a reference to where Plato speaks of the divine man but instead to an interpretation by Massey. My recollection was that Plato spoke of a just man but I don't recall him ever equating this just man with a divine man. My memory might well be faulty but again Murdock does not help me establish her idea.
Then on page 355 Murdock continues with:
Further elucidating upon the divine man, Albert Parsons remarks:

Plato spoke of a crucified divine man floating in space…
Again no reference to Plato, only to Parsons. And when I look up Parsons more generally I see he appears to be more interested in spiritualism and such ideas than sound history.
D.M. Murdock was doing quite well, I thought, with cross symbolism in Egyptian culture but then left me with no way of verifying her claims that the Egyptians and Plato had the concept of a divine man in a cross formation in space. The closest evidence she seems to provide for the idea is in the Acts of John where Jesus is told to look towards the true cross of light in the sky. But that reads to me like a vision, not a pointer to the ecliptic.
This is just one instance of what I take to be Murdock's approach. Had she limited her discussion to what she had hard evidence for (and there are many illustrations making the point along with quotations of Church fathers etc) that are very suggestive then I think her work would have been all the stronger.
I think her attempts to go beyond the evidence and confuse interpretations with facts (explained by her evangelical interest as expressed in the front and end pages — just like many religious scholars themselves do in their books) does her work serious damage. If an editor could see to major cuts throughout the book I think it could be a much stronger contribution to the Christ Myth debate.
One more
Another poster on the same BC&H forum posted a similar criticism in relation to a passage in Suns of God. (I won't name him here because he, too, does not appreciate the hostile denunciations that too often come from supporters of this author of but would prefer to focus on the substance of claims made.)
In an apparent effort to substantiate the claim that the early Christians were known as "sun worshipers" and that Christianity itself indeed began as a form of sun-worship Murdock wrote the following:

The comment: :
Four authors mentioned in the span of a few lines. Zero footnotes and zero references.

It might be right . . . but that's beside the point.

It also doesn't really matter whom this comes from . . . 

The wonderful little turn of phrase known as "Trust, but verify" comes to mind (and, yes, it is a wonderful turn of phrase, whatever you think of its original context).

The reader could be spared searching out the truth here . . .  with the simple convention of footnotes and exact references. And then the search for the references would have been done 'once for all'.

. . . . 

PS– Apparently there is some kind of "reference," but not what you'd expect. The reference is to Catholic Encyclopedia, "Christmas." Consulting this can lead the reader to find the actual references and some of their wording.

http://www.newadvent.org/cathen/03724b.htm
The earliest rapprochement of the births of Christ and the sun is in Cyprian, "De pasch. Comp.", xix, "O quam præclare providentia ut illo die quo natus est Sol . . . nasceretur Christus." — "O, how wonderfully acted Providence that on that day on which that Sun was born . . . Christ should be born."

In the fourth century, Chrysostom, "del Solst. Et Æquin." (II, p. 118, ed. 1588), says: "Sed et dominus noster nascitur mense decembris . . . VIII Kal. Ian. . . . Sed et Invicti Natalem appelant. Quis utique tam invictus nisi dominus noster? . . . Vel quod dicant Solis esse natalem, ipse est Sol iustitiæ." — "But Our Lord, too, is born in the month of December . . . the eight before the calends of January [25 December] . . ., But they call it the 'Birthday of the Unconquered'. Who indeed is so unconquered as Our Lord . . .? Or, if they say that it is the birthday of the Sun, He is the Sun of Justice."

Already Tertullian (Apol., 16; cf. Ad. Nat., I, 13; Orig. c. Cels., VIII, 67, etc) had to assert that Sol was not the Christians' God; Augustine (Tract xxxiv, in Joan. In P.L., XXXV, 1652) denounces the heretical identification of Christ with Sol.
The following two tabs change content below.
Neil Godfrey
Neil is the author of this post. To read more about Neil, see our
About page.
Latest posts by Neil Godfrey (see all)
---
If you enjoyed this post, please consider donating to Vridar. Thanks!
---