This is the second section of Part 5: Rituals and Remembrance. In the previous post, I tried to explain how modern Memory Mavens often read Maurice Halbwachs selectively. For example, Barry Schwartz (see Part 3) and Anthony Le Donne (see Part 5.1) inexplicably failed to read the earlier chapters of The Legendary Topography of the Gospels in the Holy Land: A Study of Collective Memory (La topographie legendaire des evangiles en terre sainte: Etude de memoire collective).
In a similar fashion, some modern authors seem all too ready to conflate Halbwachs's generalized treatment of the "localization" of memory with his specific discussions about locations, places, etc. To be fair, we might argue that part of the problem is Halbwachs's use of the term.
Localizing individual memories in social frameworks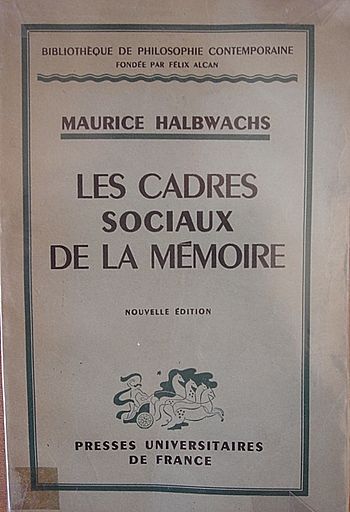 So let's try to be clear from the start. In his 1925 work, Les cadres sociaux de la memoire, partially translated in On Collective Memory (see Chapter 3, "The Localization of Memory"), he explains that recent individual memories "hang together" only if we can place them within an overall framework. That is, they make sense to us when "they are part of a totality of thoughts common to a group." He writes:
To recall them it is hence sufficient that we place ourselves in the perspective of this group, that we adopt its interests and follow the slant of its reflections. Exactly the same process occurs when we attempt to localize older memories. We have to place them within a totality of memories common to other groups, groups that are narrower and more lasting, such as our family. (Halbwachs, 1992, p. 52, emphasis mine)
In its first iteration, then, localization in general refers to two things: (1) the placement of individuals within the perspective of a group and (2) the placement of individual memories within the larger framework of group memories. Hence, for Halbwachs, we cannot understand how memory works unless we take into account the associations between individual recollections and the group or groups to which that individual belongs.
We can understand each memory as it occurs in individual thought only if we locate each within the thought of the corresponding group. We cannot properly understand their relative strength and the ways in which they combine within individual thought unless we connect the individual to the various groups of which he is simultaneously a member. (Halbwachs, 1992, p. 53, emphasis mine)
Conceptual localization vs. geographical localization
Clearly, Halbwachs is not talking about geographical places here, but "locations" within conceptual, sociological frameworks. However, it's easy to conflate the two ideas by mistake, which Elizabeth Castelli does in Martyrdom and Memory: Early Christian Culture Making:   Continue reading "The Memory Mavens, Part 5: Rituals and Remembrance (2)"