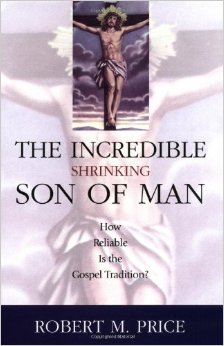 James Pate of James' Ramblings has written up notes on his reading of Robert M. Price's Christ Myth book, The Incredible Shrinking Son of Man: How Reliable Is the Gospel Tradition? James is certainly not a mythicist (he is a regular church goer and "believer") but he does honestly grapple with several of Price's points. It's so refreshing to read. No ad hominem. No glib misrepresentation of the arguments. I find myself in sympathy with some of the points he struggles with.
Some samples:
For some reason, though, reading this book by Price was a rather exhausting and disturbing process for me, and I wonder why.  Maybe it was because I thought that, even if the Bible has errors, there are still things that we can historically take for granted about Jesus, things that are edifying to my faith, and Price was dismantling (or trying to dismantle) this view, page after page after page. . . . This book, however, is still a challenge to me.
On honesty with himself:
I am often reluctant to read and blog about books that promote Christ-mythicism, even though I have written blog posts in the past that are relevant to that debate (i.e., Was Christianity influenced by the mystery religions or the belief in a dying and rising god?  Was the reference to Jesus in Josephus' Antiquities 18.3.3 authentic?).  Why have I been reluctant?  It is because I am afraid that I will not know enough to refute the Christ-mythicist arguments, and thus I will look bad to other biblical scholars or budding biblical scholars . . . . 
James' notes are very easy to read with each topic paragraph conveniently numbered.
I liked the way James suspends judgment pending follow up of the sources Price cites. That's how I tend to read books and I always assumed it was the "correct" way. What is so surprising is to find someone who applies this to book presenting a case against the historicity of Jesus. . . . Continue reading "A Rare Find: A Serious Engagement with Robert M. Price's The Incredible Shrinking Son of Man"