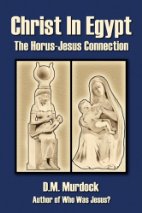 I recently posted the following on the Biblical Criticism and History Forum. I post it here to explain the main reason I am very cautious about the works of one group of Christ Myth advocates and hopefully to encourage them to a more constructive and critical approach to the debate. I do hope that the supporters of this perspective will try to understand that my failure to take their views on board is not motivated by any sort of hostility towards the author or their proposed thesis itself but is based upon their failure to appreciate the fundamentals of sound argument and critical thinking.
Let's start with the positive. In defence of D. M. Murdock's (aka Acharya S's) discussion in Christ in Egypt about "crucified" Egyptian gods I think she does an interesting job of detailing the evidence for the various deities, especially with respect to Osiris, including the function of the djied cross or pillar, and early Christian interpretations of these — pages 336 to 352.
I think this is interesting background information that should rightly be factored into any historical and literary analyses that considers the origins of the Gospel of John's miracle of the raising of Lazarus (as addressed in detail by Randel Helms in Gospel Fictions), Secret Mark (with its patent links to the raising of Lazarus story in John's gospel) and the stories of Alexandrian provenance for certain early Christian authors.
But then on pages 353 to 356 it seems Murdock crashes into a brick wall by trying to overstate her case.
Or am I missing something that she has explained elsewhere to justify her argument?
We come to the heading "Divine Man" Crucified in Space. Referring to Massey's discussion of the phrase "crucifixion in space" Murdock writes:  Continue reading "Reading Mythicist Arguments Cautiously"