I disengaged from the question that was being asked, falling on the last resort of the scholarly scoundrel: "I'm just trying to figure out what really happened!" (
Daniel Boyarin
)
Thanks to Jim Davila's PaleoJudaica.com blog I see the JWeekly has published a lengthy article on one of my go-to scholars, Daniel Boyarin.
Daniel Boyarin — the Talmudist, feminist, anti-Zionist, only-in-Berkeley Orthodox Jew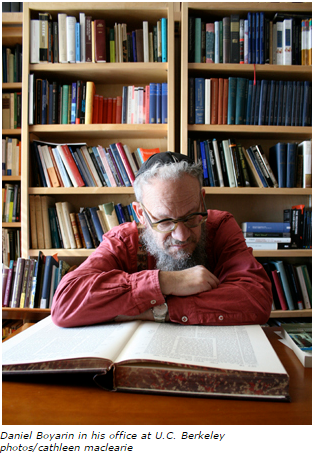 I've cited Boyarin in about a dozen posts on Vridar and will certainly refer to some of his works again. Not that I play "follow the leader" so much as I find him a most though-provoking and informative teacher: his works are always leading me back to study original sources and to read ever more widely among other scholarly works with which he engages. After I've finished one more round of this process I may find myself doubting some proposed point of his (I do not realize how painfully conservative I am till I read some of his radical views) but I will always be returning to his books for fresh perspectives and gateways to learning.
Some excerpts I enjoyed from the JWeekly article: