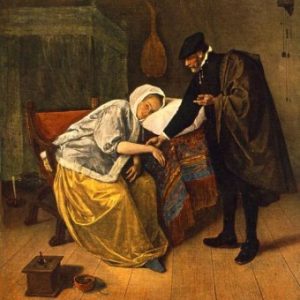 I can understand laypersons indignantly jumping to the defence of their favourite biblical or historical Jesus researcher whenever the suggestion arises that any scholar inevitably succumbs to ideological and career pressures. When scholars themselves proclaim their pureness of heart disinterested approach to their research, however, we are witnessing the problem of self-deception.
Tonight I was listening to an interview with a health researcher who was explaining that even in the field of health researchers were constantly pressured — and even taught the skills to do this — to sex up their research findings for regular publications. Researchers are compelled to publish and publish frequently to survive, and that means finding ways to dress up what once would have been regarded as rubbish into something that has the appearance of worth. That is, peer reviewed health journals are in the business of making money so they do publish what will sell well. See and listen to the segment of The Media Report: The Pitfalls of Health News, for the details of how this is possible.
If that sort of pressure is influencing what practitioners of one of the "hard sciences" write, can we really expect academics in biblical studies to be free from similar pressures? And that's just the pressure of the daily business of surviving in one's job. We haven't even touched on ideology, yet. (Although ideology certainly is a factor in what academic journal publishers know is necessary for staying in the reputation business.)
.
Recently I was pulled up on the second page of the Preface to Border Lines: The Partition of Judaeo-Christianity where Daniel Boyarin writes:
On one occasion, when I had delivered a lecture based on some of the work below on the Gospel of John, a very upset undergraduate arose from the audience to inquire: Who are you and why are you trying to take our Gospel away from us?

On another occasion, a group of Christian ministers asked me why I was not a Jew for Jesus (not in an effort to convert me to that movement but rather to understand what it is that makes me not one).

At still another time, in Jerusalem on one memorable occasion, I was asked explicitly by the organizer of a conference, Dr. Alon Goshen-Gottstein, to reflect on the implications of this work for the present and future.

On all of those occasions, I disengaged from the question that was being asked, falling on the last resort of the scholarly scoundrel: "I'm just trying to figure out what really happened!" (Border Lines, p. x, my formatting and emphasis)
Of course Boyarin is writing with some self-mockery here. But he is also acknowledging the truth of something that honest scholars do recognize. To claim pure objectivity without any self-interest is effectively to make a claim to being God.
Yet I venture to suggest that anyone who has read much of the claims and counter-claims between Christ myth advocates and those defending the historicity of Jesus has encountered someone saying "I am not driven by an agenda. I am only interested in knowing the facts of history."
Rubbish. If you've heard that expressed you've probably also, in the recesses of your mind, at least fleetingly suspected that there really is something else that interests the claimant. Of course there is.
I love history. But I do have to make selections about what I read. There are clear interests that guide my decision. I have been on the lookout for Bill Gammage's book, The Biggest Estate on Earth: How Aborigines Made Australia, and finally snapped up a copy from a local store a few weeks ago. I had not been on the lookout for a book about other indigenous peoples. Why this one? If I take time to reflect on the reason I suppose I would have to concede that my interest in this topic was related to my being Australian, and accordingly with my sense of identity and belonging to this land. Having read much of it already I find myself reflecting on landscapes that I am familiar with and thinking through how many of them either were the result of ancient "fire-farming" practices of the aboriginal peoples or how other landscapes are the consequence of the removal of aborigines from the regions. It is all about my own identity and home.
I am not "just trying to figure out what really happened". I am trying to understand more about my own world. But more than that. I am engaged in an exercise that helps me flesh out an understanding of my own identity and place in this world.
I know there are historical Jesus scholars who would be quick to tell others the agenda that drives someone persuaded by a Christ myth view of Christian origins. But what should be of most interest is what each person concedes is his own interest. I use "interest" here in all its many levels of meaning, including where it overlaps with that supposedly dirty word "agenda". If they insist that they have no interest but to find out "what really happened" and that's all there is to whatever they publish, then I suggest they are as deluded about themselves as they are about those they accuse of having nefarious interests.
What is our interest in the Christ myth or in the historical Jesus? If we can't find it or can't see past our belief that "we want nothing but the truth" and "that's ALL there is to it", then we have a bit more soul-searching to do, I suggest.
Of course most of us firmly believe we do want the "truth", but truth about what, exactly, and why?
The following two tabs change content below.
Neil Godfrey
Neil is the author of this post. To read more about Neil, see our
About page.
Latest posts by Neil Godfrey (see all)
---
If you enjoyed this post, please consider donating to Vridar. Thanks!
---