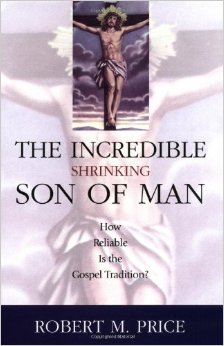 James Pate of James' Ramblings has written up notes on his reading of Robert M. Price's Christ Myth book, The Incredible Shrinking Son of Man: How Reliable Is the Gospel Tradition? James is certainly not a mythicist (he is a regular church goer and "believer") but he does honestly grapple with several of Price's points. It's so refreshing to read. No ad hominem. No glib misrepresentation of the arguments. I find myself in sympathy with some of the points he struggles with.
Some samples:
For some reason, though, reading this book by Price was a rather exhausting and disturbing process for me, and I wonder why.  Maybe it was because I thought that, even if the Bible has errors, there are still things that we can historically take for granted about Jesus, things that are edifying to my faith, and Price was dismantling (or trying to dismantle) this view, page after page after page. . . . This book, however, is still a challenge to me.
On honesty with himself:
I am often reluctant to read and blog about books that promote Christ-mythicism, even though I have written blog posts in the past that are relevant to that debate (i.e., Was Christianity influenced by the mystery religions or the belief in a dying and rising god?  Was the reference to Jesus in Josephus' Antiquities 18.3.3 authentic?).  Why have I been reluctant?  It is because I am afraid that I will not know enough to refute the Christ-mythicist arguments, and thus I will look bad to other biblical scholars or budding biblical scholars . . . . 
James' notes are very easy to read with each topic paragraph conveniently numbered.
I liked the way James suspends judgment pending follow up of the sources Price cites. That's how I tend to read books and I always assumed it was the "correct" way. What is so surprising is to find someone who applies this to book presenting a case against the historicity of Jesus. . . .
Did I know enough to refute any of Price's arguments?  Well, Price's book would take a lot of time for me to try to refute or critique.  Price referred to so many primary sources, from Hellenistic, classical, Jewish, Buddhist, and ancient Christian literature, and it would take me a long time to look at each reference that he cited, to find the sources that he mentioned but did not explicitly cite, to find the dates for the references and sources for which he did not provide a date (we'll see later why that is important), and then to determine if Price is interacting with those sources fairly and accurately.  Then there are some of the secondary sources that Price mentions, for which Price tells us their conclusion but not the arguments that led to the conclusion.  Price referred to a scholar, for example, who argued that Mark 13 reflects the destruction of Jerusalem in the second century C.E. rather than the first century C.E., and Price mentioned a scholar who made a case that Slavonic Josephus (which many date to the sixteenth century) may contain material going back to Josephus himself.  Trying to evaluate Price's argument would take a lot of work!
And he is not quick to judgment on an argument that goes against the conventional wisdom. Or rather, though he may not be convinced of an argument he can at least recognize some strength in the alternative he rejects and draws the necessary conclusion from that:
 I Corinthians 15:3-9 is a popular passage among Christian apologists.  It presents Jesus appearing to his disciples and eventually to five hundred witnesses, some of whom are still alive when the passage is written.  Moreover, Christian apologists, and even many mainstream scholars, hold that it is an early tradition, since Paul says that it was passed down to him.  Price, however, deems it to be a later interpolation, and he offers some reasons.  He asks why the Gospel writers did not refer to the five hundred witnesses, if that was an earlier tradition.  Moreover, Price believes that the statement in v 8 that Paul was born out of due time reflects a later Gnostic story.  Someone referred me to an article Price wrote that argued that I Corinthians 15:3-9 was an interpolation, but I never found the time to read it; I was glad, therefore, to read a succinct version of this argument in Price's book.  Am I convinced?  Well, not really, but I cannot disprove that the passage is an interpolation, and, that being the case, I wonder how much weight it should have in Christian attempts to prove the truth of Christianity.
A rare find indeed. I must read more of James Pate's posts. Again, for the lazy and impatient, here is the link again:
Book Write-Up (Loosely-Speaking): The Incredible Shrinking Son of Man, by Robert M. Price
The following two tabs change content below.
Neil Godfrey
Neil is the author of this post. To read more about Neil, see our
About page.
Latest posts by Neil Godfrey (see all)
---
If you enjoyed this post, please consider donating to Vridar. Thanks!
---