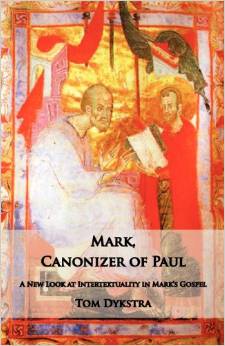 One book I enjoyed reading this year was Tom Dykstra's Mark, Canonizer of Paul. (The link is to an earlier post of mine on this title.) I see the book has been promoted on the Bible and Interpretation site, too. Tom Dykstra begins with a discussion of Mark's sources and purpose referring to about half a dozen books that were still fresh in my mind from recent reading and introducing me to as many more that by and large I followed up subsequently. His third chapter is titled The Chimera of Oral Tradition.
"Oral Tradition" is a term one soon learns to take for granted when reading any scholarly work that attempts to explore the possible sources used by the authors of the gospels. If one wants to pursue this concept further one will soon enough find interdisciplinary studies drawing upon the works of anthropologists, oral historians — names like Ong, Vansina, Foley, Dundes, Kelber will soon become familiar. There is no shortage of information about "how oral tradition works" but none of it directly explains how we know the gospel authors (evangelists) drew upon it.
(There are arguments that certain structures in the gospels are paralleled in oral recitations but these arguments are off-set by even more detailed and supported demonstrations that the same structures are found in literary works, too. They are not unique to oral story-telling.)
This becomes all the more frustrating as one continues to read widely and learns that there are numerous studies that easily demonstrate that the evangelists drew upon certain other written literature for some of their episodes. It is very difficult to deny that the account of Jesus raising the daughter of Jairus from the dead owes nothing to the similar narrative of Elisha raising a young boy from death.
Numerous commentaries suggest that the author of the Gospel of Matthew was emulating the story of the ancient Law being presented to Israel through Moses on the mountain when he composed the Sermon on the Mount. One scholar even published an entire book arguing for numerous links between the Jesus in Matthew's gospel and Moses — clearly leading us to acknowledge that the evangelist was consciously drawing upon the story of Moses to write his gospel.
So how do we reconcile these studies with the claim that oral traditions were the gospel sources? The closest I have ever come to an explanation in the literature is the suggestion that the evangelists shaped the oral stories to make them reminiscent of the venerable tales of old.
So when I read Barry Henaut's published thesis demonstrating that the way the parables of Jesus in the Gospel of Mark are told strongly suggests they were composed from the creative and literary mind of the author and owed nothing to oral traditions I was determined to find how scholars had responded to such a thesis. It seemed that most had never read it. Oral tradition continued to rule by default.
Then I read Thomas Brodie's critique of the whole notion of oral tradition — not just its application to one part of a gospel. I wrote several posts outlining his arguments:
Brodie wrote before he "came out" as a "mythicist". So what engagement with his arguments did his peers undertake?
Very little, it seems.
Oral tradition wins by default. It is necessary to explain how the Jesus narrative survived the forty odd year gap generally believed to separate the first gospel (Mark) and the crucifixion of Jesus.
So when I read Tom Dykstra repeating with approval the core of Brodie's arguments in his third chapter in Mark, Canonizer of Paul my attention was locked in.
As far as I am aware Dykstra is not a mythicist. Now that's the position I have been looking for to study. The question of Jesus's historical existence ought to have nothing to do with genuine and valid intellectual inquiry into a study of a piece of ancient writing and testable evidence for its sources.
Maybe Dykstra won me over too easily by seriously addressing questions I had been wanting to see addressed by third parties for so long. I would love to read studies just as thorough that argue against the points raised by Brodie and Henaut.
If anyone knows of any serious challenges to arguments against the hypothesis that oral traditions were sources for the gospels I would be most grateful.
P.S.
The letters of Paul refer to doctrinal creeds being passed on by oral tradition but that's not the same thing as the raft of stories about the healings and teachings of Jesus that we find in the gospels.
The following two tabs change content below.
Neil Godfrey
Neil is the author of this post. To read more about Neil, see our
About page.
Latest posts by Neil Godfrey (see all)
---
If you enjoyed this post, please consider donating to Vridar. Thanks!
---