James McGrath has finally got rid of the one gad-fly who continually sought to keep him honest in his reviews of mythicist works and to pull him up when he substituted ad hominem for reasoned argument. No wonder, most recently one of his supporters complained to me that I was making him look incompetent. But since McGrath has begun to review Richard Carrier's book I have been posting more frequently on his blog — especially since I have found him to be almost as unprofessional as he was with Doherty's book. I guess I'll have to return to re-posting my comments on his reviews here, now, instead.
The two reviews of Carrier's book to which I have responded on both the Bible and Interp site and McG's blog are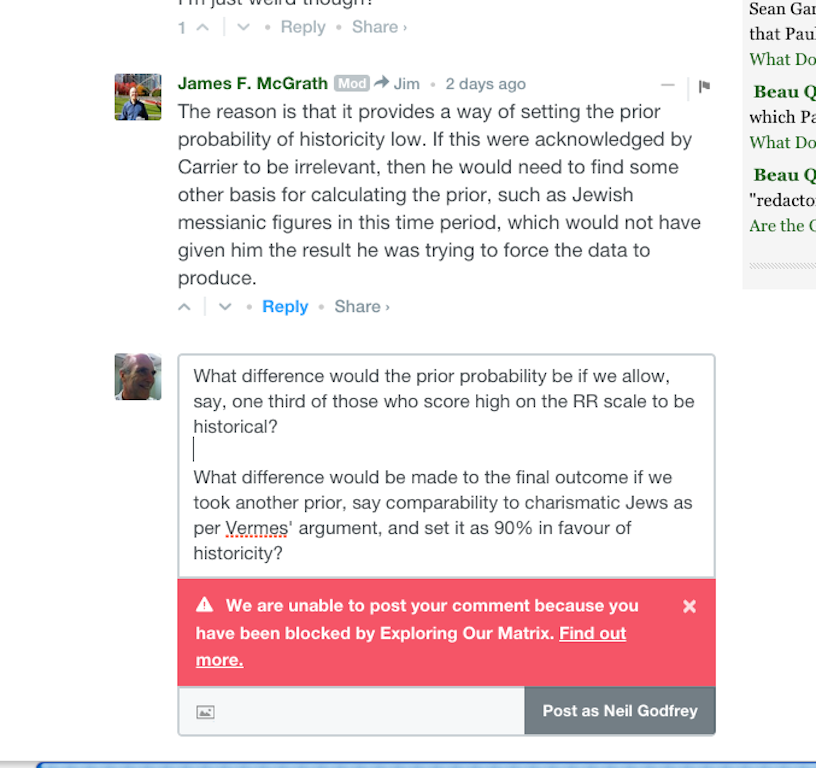 I attempted to deliver this post shortly after I sent James McGrath the following email in response to his spamming another comment of mine. I was bemused that there were so many comments expressing indignation over Valerie Tarico referring to her three interviewees as "scholars" at one point and nothing addressing the actual points raised for discussion and exploration:

Dear James

Can you explain why I am not allowed to point out that all of my arguments have all been avoided while people focus on ad hominem issues instead?

Thanks

Neil
Needless to say I received no reply to my email. Presumably serious argument that actually challenges his claims and assertions is now forbidden.
Of course he plays the innocent victim-card in the process:
Just so folks know, Neil Godfrey will not be commenting here any longer. One of his comments got caught in the spam filter, and he quickly wrote to me via e-mail and also complained about it on his blog. Despite his really atrocious behaviour towards me in the past, which led me to decide not to interact with him any longer, I had allowed him to continue to comment, since there were other people here who seemed to like interacting with him. But he has refused to respect my choice to not interact with him directly, and so if you wish to interact with him, you can try his blog Vridar.
The following two tabs change content below.
Neil Godfrey
Neil is the author of this post. To read more about Neil, see our
About page.
Latest posts by Neil Godfrey (see all)
---
If you enjoyed this post, please consider donating to Vridar. Thanks!
---