Jerry Coyne has posted Resa Aslan's response to claims that the Muslim religion is inherently bad. He labales Aslan as "the Great Muslim Apologist".
Listening to the two sides of this discussion I'm pushed to try to understand why they appear not to be truly communicating with each other. I have in the past argued the same points as Aslan makes. So watching Aslan is somewhat like watching myself.
It forces me to ask what's gong wrong here.
Listening to the two sides of this discussion I'm pushed to try to understand what is going wrong. I have in the past argued the same sorts of clearly empirical facts as Aslan presents: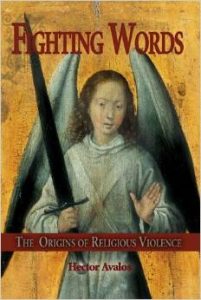 1.5 billion Muslims cannot be all painted with the same brush — terrorism and violence, female genital mutilation, denying women's rights such as not allowing them to drive — since Muslim countries like Turkey and Indonesia cannot be compared with Saudi Arabia and Somalia.
Muslim majority countries have elected seven women heads of states.
In Christian countries like Eritrea and Ethiopia we find nearly 90% and 75% prevalence of female genital mutilation.
Women participate fully in political and educational opportunities in Indonesia, Malaysia, Bangladesh, Turkey, and others.
Buddhists massacre Muslims in Myanmar (Burma).
But as we see in the video arguing such facts obviously does not easily persuade. The problems are still seen as Muslim problems.
Others like Jerry only see Resa as "the Great Muslim Apologist".
After reading Fighting Words: The Origins of Religious Violence by Hector Avalos I have been trying to think through the question afresh. A response by Hector Avalos to one of my posts is pertinent. In response to a crude interpretation of my own Avalos replied as follows. The caps are Avalos's and the bolding and is mine:
My position is a bit more nuanced than that. As you know, in The End of Biblical Studies, I actually argue that most of the Bible is IRRELEVANT precisely because Christians don't follow most of it, but only a selected number of texts.

I argue that Christians pick and choose WHICH texts are going to be held relevant. Yet, the few texts they do follow and put into effect can have great consequences.

So, the fact that Christians still CLAIM to use a TEXT to authorize their behavior is as important as, or more important than, WHICH text they choose (e.g., Luke 14:26).

The appeal to supposedly revealed textual authority exists as a principle regardless of how little the text is used. And that appeal to textual authority is where a significant problem in generating religious violence still resides.
Here the religion was Christianity but the principle applies to the Muslim faith, too.
When I was still fresh out of my own old world of religious faith there was a time when I found myself sitting with a group of activists planning some sort of public awareness campaign in response to our local parliamentary representative attempting to persuade his constituents to support yet another looming war somewhere. Our group was meeting with local Roman Catholic representatives to see if we might coordinate our efforts. I was far from enthusiastic. I had not wanted to be personally involved in any cooperation but was pressured into attending the meeting anyway. All I could see in the RC representatives was that they had just come from a church service and were motivated by their faith and the desire to glorify their God by letting their lights shine as commanded by Jesus. They were using us to publicize their religion.
What I was doing (and I knew it, too) was seeing my own recent devoutly religious self in them.
Today I am not so confident that human nature and motivations can be so easily classified in such black and white categories. Sure there was a religious motive but how much of that was somehow mixed up with what we would have believed in doing even without religion? Split-brain experiments and other studies in genetics and neuroscience warn me to put on hold hopes of conclusively understanding questions of free will and human motivation.
It is easy for most of us in Western Christian countries to contrast the relatively benign nature of the Christianity we know with the violence that the media channels to us from selected Muslim countries and conclude that the latter is intrinsically barbaric.
If we remember Christianity's own often barbaric past we can assure ourselves that "our" religion is more advanced ethically because it has worked through all of its demons and left them behind in darker ages.
So today Christians don't seize upon the Biblical instructions to execute witches, homosexuals and sabbath breakers. They instead select the "love thy neighbour" and "suffer wrong" verses.
So, the fact that Christians still CLAIM to use a TEXT to authorize their behavior is as important as, or more important than, WHICH text they choose.
Our religion is therefore ethically superior to that of so many Orientals. That's the subtext.
But why do we choose those "love texts" now and downplay the ones that justify righteous war upon our enemies? (Some tongue-in-cheek intended.)
Surely that's where a little knowledge of history or comparative sociology is called for. We know that in other times and circumstances "we" do choose other biblical texts to enable us to function appropriately or according to our interests. Slavery has been both justified and condemned by appeals to Scripture. Ditto for questions of women's and children's rights, sexuality, capital punishment.
What it all comes down to, it seems to me, is that people rationalize through appeals to holy texts behaviours that are generally as much a response to personal or social (including economic and political) circumstances as anything else. If so, then the question is to ask why Saudi Arabia continues to forbid women to drive while other predominantly Muslim countries keep electing women to political office. The most difficult questions for many of us to explore would be those where fingers are sometimes pointed at our treatment of those nations that have hidden our oil under their sand. (We cannot avoid the fact that religious reasons are not always the only explicitly stated rationales for many terrorist attacks.)
What this means is that religious faith remains a powder-keg. It might continue dormant for generations but when new circumstances arise, new pressures are introduced, we can expect moves to persuade believers to turn to other appropriate revealed texts to meet those new challenges.
It is convenient, even self-interested, to follow revelations of peace and love when one is living in a relatively prosperous and stable society that offers personal opportunities for so many of us.
Religion permits people to act on unverifiable beliefs. That is its evil as Hector Avalos demonstrates so well in Fighting Words.
So what is going wrong in the Youtube interview?
Aslan is bypassing the religious factor that is involved in Muslim crimes because these do not define all Muslims; the interviewers are bypassing the conditional factor in Muslim crimes because they hear their perpetrators justifying them in the name of Islam. Jerry Coyne is missing a great opportunity to challenge the heart of religion.
Perhaps the evils we see committed in the name of Islam today should provoke us to examine the very nature of religious belief itself and motivate us to respond in ways that are more inclusive and conscious of our common humanity.
The following two tabs change content below.
Neil Godfrey
Neil is the author of this post. To read more about Neil, see our
About page.
Latest posts by Neil Godfrey (see all)
---
If you enjoyed this post, please consider donating to Vridar. Thanks!
---