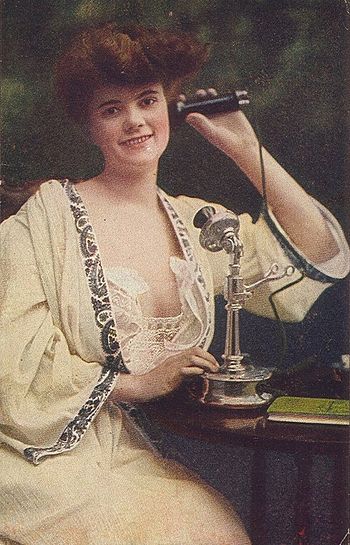 Long distance runaround
In several of Bart Ehrman's books on the New Testament, he likens the transmission of traditions about Jesus' words and deeds to the old telephone game, or as our friends in the Commonwealth call it, Chinese whispers (now often considered offensive). He refers to this model in his lectures, too, telling it roughly the same way in at least three of the courses I've listened to. Sometimes, as in the latest text on Jesus' divinity, How Jesus Became God (HJBG), he describes the process without naming it.
For those of you who might be unfamiliar with Ehrman's boilerplate explanation, here it is from his most recent book. I wouldn't normally quote so much text verbatim, but I think it's crucial for understanding Ehrman's theory of the transmission of the Jesus tradition.
If the authors [of the gospels] were not eyewitnesses and were not from Palestine and did not even speak the same language as Jesus, where did they get their information? Here again, there is not a lot of disagreement among critical scholars. After Jesus died, his followers came to believe he was raised from the dead, and they saw it as their mission to convert people to the belief that the death and resurrection of Jesus were the death and resurrection of God's messiah and that by believing in his death and resurrection a person could have eternal life. The early Christian "witnesses" to Jesus had to persuade people that Jesus really was the messiah from God, and to do that they had to tell stories about him. So they did. They told stories about what happened at the end of his life—the crucifixion, the empty tomb, his appearances to his followers alive afterward. They also told stories of his life before those final events—what he taught, the miracles he performed, the controversies he had with Jewish leaders, his arrest and trial, and so on. (HJBG, p. 47, emphasis mine)
Ehrman starts by presupposing an original set of eyewitness testimonies. He assumes the disciples really saw and heard Jesus and then told stories about him after his death. Note that Ehrman doesn't necessarily believe that the resurrection stories were literally, historically true; rather, the disciples came to believe they were true.
These stories circulated. Anyone who converted to become a follower of Jesus could and did tell the stories. A convert would tell his wife; if she converted, she would tell her neighbor; if she converted, she would tell her husband; if he converted, he would tell his business partner; if he converted, he would take a business trip to another city and tell his business associate; if he converted, he would tell his wife; if she converted, she would tell her neighbor . . . and on and on. Telling stories was the only way to communicate in the days before mass communication, national media coverage, and even significant levels of literacy (at this time only about 10 percent of the population could read and write, so most communication was oral). (HJBG, p. 47, emphasis mine)
Long time waiting to feel the sound
He imagines Christianity slowly spreading orally from person to person, one on one, with people telling stories about Jesus in their own words. Still, the presumption is that the stories came from sources that were originally reliable. He writes:

But who, then, was telling the stories about Jesus? Just the apostles? It can't have been just the apostles. Just the people whom the apostles authorized? No way. Just people who checked their facts to make sure they didn't change any of the stories but only recounted by word of mouth, year after year, decade after decade, among lots of people in different parts of the world, in different languages, and there was no way to control what one person said to the next about Jesus's words and deeds. Everyone knows what happens to stories that circulate this way. Details get changed, episodes get invented, events get exaggerated, impressive accounts get made even more impressive, and so on. (HJBG, p. 47, emphasis mine)
Ehrman's argument suggests that the stories Christians retold decades later differ from the stories told by the disciples of Jesus chiefly because of transmission errors and embellishment. Even the part about episodes getting invented needs to be understood within his framework of stories being told and retold. For Ehrman it's part of the natural inclination of people recounting oral tradition to adapt stories to the audience and the times.
Eventually, an author heard the stories in his church — say it was "Mark" in the city of Rome. And he wrote his account. And ten or fifteen years later another author in another city read Mark's account and decided to write his own, based partially on Mark but partially on the stories he had heard in his own community. And the Gospels started coming into existence. (HJBG, p. 47, emphasis mine)
The end of the chain of oral transmission ends with our first evangelist, Mark, who apparently wrote his first gospel using what we would call, essentially, rumors as his primary source material. Other streams of oral tradition coalesced into a sayings source, Q, which Matthew and Luke used along with Mark's gospel.
I still remember the dream there
Conservative scholars take exception with Ehrman's telephone game model, mainly because it diverges from their fantasies about reliable transmission of oral and written traditions. For example, in The Reliability of the New Testament (TRNT), Daniel B. Wallace deflects the question to issues of textual transmission and insists that:
There was at least one very carefully produced stream of transmission for the New Testament manuscripts. And there is sufficient evidence to show that even a particular fourth-century manuscript in this line is usually more accurate than any second-century manuscript. (TRNT, p. 36)
On the other hand, an apologetic scholar like Darrell L. Bock may misdirect the reader with discussions of textual transmission (see pp. 44-45 of Dethroning Jesus), or he may face the oral tradition question squarely (warning: PDF), but offer folksy, anecdotal responses which conveniently ignore decades of research that would prove he's just winging it. For example:

My third example is my own grandson. If I read a story to my grandchild and I change that story significantly, he will tell me that is not how the story goes. He lives in an oral world. Not able to read yet, my grandson processes everything orally by what he hears. Because he knows the story well enough to know how it ought to be told, he will correct me. That is how tradition worked within the church – in that kind of a way. (The Issue of Oral Tradition, p. 2)
"Vansina, Schmansina! Lemme tell you about my grandson." Bock believes "the kind of oral tradition we are dealing with in the gospels is a carefully overseen kind of oral tradition," because he wants to believe it. He rejects Ehrman's telephone game model because it produces results that he does not like.
I still remember the time you said goodbye
A less conservative scholar, Mark Goodacre, also sees problems with the telephone game analogy, as you can tell from his NT Pod 66 (Oral Traditions and the Game of "Telephone"). He reminds us that it's difficult to say much about the period between the life of Jesus and the first gospels, because it's a "dark period."
By its nature, we don't know about that period when the oral tradition was circulating — well, you know, some things we've got clues about it, but all of our come in written texts. Oral tradition only survives insofar as it gets crystallized in text, and that's our problem.
A bigger problem, he continues, is for people like us in a heavily literary society to imagine a completely oral society where memories were stored in minds and transmitted via speech. But in fact Goodacre says he never uses the game in his classes on the New Testament.
. . . it's not something that I've ever done in the classroom myself. I haven't gone for a little game of telephone to try and illustrate how oral tradition works. And my reason for that isn't that I'm some sort of spoilsport and I don't want my students to have fun, but it's because I think it's an incredibly bad analogy for the way that oral tradition probably developed. And as a teaching tool it's kind of counter-productive, and I think it teaches people . . . things that may not have been the case in Early Christianity.
At this point I'm hoping Goodacre will finally hit the points that should be quite obvious. But he just ever so slightly misses the mark, and even retreats into some wishful thinking of his own.
Who's to say that when [Paul] then came across Peter — because we know that he met Peter in his travels — who's to say the Peter didn't say, "Oh, no, no, actually, Paul, I think it was a little bit like this," or "I think it was a little bit like that"? And there would have been a process of interaction going on. I mean, I don't know if that's exactly how it worked, but the Chinese whispers/straight telephone idea doesn't quite grasp some of those interactive possibilities by always having it as something that's going in one direction — there's only one direction of traffic.
He also sees the fact that in playing the game there's almost always some smart-aleck kid who deliberately changes the message just to be funny. And for that reason, too, he sees the telephone model of transmission as "problematic." These are borderline apologetic arguments; they assume that the Jesus tradition had a self-correcting nature about it, which is not demonstrable. If anything, the early Christians like Paul who had visions of Jesus and received his pronouncements would not have been amenable to "correction."
Goodacre is quite right and very perceptive in his next critique. The model itself does not make sense, because it presumes a stream of story-telling from person to person, but no religion spreads like that, least of all one with embedded social rituals like baptism, the Eucharist, weekly meetings with hymns and scripture readings, etc. He says:
There's a sort of sense when you use that kind of analogy where you imagine the process of passing on oral tradition as if it goes from person A to person B to person C to person D to person E, and so on. And, really life isn't like that. And traditions, I'm sure, would have been shared in communal context, in congregational sort of contexts, within sermons, within people thinking about biblical study, within people reflecting on the scriptures, and that isn't just speculation, because we know again from looking at Paul that a lot of his sharing of the tradition takes place in letters that he's writing to multiple people. So, he's giving his examples of Jesus tradition, which he's telling to lots of people. So again, the telephone analogy just doesn't work there. 
Did we really tell lies?
Christianity is and has always been much more than a personal decision; it's a cultural identity that requires membership in and interaction with a group that has longstanding and well-rehearsed rituals and traditions.
American biblical scholarship today is so dominated by Evangelicals and ex-Evangelicals that I'm afraid this issue has sailed over their heads. They imagine Christianity as an individually centered religion in which people accept Jesus "as their personal savior." However, that is not how it worked in the past or how it works today in traditional, non-Protestant Christianity. Christianity is more than just confessing Christ. And a network of door-to-door salesmen cannot account for its spread. Christianity was and is a social and cultural movement — a group of people working together within a common framework to achieve certain goals.
So what if Ehrman's mythical merchant on a trip to Smyrna tells his waitress a story about Jesus? "Sure, pal. Sounds like a nice guy. So . . . more bread sticks?"
Moreover, your "conversion" often had nothing to do with whether you personally had accepted the new religion. While I think most of the Acts of the Apostles is historical fiction, the stories of entire households accepting Christianity after the master or mistress of the house converts ring true. So if you were a slave and your master became a Christian, guess what — you're now a Christian, too. Welcome aboard! Check out Acts 16, where Lydia's household converted and were baptized.
Christianity is and has always been much more than a personal decision; it's a cultural identity that requires membership in and interaction with a group that has longstanding and well-rehearsed rituals and traditions.
Finally, Goodacre points out that playing the telephone game with students may lead them to the false conclusion that we can explain the differences and similarities in the gospels as the end result of four separate oral streams. In fact, that sounds intuitive to most students.
But the thing we need to press more than anything else is the much less intuitive notion to most students that the synoptic gospels especially — Matthew, Mark, and Luke — are related at the literary level. The kind of verbatim agreement that you see between Matthew, Mark, and Luke witnesses, I would say, to very, very close copying at points.
I don't disagree with Goodacre at all here, but I'm less concerned about students misunderstanding literary dependencies than I am about the telephone game presenting a false model of how tradition was passed on. More than that, I'm concerned that it completely ignores the bigger problem — namely, the unreliability of the traditions' sources and the lack of tools to determine which traditions are inauthentic and which, if any, are authentic.
Letting in the sunshine
It appears that today's scholars cannot see the elephant in the room or perhaps they have trained themselves to ignore it. When apologists talk about tradents having a vested interest in keeping the memory of Jesus alive and remaining faithful to the traditions they received from the apostles, they're leaving out a critical point. What was different about Jesus' apostles and the disciples of OT prophets? Or the disciples of Socrates and Plato? Or the followers of Hillel?
The difference is stark. Their teacher stayed dead. The followers of Jeremiah wanted to preserve what he had said. The followers of Jesus were still processing incoming messages.
How does an undead, risen Jesus change the game? Here's what it means: Jesus had a post-historical career in which he met with people and talked to them. If you're a believer, this news won't come as a surprise. But to the rest of us, it should give us pause. What happened when people started seeing visions of the risen Jesus? How does that affect our understanding of the tradition if this wasn't just a Jesus who smiled and waved, but one who passed on instructions?
Paul, for example, talks of tradition received "from the Lord," but as Norman Perrin pointed out in Rediscovering the Teaching of Jesus:
. . . he also there means the Risen One, the Lord of the Church. Even if the Lord's Supper paranese [i.e., an element of exhortatory composition] which follows (I Cor. 11.23b-25) should ultimately be based upon a historical reminiscence of an actual Passover celebrated by Jesus with his disciples shortly before his death — and that is in itself a very considerable 'if' — there is no doubt but that the original paranese represents an extensive development away from that original reminiscence. At the very least, all the Passover aspects have disappeared, the 'words of institution' have been reformulated in light of early Christian eucharistic practice ('Do this as often as you drink, in remembrance of me'), and the paranese concludes with an injunction (v. 26) which cannot have come from the earthly Jesus.

Now, none of this would matter to Paul. Precisely because for him risen Lord and earthly Jesus are one and the same person, it would be a matter of complete indifference to him whether all, some, or none, of the words ascribed to the 'Lord Jesus' of the paranese had, in fact, been spoken by the earthly Jesus at an actual Passover, since they were being spoken by the risen Lord to his Church at the Eucharist. (p. 27, bold emphasis and reformatting mine)
M. Eugene Boring says it even more succinctly in Sayings of the Risen Jesus:
From all this it is clear that Paul does have a tradition of sayings of the Lord, a tradition that includes both sayings of the historical Jesus in various degrees of reinterpretation and sayings of the risen Lord derived from Christian prophets. Paul's gospel is both tradition-receiving and tradition-creating. (p. 75, emphasis mine)
Did we really count to one hundred?
Charismatic prophets in the early Christian movement — well before the canonical gospels were written — channeled the resurrected Jesus and created tradition. I would go a step further and say that if Paul's Christology was one of exaltation after death, then when he writes about words of "the Lord," he always means utterances received via prophecy. Even if you accept the presumption of a historical Jesus who taught his disciples, you cannot escape the fact that the early Church did not distinguish between a historical Jesus (which is an anachronism, as any scholar ought to know) and the Christ sitting at the right hand of God. And because they did not, we cannot.
By comparison, then, errors in transmission, as posited by Ehrman, look rather trivial. But even if we could account for all the embellishments and all the garbled text, even if we could (as Maurice Casey dreams) reconstruct the Aramaic behind the Greek, we simply can't get past the problem of invented tradition. Undoubtedly one of the very reasons Christianity drew followers was its vibrant worship service with congregation members exhibiting the gifts of the spirit — including prophecy. Hence, one of the features of early Christianity that contributed to its success also helped to make the recovery of the actual words and deeds of the historical Jesus impossible.
Perhaps now that we can all see the elephant in the room we can finally talk about it.
[youtube:https://www.youtube.com/watch?v=La9Me7alNqA]
The following two tabs change content below.
Tim Widowfield
Tim is a retired vagabond who lives with his wife and multiple cats in a 20-year-old motor home. To read more about Tim, see our
About page.
Latest posts by Tim Widowfield (see all)
---
If you enjoyed this post, please consider donating to Vridar. Thanks!
---