Recently I disappointed the pastor of the Diamond Valley Community Church when I declined to respond to his point by point counter-claims to my comparison of the miraculous feeding of the 5000 as told in Mark 6:30-44 with Elisha's feeding 100 followers with 20 loaves of bread in 2 Kings 4:38-44. This was a pity because he assures us that his efforts were "such a burden", but we both know that those are the trials of a self-sacrificing follower of the Lord whose every breath is dedicated to banishing spiritual darkness from a godless world.
I have encountered the sorts of objections our burdened pastor made many times before and confess that by now I have lost all interest in engaging with them. Such objections — "this is not a real parallel because the story-reasons for the food shortage are different or because the prompts that led to groups of people sitting down are different in the two stories" — are a pointlessly puerile game of "spot the difference" where the pictures are quite different to begin with.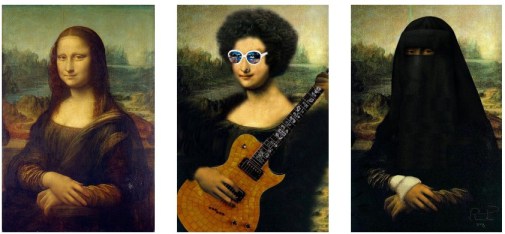 The differences in the above images are more striking than their similarities. One can search the net and easily find hundreds more and even more striking variations — different colour schemes, additional figures, different backgrounds, different positions and postures of the central figure . . . But one thing is clear: they are all adaptations of the original Mona Lisa by Leonardo da Vinci.
We can spot mimesis so easily in a graphic. And this sort of imitation is easily enough recognized in literature. But when it comes to the Bible there are many apologists (and scholars, too) who just can't or won't see it.
A classic instance of literary imitation is Virgil's adaptation of Homer's epics. Virgil's imitation of Homer went so far as to re-structure the original epic narratives, as one can see illustrated in this diagram: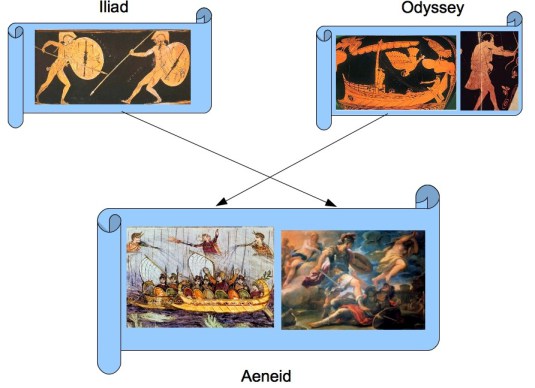 Virgil "re-wrote" Homer's characters and events in such a way as to present his one hero, Aeneas, as more blessed by the gods and more noble and righteous in character than the Homeric heroes well-known to his readers. An example or two will follow.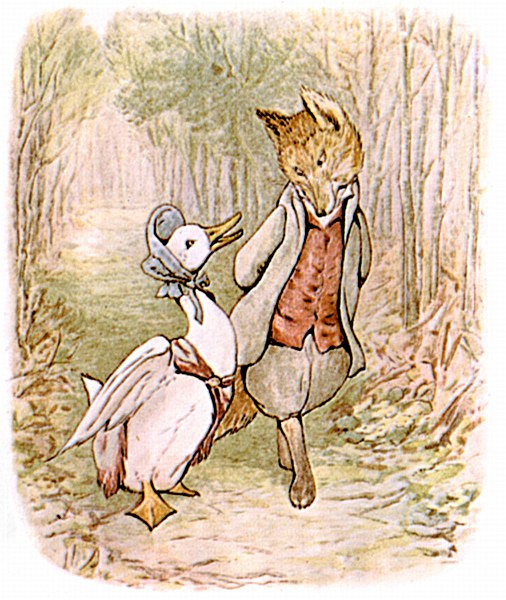 If you haven't read the ancient classics you almost certainly know of Red Riding Hood and at least one other story that is based upon it. The Tale of Jemima Puddle Duck is quite different from Red Riding Hood with quite a different ending, no red capes, no sick grandmothers, no woodsmen, but it nonetheless draws upon, or is a re-write of, Red Riding Hood (see the links).
The point of all of this is to point out what is obvious in all areas except, it seems, the Bible: that authors can and do adapt either whole narratives or portions of other literature to create entirely new works. The differences will be obvious and often tell us why the imitating author invites us to draw comparisons with an earlier text.
The pastor of Diamond Valley Community Church and his parishioners are the poorer for not recognizing why the author of Mark's gospel chose to imitate, emulate and transvalue the miracles of Elijah and Elisha.
I copy here a couple of pages from The Birthing of the New Testament by Thomas Brodie in which he offers a few illustrations of literary imitation from the era in which the gospels were composed. The point of these illustrations is to demonstrate the variety of ways authors imitated or drew upon and adapted other literary works.
By becoming aware of how literary imitation was done in the extra-biblical world it hopefully will help us be more open to acknowledging instances of the practice in the books reportedly authored by God. The result will be, hopefully, a deeper understanding of the creative minds behind the texts and the messages they sought to convey.
Bolded emphasis and some formatting is mine.
a. Elaboration
When Euripides described Hippolytus's fatal chariot accident, he spent one line on Hippolytus's head.
And his dear head [was] pounded on the rocks.
Five centuries later, Seneca elaborated in vivid detail:
The ground was reddened with a trail of blood;

His head was dashed from rock to rock, his hair

Torn off by thorns, his handsome face despoiled

By flinty stones; wound after wound destroyed

For ever that ill-fated comeliness.

.
b. Compression or Synthesis
Euripides describes in some detail the ominous thunder that preceded Hippolytus's accident:
When we were entering the lonely country

The other side of the border, where the shore

Goes down to the Saronic Gulf, a rumbling

Deep in the earth, terrible to hear

Growled like the thunder of Father Zeus.
Seneca, writing for Romans, omitted the references to Greek geography and gods (Zeus). However, he grasped the essence of the text and speeded it up:
At once a peal of thunder broke across the sea.
A rather different form of compression is distillation, that is, the procedure of isolating the significant. It is a procedure that is found, for instance, in Ovid's Metamorphoses—in his ability to isolate and highlight the crucial elements in old narratives.
(Brodie adds a note here from an Ovid specialist pointing out that Ovid never imitates literally.)
.
c. Fusion/Conflation
More complex than simple compression is the process of turning two or more elements into one new complex element.
As the news of Hippolytus's death is announced, Euripides speaks of different people: the chorus is tearful, and the messenger has a sorrowful face.
Seneca omitted the outmoded convention of the chorus but attributed to the messenger a tearful sorrowful face.
In Homer's text, Menelaus broke his sword in combat and Diomed left his sword,
but in Virgil, a single character, Turnus, mistakenly left his own sword and broke in combat the sword he took.
A more general form of fusion is found in the way Virgil, in large part, combined both the battles of Achilles (the Iliad) and the wanderings of Odysseus (the Odyssey) in Aeneas.
.
d. Substitution of images
Catullus followed Sappho closely yet felt free not only to add and omit but also to substitute new images of his own.
Thus, whereas Sappho had spoken of a jealous passion,
Which has made my heart (kardia) flutter in my breast
Catullus substituted:
Which robs me of all my senses (omnis sensus);
and while Sappho had said:
I see nothing with my eyes,
Catullus wrote:
The light of my eyes is covered with 'twin night'.

.
e. Positivization
The Iliad, from its very first line, is largely dominated by the theme of the anger of Achilles. At one point he promises to maintain his quest for vengeance:
As long as breath remains in my bosom

And my good knees have their strength.
In place of this permanent vengefulness, Virgil put the permanent devotedness of Aeneas: he promises to honor the memory of his love of a woman (Dido):
While I remember who I am

And while the breath still governs this frame.
This radical rewriting is an example not only of positivization (turning something negative into something positive, a fairly frequent procedure in Virgil), but also of internalization—replacing emphasis on something external (the knees, symbols of physical strength) by emphasis on the internal (the memory and sense of identity).
.
f. Internalization
A more complex example of internalization occurs in Seneca's version of the reaction of Hippolytus's angry father to the news of the accident.
Where Euripides had written,
For hatred of the sufferer I was glad

At what you told me. Still he was my son.

As such I have reverence for him and the Gods:

I neither sorrow nor rejoice at this thing.
Seneca wrote,
O potent nature

How strong a bond of blood is thine to tie

A parent's heart. Even against our will

We know and love thee. As my son was guilty,

I wished him dead; as he is lost, I mourn him.
The italics have been added to the foregoing excerpts in order to clarify the complex relationship of the texts. Seneca has taken the central section of the father's reaction—his recognition, despite his anger, of his relationship to his son and his consequent reverence both for sonship and the gods—and changed it into an awe-filled recognition of nature and parenthood. In doing so he spelled out some of the basic internal factors of parenthood: a bond of blood, a heart that is tied, and—despite the opposition of the will—knowledge and love.
Then, in the last line and a half, Seneca synthesized the opening and closing lines of Euripides' text: the gladness at Hippolytus's suffering becomes 'I wished him dead'; and the rather mechanical 'I neither sorrow nor rejoice' becomes the more deeply felt 'I mourn him'.
Internalization was far more than a literary technique. It was concerned with literature's central content, with moving the human story from the external world to the internal—to internal qualities and developments.
The roots of this process lie deep in Greek culture and are probably seen most clearly in the tendency, especially among the Ionian thinkers, to change the focus of interest from the gods to what goes on within people, and in the partial replacement of the warlike heroism of the Homeric tradition with the quiet heroism of Socrates.
Virgil, who was apparently the most esteemed writer of imperial Rome, carried this process of internalization further, for not only did he imitate and rival Homer in every way, but he consistently sought to replace the warlike Homeric heroes with the image of a hero who could indeed fight fiercely but who was above all a man of internal qualities—pius Aeneas.
Further instances of the process of internalization may be found, for instance, in two of the most outstanding writers of the New Testament period—Seneca and Tacitus. Thus, when Tacitus was describing even such a well known event as the coup which brought Otho to power in 69 CE, he did not hesitate to describe the onlooking populace through a formula which reflected a stereotyped description of a crowd, but he adapted that description so that it focused on factors that were internal—the crowd's silent emotions. And as regards Seneca's adaptations of Euripides, written about 60 CE, 'Seneca's tragedies…are modulations of Euripides… Drawing on aspects of technique latent in Euripides, Seneca wholly internalizes the action' (Steiner 1975: 431).
Internalization is of special interest because it provides a partial analogue for the way in which the biblical tradition, particularly the New Testament, moves the focus inward, from law to spirit, from external traditions to internal dispositions, and from an external temple to a spiritualized one.
.
g. Form-Change
In Epode X, Horace wishes an evil omen on the voyage of his critic Maevius:
'With an evil omen (mala…alite) the ship is unmoored and departs, carrying the stinking Maevius:

South Wind, remember to lash each side with wild waves…'
Not only does Horace's colourful curse seem to involve a careful transformation of a somewhat similar curse written centuries earlier by Archilochus (c. 700 BCE), but it also involves a careful adaptation of a particular poetic form called the propempticon, which consisted of a farewell with words of good omen. Horace's procedure was radical, subversive almost, but it was typical of the way in which imitation combined careful continuity with bold novelty.
.
These examples are useful but limited. In order to get a better idea of the richness and complexity of imitation, it is necessary to examine the total procedure of particular authors. Virgil and Ovid, for instance, particularly in their epic poems the Aeneid and the Metamorphoses, show an extraordinary capacity for combining a variety of sources and methods of adaptation.
The conclusion that emerges from this brief survey of poetry and drama is that imitation was widespread and varied. It was used on texts that were contemporary or recent, but among the Romans it was used particularly to appropriate and reinterpret the texts that were often considered normative—those of ancient Greece. It seems reasonable, in fact, to accept G. Kennedy's conclusion that 'all of Latin literature is in origin an imitation of Greek' (1980: 118). (pp. 10-13)
.
Should we be surprised if on reading the Gospels we find ourselves hearing echoes of passages in the Jewish Scriptures or beyond? If Socrates could emulated alongside Achilles and Achilles be emulated as an examplar for combat against human passions, should we be surprised if some portrayals of Jesus are delineated from Joshua or Samson, or even a Greek hero?
The following two tabs change content below.
Neil Godfrey
Neil is the author of this post. To read more about Neil, see our
About page.
Latest posts by Neil Godfrey (see all)
---
If you enjoyed this post, please consider donating to Vridar. Thanks!
---