Recently I disappointed the pastor of the Diamond Valley Community Church when I declined to respond to his point by point counter-claims to my comparison of the miraculous feeding of the 5000 as told in Mark 6:30-44 with Elisha's feeding 100 followers with 20 loaves of bread in 2 Kings 4:38-44. This was a pity because he assures us that his efforts were "such a burden", but we both know that those are the trials of a self-sacrificing follower of the Lord whose every breath is dedicated to banishing spiritual darkness from a godless world.
I have encountered the sorts of objections our burdened pastor made many times before and confess that by now I have lost all interest in engaging with them. Such objections — "this is not a real parallel because the story-reasons for the food shortage are different or because the prompts that led to groups of people sitting down are different in the two stories" — are a pointlessly puerile game of "spot the difference" where the pictures are quite different to begin with.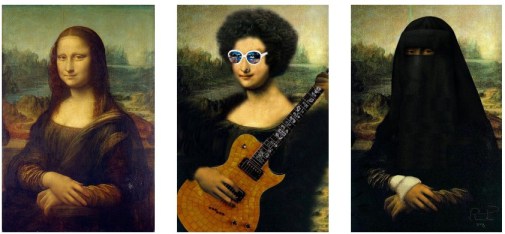 The differences in the above images are more striking than their similarities. One can search the net and easily find hundreds more and even more striking variations — different colour schemes, additional figures, different backgrounds, different positions and postures of the central figure . . . But one thing is clear: they are all adaptations of the original Mona Lisa by Leonardo da Vinci.
We can spot mimesis so easily in a graphic. And this sort of imitation is easily enough recognized in literature. But when it comes to the Bible there are many apologists (and scholars, too) who just can't or won't see it. Continue reading "How Literary Imitation Works: Are Differences More Important than Similarities?"