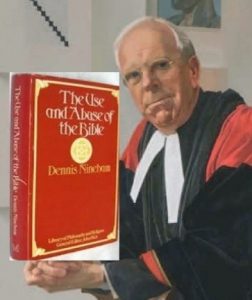 There are many useful and interesting insights into the way the Bible has come to be (mis)used by scholars and laity alike in Dennis Nineham's The Use and Abuse of the Bible (1976).
One cameo that attracted my attention (over half way through the book) was what Nineham had to say about the New Testament evidence for Christian origins. Being consistent with his opening arguments Nineham acknowledges that we know nothing of the "history" behind the mythical narrative of the "Christ event" in the Gospels. All we know "historically" is that, whatever the historical or biographical reality of Jesus was, it must have been remarkable enough to spawn new communities imbued with a whole new sense of the divine.
The bottom line of the argument is this:
Christians appeared on the historical landscape.

And we "know" from the Gospels that the first Christians were transformed from fear and weakness to a people of courage and dynamism as a result of what they proclaimed to be the resurrection.

Therefore, God had done "something" (we don't know what, exactly) most remarkable in the life of Jesus Christ in order to have caused this emergence of Christian communities.
One might think that the hypothesis is thus declared true because faith in God and the Bible permits no other hypothesis. (Nineham writes as a Christian and makes clear that his belief in God is bound up in his belief in "the Christ event".) That's not how Nineham explains it, however.
Non-Christian scholars of earliest Christianity today sometimes echo a mundane (cynical?) version of this argument: There can be no better explanation for the origins of Christianity than a failed life of yet another common healer/exorcist, preacher of platitudes and false prophet. (This latter explanation probably requires a greater miracle to make it work than the Christian explanation.)
True, Nineham does make passing mention of "extremists" who have proposed alternative hypotheses, but he dismisses these as quickly as he mentions them because the conventional wisdom does not accept their views. Ironically, in the first chapter of his book, "Cultural Change and Cultural Relativism", he explains clearly why unconventional hypotheses, in particular those that affect the way we view the Bible, have such a hard time being taken seriously.
Before addressing the details of Nineham's argument relating to Christian origins I'll highlight some of his main insights into the ways the Bible has come to be misread and misused, and why, up to his own day.
Traditional use of the Bible
We know the Bible has for centuries been regarded as a sacred book, invested with infallible authority, wrapped in a mysterious quality and virtual sanctity. Its formal title accordingly Holy Bible.
What does this mean, exactly? These are the particular beliefs that have long accompanied readers of the Bible since late antiquity:
It was produced by God — God was its author.
Thus it contains no errors in any passage.
Every passage must have some meaning — because it's God's book and he would not inspire frivolous content; everything is there for some purpose and has some truth to reveal.
Thus there is no real need to take notice of any human author's historical situation — or even of the historical and social context of the books.
Every passage has a meaning but it need not be the obvious literal sense. It can be allegorical or other figurative sense. (It has been said that "allegory saved the Scriptures for the Church.")
Thus Christians of a pre-critical period felt no need to be bound by literal statements of the Bible.
Generally, though, the Bible was the authority on history and science as well as faith and morals — it was viewed as Truth guaranteed by divine inspiration.
Nineham points to the primary result of the above premises. This is
the belief that every biblical passage has what may be called a factual reference and meaning, and that if these references are all correctly read off and put together they will form a coherent account of things, which may fairly be described as the meaning of the Bible. Orthodox dogma was in fact an attempt to formulate such an account; and being a Christian meant accepting that account and endeavouring to live in the light of it. (p. 49, my bolded emphasis)
Thus, if the Bible spoke of Christ expelling demons, then it followed for the Bible believer that demons really exist; if the Bible spoke of a Messiah "coming into the world" then it followed that there really is a supernatural Messiah from heaven who did enter into a life on earth.
So each passage was studied for its literal sense and all of these meanings were put together into some sort of "single coherent corpus of information."
The wider frames of reference
Early Christianity developed in close association with the dominant philosophical outlooks of the day — Platonism, Aristotelianism, Stoicism principle among them. These philosophical outlooks provided believers with fundamental metaphysical themes through which to interpret their faith. Accordingly the Church of the Middle Ages, followed by Protestantism, took over the following world views:
Reality was dual: there was this world that one could see, and there was the other world, hidden, that was in some way responsible for the existence of this material world. These two worlds interact. Things done in this world had the power to impact on what happened in the other.
Reality was ordained in a hierarchy of chain of being, with every component — God, angels, humans, animals, rocks . . . — having their divinely appointed place.
Thus the death of Christ was of supreme significance not because of any natural effects it had on people in this world, but because of the changes it wrought in the supernatural realm of that other world. God chose to forgive people.
Two results flowing from all this
1. Comprehensive system of knowledge, the meaning of the Bible
Christianity in the West was influenced by philosophical traditions that sought to create tidy, systematic views of everything. It was natural to read the Bible's statements and place them, likewise, into a coherent system or account of things. This was then taken to be the meaning of the Bible.
The only question was whether this should be limited to subjects the Bible directly addressed or be applied more widely. In practice what was attempted was to find compatibility between biblical and extra-biblical authorities. The biblical data was combined with other philosophical knowledge to create 'comprehensive systems of universal knowledge.'
Where there was conflict, however, then of course the Bible trumped any other knowledge.
2. The function and fruit of exegesis
Another consequence was that biblical exegesis took on a very specific function:
Given these presuppositions, the 'meaning' of a biblical passage could only be some statement or statements which fitted into the overall system derived from Christian and non-Christian sources. Thus exegesis was understood essentially as the translation of biblical statements into the categories of that form of the dominant philosophical tradition which appealed most to the exegete doing the work. (p. 53)
We can see how such an approach led to much distortion, but then it was taken for granted as the only way.
These exegetes
performed their task so skilfully that by the end of the fifth century there emerged a widely accepted and authoritative formulation of Christian truth couched in current philosophical categories . . . the Trinity, the Incarnation and the rest. (p. 53)
These doctrines then came to be understood as expressions of the meaning of the Bible:
[T]hey inevitably provided both a framework of reference and also an ultimate criterion for all subsequent exegesis. Anyone, for example, interpreting the New Testament passage which referred to 'the Son', now started from the conviction that the reference was to the Second Person of the Trinity as defined at Nicaea and Chalcedon. . . .
This inevitably led to a few passages in the Bible not fitting quite perfectly so special attention had to be given to understanding the "correct" way to interpret these. The references to Jesus' brothers and sisters needed special interpretation in order to conform to the teaching of Mary's perpetual virginity; Jesus' saying that his Father was greater than he (John 14:28) needed special elucidation in the light of the Trinity.
Timeless validity and truth
Dennis Nineham reasons that since the philosophical tradition generally emphasized analysis and systematization of knowledge and ideas at the expense of experimental approaches and radical innovation, and since this approach essentially continued unchanged from ancient through to relatively recent times, there was embedded an assumption that
certain methods of interpretation were timelessly valid, and
statements could be timelessly true
Consequently everything in the Bible could be assumed to be timelessly true in some sense, if only the sense could be discovered.
As for the ethical teaching in the Bible, or at least in the New Testament, these were also taken as binding in all ages and all circumstances.
In the next post I'll look at Dennis Nineham's discussion of what happened in the nineteenth century in particular when the natural sciences and historical understanding challenged the above traditions and how Bible scholars responded to these respective challenges.
–oo0O0oo–
Meanwhile, here are two more interesting tidbits from an earlier chapter of this book:
Even the most outstanding human being
This one is for those who believe that God has made astonishingly radical innovations in human affairs through solitary human agents.
It must be recognized that even the most outstanding human being can conceive and communicate only relatively modest changes of outlook. So limited are the measures of man's mind that no individual, or even group of individuals, can in their lifetime envisage more than a limited revision of the position they inherited; and if per impossibile they could envisage more, their contemporaries would not be able to comprehend it.

The thunderings of a great prophet may demand changes which appear radical, and in comparative terms are radical. Yet when viewed from a historical perspective, what was demanded — however great its eventual implications — will be found to have left the greater part of the status quo unchallenged and unchanged.

We can see this if we consider the achievements of men who are generally regarded as having been responsible for major changes of outlook, men like Mohammed, Martin Luther or Karl Marx. It implies no underestimate of their real achievements to insist that what they left unchallenged in the presuppositions of their times was far, far more than anything they challenged or changed. From our perspective the chief impression made by Luther, for example, is that of a late medieval theologian, while Karl Marx strikes us in many ways typical middle-class nineteenth-century German intellectual who took over a great deal of Hegel's philosophy and a lot more of the generally accepted ideas of his period and class. Even the most revolutionary thinker must speak — and think — in the language of his day . . . . (pp. 13-14, bold emphasis mine)
Miracles are not what they used to be
[T]he very concept of a miracle has changed significantly. So long as the universe was thought of as being directly and continually under the personal control of God, the line dividing the miraculous from the normal was relatively thin. . . . [I]t was only to be expected that while God would often move the universe in a regular way, as a man moves his body rhythmically when walking across country at a regular pace, he would want occasionally — for reasons which approved themselves to him, even if men could not understand them — to move the world in an exceptional way, just as the man may suddenly take a flying run in order to leap over a stream, comprehensibly to a distant onlooker who cannot see the stream.

As defined in terms of modern presuppositions, however, the word miracle takes on a greatly heightened meaning. That is . . . because in the light of our modern understanding of the physical universe as an impersonal interlocking system, a miracle would entail an exercise of divine power on a far vaster scale than previously periods envisaged. . . . . To believe now in the halting of the sun, or for that matter the raising of Lazarus, is to hold a quite different belief from that which was held by the biblical writers. (pp. 32-33, bold emphasis mine)

English: Joshua commanding the sun to stand still (Photo credit: Wikipedia)
The following two tabs change content below.
Neil Godfrey
Neil is the author of this post. To read more about Neil, see our
About page.
Latest posts by Neil Godfrey (see all)
---
If you enjoyed this post, please consider donating to Vridar. Thanks!
---