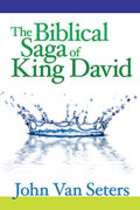 The following points about the biblical narrative of David are taken from The Biblical Saga of King David (2009) by the eminent scholar John Van Seters. Not that this post reflects the purpose or theme of Van Seters' study. I am focusing on a small segment in a much larger study that analyses both the archaeological research relating to the Davidic period and the Davidic literature. Van Seters believes the evidence points to the Saga of King David being composed in the Persian period. But I leave those arguments aside for now.
2 Samuel lists dozens of named officials, military officers and sons that to the average modern reader are so boring they have to be genuinely official records!
Van Seters references Nadav Na'aman (1996) who thinks the following lists must be derived from authentic written records. ("No-one would make them up"):
Lists of officials (2 Sam 8:16-18; 20:23-26)
Lists of wives and sons (2 Sam 3:2-5; 5:13-16)
List of military officers and heroes (2 Sam 23:8-39)
The Court Officials
2 Samuel 8:16-18
Joab son of Zeruiah was head of the army;

Jehoshaphat son of Ahilud was clerk;

Zadok son of Ahitub and Ahimelech son of Abiathar were priests;

Seraiah was secretary;

Benaiah son of Jehoiada was over the Kerethites and Pelethites;

And David's sons were priests.
2 Samuel 20:23-26
Now Joab was over all the host of Israel;

and Benaiah the son of Jehoiada was over the Cherethites and over the Pelethites;

and Adoram was over the men subject to taskwork;

and Jehoshaphat the son of Ahilud was the recorder;

and Sheva was scribe;

and Zadok and Abiathar were priests

and also Ira the Jairite was chief minister unto David.
Don't we have every right to give such details a presumption of authenticity?
Van Seters is not convinced for four reasons: Continue reading "All King David's men — official records or literary fictions?"